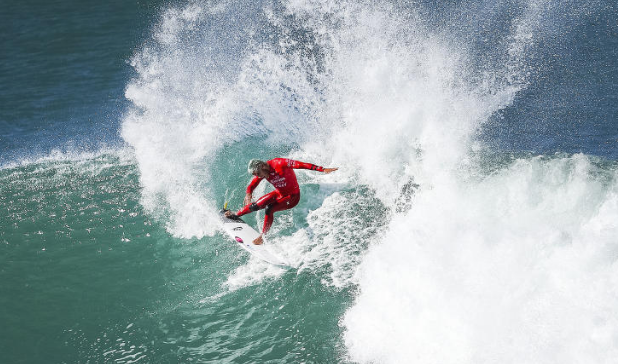 PERFECT 10 FILIPE TOLEDO AND NEAR PERFECT HEAT
KELLY SLATER INJURY (BROKEN FOOT) DURING MORNING FREE SURFING!
JEFFREYS BAY, South Africa (MONDAY, July 17, 2017) -HI LITES
1. Filipe Toledo (BRA): 1. Filipe Toledo (BRA): Filipe Toledo (BRA) stormed his way to victory in Round 2 over Kanoa Igarashi (USA). An incredible 19.63 heat total (out of a possible 20) secured a Round 3 berth for the Brazilian. Toledo claimed the first perfect 10 of the competition for a long barrel ride followed by two big turns. The current World No. 14 is clearly enjoying his return to CT competition as well as the excellent conditions on offer at Jeffreys Bay.
2. Leonardo Fioravanti (Italy): Round 2 Heat 7 delivered a high-scoring match-up between current No. 10 on the Jeep Leaderboard Sebastian Zietz (HAW) and 2017 WSL rookie Leonardo Fioravanti (ITA). Zietz opened with an impressive 9.83, but two eight-points rides from the Italian were enough to take the lead. The surfer from Hawaii continued to hunt for a backup 6.80 but could only find a 5.93 and was eliminated from the competition in Equal 25th place while the rookie will advance on to Round 3 for a much-anticipated heat against world number 2 and local favorite Jordy Smith (ZAF).
3. Kelly Slater (USA): 11-time WSL Champion and four-time event winner Kelly Slater (USA) sustained a foot injury free surfing this morning at Jeffreys Bay. Slater is currently seeking medical attention. We will have updates later but his Round 3 heat place is in doubt right now. Slater was a standout in Round 1on Saturday with an outstanding 9.1 ride and heat win (Surf Vision Included).
4. Joan Duru (FRANCE): Joan Duru laid down an excellent 9.00 on one of the biggest waves of the day, despite falling on the final maneuver. The score will see the rookie move on to Round 3, while Adrian Buchan (AUS) is dispatched in 25th place.
5. Owen Wright (AUS): Current No. 3 on the Jeep Leaderboard Owen Wright (AUS) took on 2017 WSL Rookie Ethan Ewing (AUS) in the opening heat of the day. The more experienced competitor controlled the majority of the 35-minute heat, the first head-to-head match-up for the pair, with two mid-range scores.
6. Jadson Andre (BRA): An exciting battle played out between Jadson Andre (BRA) and Kolohe Andino (USA) in Round 2 Heat 4. Andino held first place after the opening exchanges but the Brazilian was able to turn the heat with a 7.83 at the half-way mark. Andino, current No. 9 on the Jeep Leaderboard, quickly answered with multiple barrels and a series of big carving maneuvers for a 7.03, but the score was just short of what was required. A deep barrel from Andre earned him a 7.97, increased his lead and secured his place in Round 3.
Also included – waves of Ezekiel Lau (HAW) winning Heat 11 and final heat of the day winner.
Corona Open J-Bay Round 2 Results to Date:
Heat 1: Jordy Smith (ZAF) 10.67 def. Dale Staples (ZAF) 10.27
Heat 2: Matt Wilkinson (AUS) 13.10 def. Michael February (ZAF) 11.67
Heat 3: Owen Wright (AUS) 12.34 def. Ethan Ewing (AUS) 11.10
Heat 4: Jadson Andre (BRA) 15.80 def. Kolohe Andino (USA) 13.20
Heat 5: Julian Wilson (AUS) 14.27 def. Josh Kerr (AUS) 12.53
Heat 6: Connor O'Leary (AUS) 13.40 def. Miguel Pupo (BRA) 13.10
Heat 7: Leonardo Fioravanti (ITA) 16.63 def. Sebastian Zietz (HAW) 15.76
Heat 8: Filipe Toledo (BRA) 19.63 def. Kanoa Igarashi (USA) 12.83
Heat 9: Caio Ibelli (BRA) 16.43 def. Stuart Kennedy (AUS) 14.80
Heat 10: Joan Duru (FRA) 15.87 def. Adrian Buchan (AUS) 14.00
Heat 11: Ezekiel Lau (HAW) 17.03 def. Wiggolly Dantas (BRA) 16.37
Heat 12: Frederico Morais (PRT) vs. Ian Gouveia (BRA)
Corona Open J-Bay Round 3 Match-Ups:
Heat 1: Adriano de Souza (BRA) vs. Joan Duru (FRA)
Heat 2: Gabriel Medina (BRA) vs. Bede Durbidge (AUS)
Heat 3: Owen Wright (AUS) vs. Ezekiel Lau (HAW)
Heat 4: Connor O'Leary (AUS) vs. Frederico Morais (PRT)
Heat 5: Mick Fanning (AUS) vs. Caio Ibelli (BRA)
Heat  6: John John Florence (HAW) vs. Jadson Andre (BRA)
Heat  7: Jordy Smith (ZAF) vs. Leonardo Fioravanti (ITA)
Heat  8: Filipe Toledo (BRA) vs. Kelly Slater (USA)
Heat  9: Julian Wilson (AUS) vs. Jeremy Flores (FRA)
Heat 10: Joel Parkinson (AUS) vs. Conner Coffin (USA)
Heat 11: Michel Bourez (PYF) vs. Italo Ferreira (BRA)
Heat 12: Matt Wilkinson (AUS) vs. Jack Freestone (AUS)
Toledo Leads the Way at Corona Open J-Bay (FULL STORY)
Nicolas Leroy
Monday, July 17, 2017
The rain cleared late last night and the wind switched back to the offshore as the Corona Open J-Bay resumed in the flawless surf. Waves pumped all day long and surfers put on an incredible performance to fight their way out of the elimination Round Two.
Waves started to really turn on in the second heat of the morning, just in time for Jadson Andre to pull into a couple of good barrels and eliminate Kolohe Andino in Round Two. Jadson's head injury sustained during his freesurf yesterday didn't seem to hold him back at all, as he navigated a deep tube for his best score of 7.97.
Jadson Andre found a gem in the final minutes of his heat against Kolohe Andino to earn a big upset win in Round Two.
In the very next heat, an all-Australian battle between Julian Wilson and Josh Kerr did not disappoint, as they went head-to-head with carves and barrel sections at Supertubes. It all came down to a final effort from Josh, who locked into a dreamy J-Bay barrel, and spent countless seconds inside, but got clipped before the exit and did not get the required score to overtake Julian.
"It's so enjoyable out here and it's only going to get better," said Wilson. "It's a beautiful day to be out there with just one other guy. If it has a big long wall with some size on it and barrels on the inside — that's what everyone wants. It was really nice to have some exchanges out there and get some nice waves."
Julian Wilson of Australia advances to Round Three of the Corona Open J-Bay after defeating Josh Kerr of Australia in Heat 5 of Round Two in pumping Supertubes, Jeffreys Bay, South Africa.
Julian plays hide and seek in the J-Bay lineup.
From a regularfooter battle we went to a goofyfooter battle with Connor O'Leary and Miguel Pupo in Heat 6. O'Leary, who just finished runner-up in Fiji and comes to J-Bay ranked 7th in the World, started well with a great ride and controlled the battle from start to finish. Miguel, on the other hand, missed a couple of opportunities to fight back, including a great wave in the last 30 seconds of the heat, but came up just short with a 7.03 — when he needed a 7.33.
"I'm stoked to get the win," Connor said. "It's a massive confidence-booster getting a Final in Fiji for this event and the rest of the year. It's not over yet, so we'll see what happens. There's something about South Africa that feels close to home, it's such a beautiful place and I feel so comfortable here."
Rookie Connor O'Leary of Australia advances to Round Three of the Corona Open J-Bay after defeating Miguel Pupo of Brazil in Heat 6 of Round Two in pumping Supertubes, Jeffreys Bay, South Africa.
In Heat 7, things escalated quickly when Italian rookie Leonardo Fioravanti opened his heat with an excellent 8.50 right from the start, on a lengthy ride with multiple big carves. Sebastian Zietz answered with a near-perfect 9.83, but was unable to find another good wave while Leo put a second excellent ride on the board, an 8.13. Seabass continued to surf multiple waves but kept missing out on the average score he wanted to advance.
"I am frothing right now," Leo said. "We're in J-Bay and the waves are absolutely pumping. It's a dream to be here and I think it's the best wave I've ever surfed in my life in a heat. My goal was to try and get a big score at the start and then back it up. I was in a tough spot because Seabass is an incredible surfer, so I'm stoked to make that heat. Win or lose, we surfed pumping J-Bay."
Sebastian Zietz takes the first wave of the set and scores a near-perfect 9.83 for a combination of barrels and powerful turns. Leonardo Fioravanti answers right behind with an 8.13 to solidify his lead.
By now waves were actually firing, just in time for a frothing Filipe Toledo to tear apart the lineup. He unleashed some insane carves and found long, deep barrels to score the heat of the event so far, with a perfect 10-point ride and an incredible 9.83 as a backup. Kanoa Igarashi could only watch in despair while the Brazilian lit up every wave he paddled for.
Using a double-arm-stall technique, Toledo — and his new coif — found a solid J-Bay tube for a perfect score in Round Two.
"It feels good to be back, especially surfing perfect waves at J-Bay," said Toledo. "You just have to enjoy it out there. Our heat was definitely amazing with pumping surf non-stop. My froth level is over the moon and I get super excited to get out there and have my heat and put on a good show."
In what would ultimately be a warm-up wave, the green-haired Brazilian nabbed a huge score against Kanoa Igarashi at J-Bay.
Caio Ibelli toned it down a little bit in the heat that followed, but applied a similar strategy to Filipe's and posted two excellent scores early to push Stu Kennedy against the ropes. The Australian reacted on the 10-minute mark with an excellent score of his own but failed to find a second solid one as Caio moved into Round Three.
Caio Ibelli of Brasil will surf in Round Three of the Corona Open J-Bay after his win over Stu Kennedy of Australia in Round Two, Heat 9 at Supertubes, Jeffreys Bay, South Africa.
Another rookie, Frenchman Joan Duru, caught an important break in Round Two. As a rookie on Tour, Joan still knows the wave at Jeffreys Bay quite well, as he placed runner-up to Adriano de Souza back in 2012 when the event was a Qualifying Series event. Joan picked up one the biggest waves of the day and destroyed the poor thing on his backhand, en route to a massive score over Adrian Buchan. Despite falling on the very last maneuver, the score turned in as a 9-pointer and won him a ticket into Round Three.
Joan Duru takes maximum risks to score an excellent 9 point ride against Ace Buchan in their Round Two matchup.
"I'm so happy to be here because the waves are perfect," he said. "It's hard to wait for the good ones but you have to choose the right waves, surf them well and not fall. I love South Africa and I've had good results here in the past so hopefully, that plays in my favor."
Two powerful surfers continued to give spectators a world-class show in the second-to-last heat, with Wiggolly Dantas and Ezekiel Lau trading excellent wave for excellent wave in the pulsing lineup. In an opposition of styles and stance, Ezekiel got the slimmest of margins to edge out Wiggolly and advance past Round Two for just the third time so far in his rookie season.
Another rookie battle, between Brazilian Ian Gouveia and Portuguese Frederico Morais, concluded the day's action, with the latter taking the nod.
The biggest upset of the day, unfortunately, came from 11x WSL Champion Kelly Slater who officially withdrew from the event after breaking his foot while freesurfing up the point in J-Bay. He and Filipe Toledo would have met in Round Three; Toledo will get a walk-through.
Tune in for the next call and a possible start to Round Three Tuesday at 7:15 a.m. local time.
VIDEO & PHOTO HERE