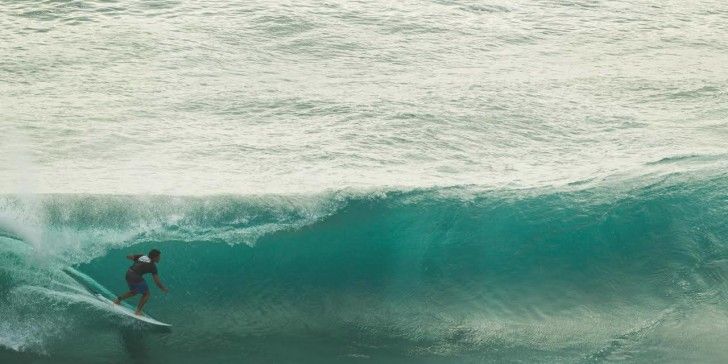 Rip Curl Cup
Padang Padang, Bali
Rip Curl Cup Extends Waiting Period, Large Swell Looms late 
Surf News Network, 28 August, 2015. With conditions looking promising for a Padang Padang swell to strike Bali at the end of the month the Rip Curl Cup has been put on standby, with contest directors looking at potentially running the one day competition on September 1st. Although technically coming after the waiting period concludes, Rip Curl have made the decision to extend the window by a day to ensure that if the Rip Curl Cup runs it will be up to the incredible standard we have become used to over the 12-year history of the event.
Overseas competitors are packing their bags in preparation for the event, and a field that includes Jamie O'Brien, Damien Hobgood, Jay Davies and Ry Craike are reading themselves to come to Indonesia to try and steal the country's most prestigious trophy. All of the Indonesian competitors, including last year's winner Garut Widiarta and 2013 champion Mega Semadhi, are lying in wait to guard their crown, while other invitees already in Bali include three-time world champion Tom Curren, his son Pat, and the latest addition to the event line up, Harry Bryant.
Eighteen-year-old Bryant hails from Noosa on Australia's Sunshine Coast, and is "stoked beyond belief to be in the field. The opportunity to surf against Tom Curren or Rizal Tanjung, or any of the other legends in the field is too good to be true. I've heard the swell is looking promising, so hopefully it continues to build over the weekend and we can run in amazing waves!"

According to official forecast partner Coastalwatch, "computer models have begun to fall into step on the evolution of a larger, winter-scale low pressure system over the southern Indian Ocean, early-to-mid next week." At this point it looks like the swell might land in Bali on the afternoon of August 31st, and will continue to grow throughout the following day, allowing for the Cup to run. Accordingly Rip Curl will be closely monitoring activity in the southern Indian Ocean over the next 48 hours before deciding whether the show will go on or not.
Stay tuned to live.ripcurl.com for more developments from the Rip Curl Cup, and here's hoping that at the very end of the waiting period Huey delivers the goods!
Rip Curl Cup Padang Padang is sponsored by: Telkomsel 4g, Indihome, Hidden Valley, Bintang, Albens Cider, OctaFX, GrabCar, BIMC and Project Clean Uluwatu.
Media support by: Surfing World, Coastal Watch, Bali Belly, JUICE, Bali Alternative Media, Surf Time and Indosurflife.com
HIT IT LIVE HERE