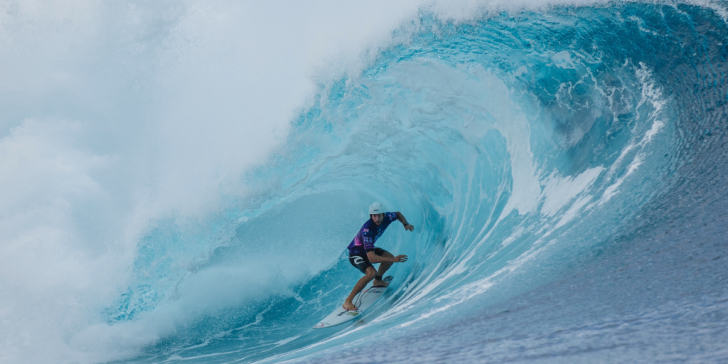 Australia's Wright Finds Perfection and First Victory in Tahiti

Gabriel Medina Back in World Title Hunt Heading into Freshwater Pro pres. by Outerknown
 Australia's Owen Wright clinches victory at the Tahiti Pro Teahupo'o pres. by Hurley for the first time in his career. Credit: © WSL / Dunbar
TEAHUPO'O, Tahiti (Wednesday, August 28, 2019) – Today, Owen Wright (AUS) won the Tahiti Pro Teahupo'o presented by Hurley Stop No. 7 of 11 on the World Surf League (WSL) Men's Championship Tour (CT), in six-to-eight foot (2 – 2.5 metre) waves at the world-famous Teahupo'o reef pass. The rematch of the 2018 Tahiti Pro Final with Gabriel Medina (BRA) was one for the books with some of the best conditions since 2014.

Owen Wright (AUS) claimed his first event win in Tahiti after defeating Gabriel Medina (BRA), the two-time WSL Champion and defending Tahiti Pro winner. This is Wright's first CT victory since the 2017 Quiksilver Pro Gold Coast when the Australian inspired the world with his incredible comeback from a traumatic brain injury he suffered at Pipeline in 2015.
POwen Wright (AUS) on top of the podium with runner-up and reigning WSL Champion Gabriel Medina (BRA) at the Tahiti Pro Teahupo'o pres. by Hurley. Credit: © WSL / Cestari 
"I can't be happier," said Wright. "Gabby (Medina) was always going to be the toughest matchup and I had no priority and I snuck into those few on the inside. I tried to get as deep as possible and still make it. I teared up out there when the hooter went. I've been working hard and I am stoked to win."

In a rematch of last year's Tahiti Pro Final, goofyfoots Wright and Medina battled once again at Teahupo'o but this time in heavy barrels. After a slow start, the heat turned into a barrel shoot-out at the twenty-minute mark and saw both surfers go wave for wave. Medina broke away with a 7.83 (out of a possible 10) and backed it up with a second 7-point ride, but Wright fought back with his own 7.73, only needing a 7.21 to win with eight minutes left. Under priority, Wright scored a near-perfect 9.17 to steal the title from Medina.

"I said I really wanted Gabby in the Final just to have that rematch and it was such a special time last year," continued Wright. "The waves were just so perfect and to share that with a great mate was really special. When you come out here and in your first heat you get a 10, it makes things feel like things are coming. I haven't won since Snapper and it has been so long. I won so early back then in my recovery and it has been so up-and-down and it has finally felt up and up and up in the last few months. I've tried to win this event a lot of times and it is amazing to finally get that today."
Medina was not able to defend his title in Tahiti but still has the opportunity to defend his win at the Freshwater Pro pres. by Outerknown, the next stop on the WSL Championship Tour. The second-place finish vaults him up to fourth on the Jeep Leaderboard and another step closer to a third World Title.
"Owen (Wright) really deserved that one," said Medina. "He started the day off with a 10-point ride and when someone starts like that, I think you feel like it is going to go your way. I am happy for him and stoked to be in the Final against him again. Last year it was me and today he got me. I love to compete against him, he is one of the best so it was good to get second to Owen."
"I have to enjoy the momentum," continued Medina. "It is hard to get the rhythm but now I feel like I am there. The win in J-Bay felt good and I think that will help me at the end of the year. Now I am just thinking about the wave pool. I cannot wait. I just want to thank God for the opportunity to have another Final with my great friend. This contest was unbelievable."
 Reigning WSL Champion Gabriel Medina (BRA) fell just short of clinching back-to-back titles in Tahiti. Credit: © WSL / Cestari
Rookie Seth Moniz (HAW) captured his career-best performance today after making the Semifinals. Although the 22-year-old fell to runner-up Medina, he showcased his talents in heavy-water conditions in his freshman year on the elite CT. Moniz eliminated injury replacement Caio Ibelli (BRA), who sat right on the requalification cut-line before this event. Ibelli now moves up to 18th on the Jeep Leaderboard and betters his chances of qualifying for the 2020 CT next season after falling short last year.

Jordy Smith (ZAF) lost to Wright in the Semifinals. Earlier today Smith dispatched 2015 WSL Champion Adriano de Souza (BRA) to claim a third-place result, which moves him up to World No. 2 on the Jeep Leaderboard. The earlier eliminations of Top 5 competitors Kolohe Andino (USA), Filipe Toledo (BRA), Kanoa Igarashi (JPN) and Italo Ferreira (BRA) opened the door for Smith to strengthen his World Title campaign.
 2019 CT Rookie Seth Moniz (HAW) capturing his career-best performance at Teahupo'o. Credit: © WSL / Cestari
Pro Surfers Team Up with Coral Gardners to Restore Nearby Reefs
For the Tahiti Pro Teahupo'o, WSL collaborated with 'Glowing Glowing Gone', a global campaign advocating for greater funding and action for coral reef conservation by highlighting the global danger signaled by fluorescing corals. The collaboration features a complete takeover of the Tahiti Pro Teahupo'o presented by Hurley event branding to incorporate the exact colors of fluorescing corals, in addition to WSL's support of Coral Gardeners, a youth-led non-profit organization that is actively restoring coral reefs in the area.

To learn more about how to get involved with Glowing Glowing Gone and the Coral Gardeners, please visit WSLPURE.org.
Tahiti Pro Teahupo'o pres. by Hurley Final Results:
1 – Owen Wright (AUS) 17.07
2 – Gabriel Medina (BRA) 14.93Tahiti Pro Teahupo'o pres. by Hurley Quarterfinal Results:
SF 1: Owen Wright (AUS) 15.67 def. Jordy Smith (ZAF) 10.66
SF 2: Gabriel Medina (BRA) 11.16 def. Seth Moniz (HAW) 7.43Tahiti Pro Teahupo'o pres. by Hurley Quarterfinal Results:
QF 1: Owen Wright (AUS) 19.07 def. Jadson Andre (BRA) 16.67
QF 2: Jordy Smith (ZAF) 14.06 def. Adriano de Souza (BRA) 8.67
QF 3: Gabriel Medina (BRA) 11.77 def. Jeremy Flores (FRA) 2.50
QF 4: Seth Moniz (HAW) 15.60 def. Caio Ibelli (BRA) 12.83Current WSL Jeep Leaderboard Top 10 (after Tahiti Pro Teahupo'o pres. by Hurley)
Filipe Toledo (BRA) 36,600 pts
Jordy Smith (ZAF) 35,450 pts
Kolohe Andino (USA) 35,175 pts
Gabriel Medina (BRA) 34,695
John John Florence (HAW) 32,690 pts
Italo Ferreira (BRA) 31,280 pts
Kanoa Igarashi (JPN) 30,780 pts
Owen Wright (AUS) 27,365 pts
Seth Moniz (HAW) 22,885 pts
Kelly Slater (USA) 22,385 pts

Tahiti Pro Teahupo'o Past Winners:
2019: Owen Wright (AUS)
2018: Gabriel Medina (BRA)
2017: Julian Wilson (AUS)
2016: Kelly Slater (USA)
2015: Jeremy Flores (FRA)
2014: Gabriel Medina (BRA)
2013: Adrian Buchan (AUS)
2012: Mick Fanning (AUS)
2011: Kelly Slater (USA)
2010: Andy Irons (HAW)
2009: Bobby Martinez (USA)
2008: Bruno Santos (BRA)
2007: Damien Hobgood (USA)
2006: Bobby Martinez (USA)
2005: Kelly Slater (USA)
2004: C.J. Hobgood (USA)
2003: Kelly Slater (USA)
2002: Andy Irons (HAW)
2001: Cory Lopez (USA)
2000: Kelly Slater (USA)
1999: Mark Occhilupo (AUS)