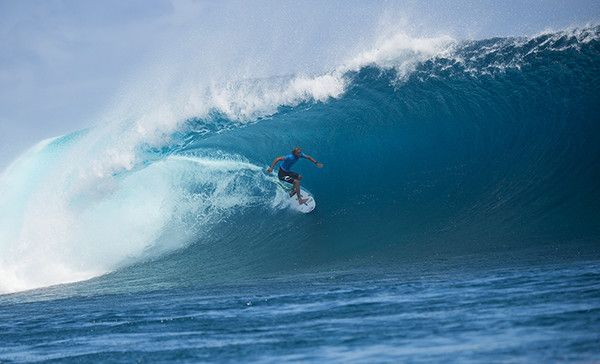 Owen Wright (AUS) makes history as he claims victory today at the Fiji Pro. Image: WSL / Kirstin
In what Ross Williams is calling his favorite Final ever "The Owen Wright Show":  a totally dominant performance over Julian Wilson. Two 20 point heats in one contest. A first. Owen jumps to 3rd and Julian Wilson is now in 5th on the WSL. The Ratings are really shaken up after this Epic Fiji Pro. Adriano still holds the yellow jersey at #1, Felipe at 2nd, Owen 3rd, Mick 4th, Julian 5th and Taj 6th. All easily within range. See full ratings at end. Next stop Jeffries on July 8th. Stop #7.
| | |
| --- | --- |
| Location:    | Cloudbreak – Tavarua/Namotu, Fiji |
| Holding period: | June 7 – 19, 2015 |
| Call: | Event complete, congratulations Owen Wright! |
| Conditions: | 6′ – 10′ surf |
TAVARUA, Fiji (Tuesday, June 16, 2015) – Owen Wright (AUS) has won the Fiji Pro in historic fashion today, claiming his second Perfect 20 of the event in the Final bout against compatriot Julian Wilson (AUS) held in pumping eight-to-ten foot (2.5 – 3 metre) barrels.
Stop No. 5 of 11 on the 2015 Samsung Galaxy WSL Championship Tour (CT), the Fiji Pro, has been treated to an abundance of swell and incredible performances by the world's best surfers, culminating today with Wright's unparalleled mastery of Cloudbreak.
"I can't believe it, to finish with a couple of 10's is a dream come true," said Wright. "I've been doing a lot of work behind the scenes and watching the top guys closely and it's definitely paid off. Gabriel Medina has been a huge inspiration for me, especially watching him at this event last year and what he's done."
Wright was the form surfer of the event after a series of incredible performances and huge scores, including a flawless Round 5 heat where he posted his first perfect heat total (only the then-seventh in sport's history). The Australian made history today by delivering another Perfect 20 in the Final, the sport's eighth ever perfect heat total, as the first surfer to achieve this incredible feat twice in one event.
"I've done two trips to Tahiti already this year and I think that's where some of the barrel riding has come from," continued Wright. "I have to pay a big tribute to my boards – I've never felt better doing turns out there and I love the turns as much as I love the barrels."
Wright's win at the Fiji Pro is his second CT victory, after a previous win at the Quiksilver Pro New York in 2011. Wright came into to the event ranked sixth in the world and the result sees him jump up to third on the Jeep Leaderboard. A combination of deep barrel rides and carving rail-work helped the goofyfooter reach the Final after defeating Jeremy Flores (FRA) in the Semifinals and Joel Parkinson (AUS) in the Quarters earlier today.
"Yesterday was a dream come true and today is even better," Wright said. "To finish with two 10's is really special. I was watching the ocean before the Final and I knew it would turn on. I knew I just had to be in that rhythm and the waves came and I took them. I'm stoked to be back up on the podium and wouldn't be here without all the support back home."
Wright dominated the Final from start to finish, opening early with a 9.60 and quickly putting Wilson in a combination. With less than five minutes remaining Wright delivered an epic ride, opening with a huge turn and big barrel, and was rewarded with a Perfect 10. Another long, critical tube ride moments afterwards earned him another Perfect 10, his fourth of the competition and his second Perfect heat total, to seal his victory.
[caption id="attachment_2311" align="alignnone" width="600"]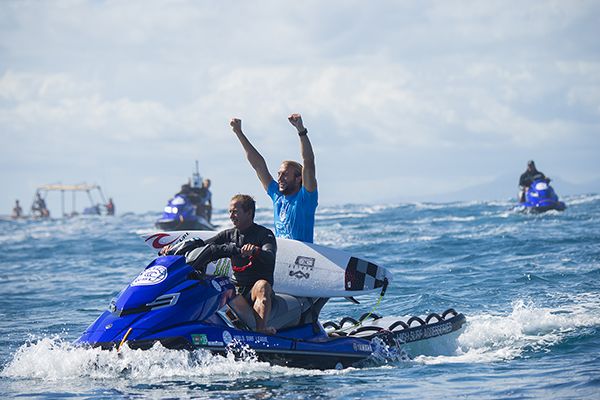 Owen Wright winning the Fiji Pro with a Perfect 20.00[/caption]
Owen Wright (AUS) celebrates his historic win. Image: WSL / Kirstin
Today was the second Final appearance of 2015 for Julian Wilson (AUS) after meeting Filipe Toledo (BRA) in the season opener on the Gold Coast. The result is his best ever in Fiji after a previous Quarterfinal against Kelly Slater (USA) in 2012 and will see him move from 8th to 5th place on the ratings. Wilson previously dispatched Taj Burrow (AUS) and Italo Ferreira (BRA) today on his way to the Final.
"It was a great event and a great result," said Wilson. "I'm super happy with the result for sure. I couldn't even hear the scores out there but I knew I was in a tough spot. To get two 20's in one event is incredible, it was Owen's turn and I'm so happy for him. He's got some wind beneath his wings again and congratulations to him. I did everything in my power and I just couldn't do it, Owen was just so on. I just want to put a good year together and get some consistent results. I'll just focus on each event and second place is a good result. Hopefully the ocean comes my way next time."
Today's Semifinal berth for Jeremy Flores (FRA) marks a great result for the new world no. 10, coming off the back of his worst season on the CT in 2014. This is the Frenchman's best ever showing in Fiji and his first Semifinal appearance since 2012, when he faced Kelly Slater (USA) at Bells Beach. Flores faced eventual winner Owen Wright (AUS) in a thrilling back-and-forth Semifinal battle.
"Every time I was paddling out this contest it was pulsing so I'm happy with that," Flores said. "I'm a bit bummed not to make the Final but you can't be too disappointed when you get to surf in pumping waves with just one other guy out. It's really positive for me. I'm feeling really good at the moment and Jeffreys Bay is one of those really good waves and I love it there. I've never had a great result there so this year I'm hoping to do something this year."
2015 marks 18 years amongst the world's best for Taj Burrow (AUS) and his result at the Fiji Pro today is his best of the season and the first Semifinal appearance since Bells Beach last year. An all-Australian match-up against eventual runner-up Wilson saw Burrow leave the competition in third place, equalling his top result at the Fiji Pro, and moves him up three places on the rankings to 6th.
"Was unfortunate not to find a rhythm out there today," Burrow said. "I can't be unhappy with a Semifinals finish though. We had pumping surf here and I was stoked to get on a bit of a roll before we head into a really fun leg of events."
2012 World Champion Joel Parkinson (AUS), who posted the first perfect 10 of the competition yesterday in Round 4, went down to Wright in the Quarterfinals. The fifth place finish sees him move up to 15th place on the Jeep Leaderboard and equals his best result in Fiji. Today also marks his top result of 2015 after his worst start to a season in his 15 years on tour.
Kai Otton (AUS) caused several upsets at the Fiji Pro this year after eliminating three-time WSL Champion Mick Fanning (AUS) from the competition in Round 5 and reigning WSL Champion and defending event winner Gabriel Medina (BRA) in Round 3. Otton was forced to exit the competition after a heavy wipeout in his match-up against Flores but takes home his first Quarterfinal finish since the Pipe Masters last year.
"I got scorpioned harder than I've ever been scorpioned before in my life," said Otton. "My knees went into the reef and I flipped over. Initially I was pretty worried and my legs felt tingly but it subsided by the time I got to the boat. We'll see what the report says tonight on the injury but I'm feeling pretty good right now so I reckon I'll be at the next event."
The two Brazilian rookies, Italo Ferreira (BRA) and Wiggolly Dantas (BRA), were both eliminated in the Quarterfinals today at the hands of Wilson and Burrow respectively. The pair have each had a great run of form through the competition with Ferreira eliminating four-time Fiji Pro winner and 11-time World Champion Kelly Slater in Round 5, while Dantas won through each round of competition before facing Burrow today.
The next stop on the 2015 Samsung Galaxy WSL Championship Tour will be the J-Bay Open from July 8 – 19, 2015.
Highlights from the Fiji Pro will be available via WorldSurfLeague.com.
Fiji Pro Final Results:
1: Owen Wright (AUS) 20.00
2: Julian Wilson (AUS) 7.84
Fiji Pro Semifinal Results:
SF 1: Julian Wilson (AUS) 11.50 def. Taj Burrow (AUS) 8.66
SF 2: Owen Wright (AUS) 16.93 def. Jeremy Flores (FRA) 16.57
Fiji Pro Quarterfinal Results:
QF 1: Julian Wilson (AUS) 17.36 def. Italo Ferreira (BRA) 17.00
QF 2: Taj Burrow (AUS) 13.37 def. Wiggolly Dantas (BRA) 7.40
QF 3: Owen Wright (AUS) 16.60 def. Joel Parkinson (AUS) 12.84
QF 4: Jeremy Flores (FRA) 16.83 def. Kai Otton (AUS) 12.90
2015 WSL Jeep Leaderboard Top 5 (after Fiji Pro):
Adriano de Souza (BRA) 28,000 pts
Filipe Toledo (BRA) 27,450 pts
Owen Wright (AUS) 26,250 pts
Mick Fanning (AUS) 24,950 pts
Julian Wilson (AUS) 23,450 pts