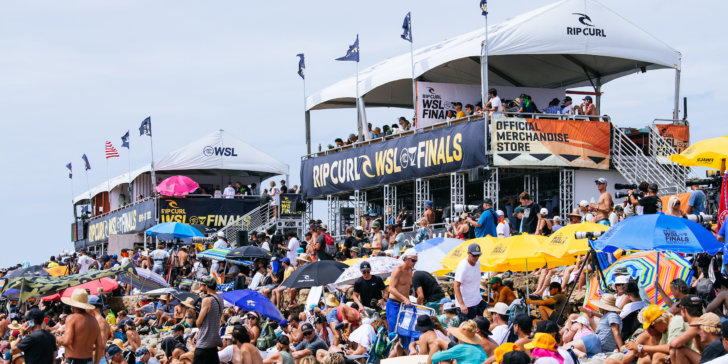 2022 Rip Curl WSL Finals Takes the Lead as the Most Watched Day of Surfing in WSL History
Largest, Single-day Live Digital Audience Witnessed Stephanie Gilmore and Filipe Toledo Win Undisputed World Titles
Front page: The Beach crowd during the 2022 Rip Curl WSL Finals. Credit: ©  WSL /  Diz
LOS ANGELES, Calif., USA (Friday, September 9, 2022) – The second-annual Rip Curl WSL Finals, which ran on September 8 at Lower Trestles in San Clemente, Calif., broke the record of the most watched day of professional surfing in World Surf League (WSL) history, outperforming the unprecedented numbers of the 2021 Rip Curl WSL Finals. The largest, single-day live digital audience witnessed Stephanie Gilmore (AUS) and Filipe Toledo (BRA) win the undisputed World Titles during the one-day finale to the 2022 WSL Championship Tour (CT) season.
Pictured: (From left): SVP Tours and Competition Jessi Miley-Dyer, Filipe Toledo (BRA), Stephanie Gilmore (AUS), WSL CEO Erik Logan ©  WSL /  Diz
Yesterday's title-deciding Rip Curl WSL Finals surpassed 2021's total livestream video views by 22%, bringing total livestream views to 8.3 million across WSL digital channels. This figure is expected to increase as additional viewership data is aggregated from the WSL's linear and digital streaming partners, including Globo/SporTV, WSL's exclusive streaming partner in Brazil. Both reach and consumption are expected to grow significantly once livestreams and all  Finals-related content, including video-on-demand through our global partners, is accounted for— making an already record-setting day even bigger.
"We are celebrating the biggest day in professional surfing with the 2022 Rip Curl WSL Finals," said WSL CEO, Erik Logan. "When we set out to crown our undisputed World Champions on one-day, we understood the opportunity to make this the most impactful day in our sport, and we've achieved that for our competitors, for our partners, and for our fans, with the largest live viewership in the history of the WSL. The milestone we've hit today is just the beginning, as we have significantly grown and invested in this competition format and will continue to build on the success year after year. Yesterday was an unforgettable experience, and we were so proud to bring that to fans around the world."
Pictured: The crowd cheers for 2022 World Champion Filipe Toledo (BRA) as he is chaired up the beach. Credit: ©  WSL /  Ryder
As part of WSL's ongoing purpose to drive the growth of the sport, industry, and collective businesses, the league is committed to refining and expanding cutting-edge content that celebrates the massive moments and athletes on the CT. In the lead-up to the event, the Rip Curl WSL Finals content generated 16.7 million video views, an increase of 48% from last year, reaching more fans pre-event than any other event in WSL history.

With a 13.4% increase in average live digital audience for regular-season CT events (excluding the Rip Curl WSL Finals) since 2021, the CT is reaching more fans than ever before. Overall, this year marked the highest WSL content consumption, seeing consistent growth year-over-year, including pre-pandemic comparisons.

For more information, please visit WorldSurfLeague.com.