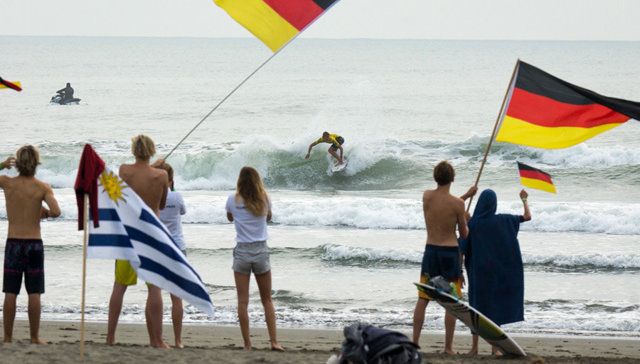 Competition intensifies for spectators, too! 🙂
VISSLA ISA World Junior Champs
International Surfing Association
Okuragahama Beach, Hyuga, Japan
23 September – 1 October 2017
Surf News Network, 26 September 2017:  Hyuga, Japan (19 hours ahead of Hawaii)
Competition intensified on Tuesday at the 2017 VISSLA ISA World Junior Surfing Championship as the first surfers were eliminated from the competition.
Of the 306 competitors hailing from a record-breaking 41 countries, 56 bowed out on this third day the event. Eleven full teams remain unscathed and avoided elimination on the opening day of Repechage Rounds taking place at Okuragahama beach in Hyuga, Japan.
Team Hawaii continued their strong run through the early stages of the event and earned the highest heat totals in the Girls and Boys Divisions.
Summer Macedo (HAW), the 2015 U-16 Gold Medalist, earned the highest heat total of 17.00 in the clean, morning conditions. Macedo's top performance is the second consecutive for Team Hawaii after her teammate and 2016 U-18 Gold Medalist, Brisa Hennessy, notched highest heat score total on yesterday's second day of competition.
Hawaii's Boys complemented the Girl's excellent results, with Wyatt McHale earning the second highest heat total of the day in the Boys' Divisions with 14.77. McHale advanced into Round 3 (of 7) in the Men's Main Event along with his three U-16 Division teammates.
Mexico's Alan Cleland led the charge for an inspired Team Mexico with an impressive score of 15.43, the highest of the Boy's Division on day 3. In the opening round of the day Morocco's Sélyann Zouhir surfed well in a tight heat to advance to Round 3 of the Main Event. Zouhir expressed his joy and pride for his country after winning the heat:
"It feels amazing to represent Morocco. I grew up and learned to surf there. Morocco is a really proud of surfing nation and back home they are all watching and supporting us.
"It took a lot of work for me to get here. It's hard because I have to make sacrifices. While my friends go out and have fun, I have to train and prepare.
"On a personal level, I just want to get better and smarter in my heats to improve for future competition. However, it's my dream and everyone on Team Morocco to get a Gold Medal. We think it's possible."

Canada's Mathea Olin continued to impress in the Girls' Rounds, placing second in her Main Event Round 2 heat to move onto Round 3. Olin spoke about the significance of her participation in this edition of the 2017 VISSLA ISA World Junior Surfing Championship:
"The girls are ripping! It's so fun to be at an event with so many countries from all around the world.
"My goal in surfing in this event is to put Canadian Surfing on the map. There are not a lot of girls Surfing back home, but I hope that my participation here can encourage more girls to take up the sport and get in the water."

ISA President, Fernando Aguerre, said: "We arrived at the beach this morning to find another beautiful day at Okuragahama beach. The high from the opening of competition subsided as competition intensified through the first Repechage Rounds of the event. We saw the first eliminations and emotions poured out on the beach.
"The special part of ISA World Championships is that the contest doesn't end when you are eliminated. When athletes bow out they still have the task of cheering on their teammates and helping them get as far as they can in the event. It's this unique team camaraderie and support that defines the ISA.
"Tomorrow we are expecting an increase in swell and the world's best junior surfers will leave it all on the line to keep their dreams of winning the Gold alive."
The official Surfline forecast is calling for an increase in swell with waves in the 3-4 foot range. As the swell increases through the day we will see sets up to 5 feet.
The event will be streamed live on www.isaworlds.com September 23 – October 1.
 The schedule for Wednesday's competition is as follows*:
Podium 1 (live webcast)
7:00am-9:40am – 8 heats Boys U-18 Main Event Round 3
9:40am-11:00am – 4 heats Girls U-18 Main Event Round 3
11:00am-1:40pm – 8 heats Boys U-16 Main Event Round 3
1:40pm-3:00pm – 4 heats Girls U-16 Main Event Round 3
3:00pm-5:00pm – 8 heats Girls U-18 Repechage Round 2
Podium 2
7:00am-11:00am – 16 heats Boys U-18 Repechage Round 2
11:00am-1:00pm – 8 heats Girls U-16 Repechage Round 2
1:00pm-5:00pm – 16 heats Boys U-16 Repechage Round 2
*All times in Japan Standard Time, UTC +9:00.
The remaining event schedule will be as follows:
September 27 – October 1: Competition at Okuragahama Beach
October 1:  Closing Ceremony, Okuragahama Beach