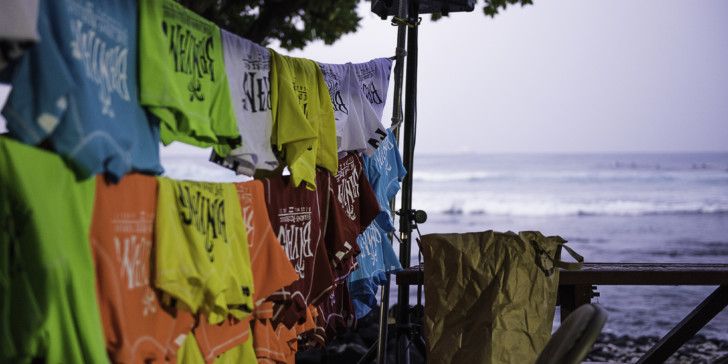 Shane Dorian's Keiki Classic 2017 went off without a hitch and had great surf this past weekend. It was the 22nd Annual Shane Dorian Keiki Classic held at Banyan's on the Big Island of Hawaii. The contest had over 60 kids in both boys and girls divisions and this year Shane introduced live scoring and priority so the kids got to showcase the best of their abilities with no excuses.
The waves were going off all day with 4-6 foot 'faces' and really consistent sets allowing everyone to get their share of waves and show the judges what they are made of. As always, Shane had a few other Hawaiian surfers over to hang out like Zeke Lau, Torrey Meister, Matt Meola and even Kelly Slater.
Overall it was another huge success and continues to be the event that all the kids look forward to the most. Shane puts so much time and effort into his event and it really shows. A special shout out to our very own Brodi Sale for taking his third Keiki Classic title in the U13 division with a great variety of airs and smooth carves. We'll see everyone next year! Billabong.

2017 Keiki Classic Results
Girls 13 and Under:
1 Sophia Carlucci
2 Ewe Wong
3 Rumor Butts
4 Crislyn Simpson-KaneJunior Girls 14-17
1 Chloe Smith
2 Kui Delovio
3 Carolyn Orr
4 Tegan HarrsJunior Boys 14-17
1 Loa Ng
2 Ocean Sargis
3 Kade Ketcheson
4 Honu LongleyBoys 13 and Under
1 Brodi Sale
2 Luke Heflin
3 Ty Simpson Kane
4 Kaido Freeman
Uncle Shane Dorian's 22nd Annual Banyans Keiki Classic from Ryan Moss on Vimeo.
Images Billabong
Trophies for the kids
Jackson Dorian, Kai Martin and friend enjoying the camaraderie
Competitor's jerseys await
Brodi Sale and TM Micah Byrne
Defending Champ Brodi Sale