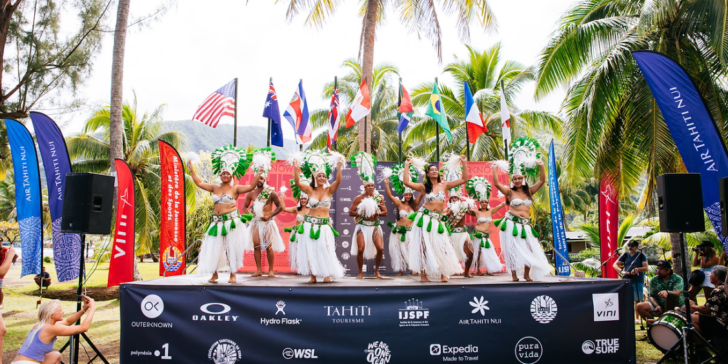 …Thursday Aug 11th at The End of The Road

Top Seeds Eye WSL Final 5 Finish

Bourez, Fierro and Vaast To Fly Flag for Tahiti

Tahiti's Up-And-Coming Women Talents Take Over the Lineup with WSL Rising Tides Presented by Pura Vida
Pictured: Tahitian dancers performing 'ori Tahiti at the official opening ceremony of the 2022 Outerknown Tahiti Pro. Credit: © WSL / Ryder
Teahupo'o, Tahiti, French Polynesia (Wednesday, August 10, 2022) – The holding period for the Outerknown Tahiti Pro, Stop No. 10 on the World Surf League (WSL) 2022 Championship Tour (CT), will open tomorrow, Thursday, August 11, and run through Sunday, August 21, 2022. As the last stop before the Rip Curl WSL Finals, this competition will be the last opportunity for competitors to enter into the WSL Final 5, as only the Top 5 men and Top 5 women on the CT rankings will be eligible to compete in the Rip Curl WSL Finals in September.
Teahupo'o is a natural stadium for surfing, framed by a backdrop of extinct volcanoes and floor of live coral reefs. The wave is as dangerous as it is beautiful. So far, the forecast for the waiting period is looking promising, and there is likely to be the opportunity to witness the world's best take on the awe-inspiring tubes of Teahupo'o. The Outerknown Tahiti Pro will also give us a window into what surfing in the next Olympics could look like, with Teahupo'o set to be the stage in the 2024 games.
Pictured: Stakes are high at the Outerknown Tahiti Pro to determine who will place in the WSL Final 5.
Credit: © WSL / Poullenot
Top Seeds Eye Final 5 Finish With Big Result in Tahiti 
With three spots for the men and three spots for the women in the Final 5 still up for grabs, it's almost anyone's game among the top seeds. So far, Filipe Toledo (BRA), Jack Robinson (AUS), Carissa Moore (HAW), and Johanne Defay (FRA), have already clinched their spots in the Final 5. On the men's side, Ethan Ewing (AUS) and Griffin Colapinto (USA) have both had breakout years and hope to finish the season remaining in the Final 5. Current world No. 4, Italo Ferreira (BRA) looks to make his second appearance in the WSL Rip Curl Finals and hopes to better his result of placing third last year. Kanoa Igarashi (JPN) and Callum Robson (AUS) currently sit just outside the Final 5 in spots No. 6 and 7 respectively, but could easily move up in the rankings.
On the women's side, current world No. 3 Tatiana Weston Webb (BRA) and world No. 4 Stephanie Gilmore (AUS) hope to make their second appearance in the WSL Rip Curl Finals. Brissa Hennessy (CRI) is also having a standout year and looks to make a name for herself by maintaining her position in the Final 5. CT veterans Lakey Peterson (USA) and Tyler Wright (AUS) currently sit in 6th and 7th in the rankings respectively, but a narrow margin separates them from the rest of the women on Tour, and big upsets could be in store for anyone.
"I'm so excited to be here in Tahiti preparing to compete at Teahupo'o," said Ewing. "I've been here a few times over the years but haven't seen it in all its glory yet, so I hope this is the week it turns on for us. There are big ramifications for the Final 5 at this event, but I just want to focus on continuing my form from J-Bay with another big result here and try to learn as much as I can on a wave that I haven't spent a lot of time at. I've been here for over a week now and feel like I'm in a good space, so I'm excited to get the competition underway."
Pictured: Wildcard Kauli Vaast, winner of the 2019 Tahiti Pro Trials. Credit: © WSL / Cestari 
Wildcard and Injury Updates: Vahine Fierro, Kauli Vaast and Michel Bourez to Represent Tahiti When Competition Commences
Competitors will have their work cut out for them with Tahitian duo Vahine Fierro (FRA) and Kauli Vaast (FRA) taking the wildcard spots at the Outerknown Tahiti Pro this year. Fierro is regarded as one of the best female performers ever at Teahupo'o and will take on Gabriela Bryan (HAW) and Carissa Moore (HAW) in the Opening Round, Heat 2. Meanwhile, Vaast, winner of the 2019 Tahiti Pro Trials, hopes to repeat his winning form when he takes on Ewing and Barron Mamiya (HAW) in the men's Opening Round, Heat.
"It is such an honor to be awarded the WSL Wildcard for this event," Fierro said. "I feel like I have spent more time out here than anyone on the women's tour and maybe even some of the men – I'm definitely comfortable out here. I don't want to set very high expectations for myself – I just want to enjoy the experience of seeing the world's best surf at my home break and even try and catch the best wave of my life in a heat."
Two-time WSL Champion John John Florence (HAW) is recovering from a knee injury and has decided to withdraw from the 2022 Outerknown Tahiti Pro, giving Tahitian Michel Bourez (FRA) a spot in the event. Similarly, reigning three-time WSL Champion Gabriel Medina (BRA) will not compete due to an ongoing knee injury he sustained while competing at the Oi Rio Pro. Medina will once again be replaced by fellow Brazilian Yago Dora. San Clemente's Kolohe Andino (USA) has also pulled out of the event due to personal reasons. He will be replaced by former CT competitor, Outerknown Teamrider and Teahupo'o specialist Nathan Hedge (AUS).
Pictured: Carissa Moore, Courtney Conlogue, Lakey Peterson, Gabriela Bryan, Johanne Defay, Brisa Hennessy, Isabella Nichols, Vahine Fierro, and Stephanie Gilmore celebrate returning to Tahiti. Credit: © WSL / Poullenot
Women's CT Returns to Tahiti for First Time Since 2006
The 2022 Outerknown Tahiti Pro will finally see the highly anticipated return of the women's CT to Teahupo'o for the first time in nearly 20 years, making it a defining moment for surfing. The last run being in 2006, the most recent winner of the women's Tahiti Pro is Australia's Melanie Redman-Carr. Current women CT surfers are eager to take that title and join the ranks of Redman-Carr and previous Tahiti Pro winners, including the three-time winner and big-wave surfer Keala Kennelly. As this year's final stop, Tahiti completes the first fully combined CT season for men's and women's in the history of the sport.
"I'm excited to be here in Teahupo'o for an event," said Defay. "I haven't spent much time here and am enjoying the discovery aspect of being here. I can't wait to see what the world's best women showcase out here. I'm sure we will get some good days of swell where we can really perform so I can't wait to get it started– let's do it."
Pictured: Kiara Goold gets a push from seven-time World Champion Stephanie Gilmore. Credit: © WSL / Poullenot 
Tahiti's Up-And-Coming Talents Take Over the Lineup
Today's WSL Rising Tides pres. by Pura Vida activation showed that women clearly not only have a place, but thrive in the Teahupo'o lineup. In the most unique activation yet, the Teahupo'o lineup was closed to give Tahiti's up-and-coming surfers and CT stars a chance to showcase their skills and share waves. All of today's Rising Tides participants have surfed this dangerous wave before, even 11-year-old Takihei Ellacott. Also joining the group was event wildcard, Vahine Fierro. WSL Rising Tides pres. by Pura Vida is a cornerstone of WSL's values, providing young surfers access to the world's best surfers and a platform to explore and learn from their heroes about pursuing their dreams in and out of the water.
For more information, please visit WorldSurfLeague.com.
Outerknown Tahiti Pro Men's Opening Round 1 Matchups:
Heat 1: Italo Ferreira (BRA), Matthew McGilivray (RSA), Yago Dora (BRA)
Heat 2: Ethan Ewing (AUS), Barron Mamiya (HAW), Kauli Vaast (FRA)
Heat 3: Jack Robinson (AUS), Nat Young (USA), Michel Bourez (FRA)
Heat 4: Filipe Toledo (BRA), Kelly Slater (USA),  Nathan Hedge (AUS)
Heat 5: Griffin Colapinto (USA), Jordy Smith (RSA), Jadson Andre (BRA)
Heat 6: Kanoa Igarashi (JPN), Caio Ibelli (BRA), Jackson Baker (AUS)
Heat 7: Callum Robson (AUS), Samuel Pupo (BRA), Seth Moniz (HAW)
Heat 8: Miguel Pupo (BRA), Connor O'Leary (AUS), Jake Marshall (USA)
Outerknown Tahiti Pro Women's Opening Round 1 Matchups:
Heat 1: Stephanie Gilmore (AUS), Brisa Hennessy (CRI), Isabella Nichols (AUS)
Heat 2: Carissa Moore (HAW), Gabriela Bryan (HAW), Vahine Fierro (FRA)
Heat 3: Johanne Defay (FRA), Tyler Wright (AUS), Caroline Marks (USA)
Heat 4: Tatiana Weston-Webb (BRA), Lakey Peterson (USA), Courtney Conlogue (USA)