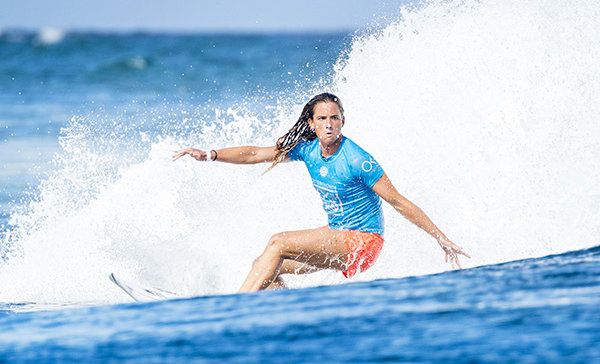 – 
WSL COMMITS TO DELIVERING WORLD'S BEST WAVES TO WORLD'S BEST SURFERS OUTSIDE HOLDING PERIOD ON DAY ONE OF THE MENS!
– TATIANA WESTON-WEBB AND COURTNEY CONLOGUE TO MATCH-UP IN FINAL SHOWDOWN
22HOURS AHEAD IN TAVARUA
Courtney Conlogue looking fierce & focused (USA) is set to do battle against Tatiana Weston-Webb (HAW) in the Final of the Outerknown Fiji Women's Pro in a Sizable SSW swell on day one of the Men's Holding Period.
Credit: © WSL / Cestari
| | |
| --- | --- |
| Location:    | Tavarua/Namotu, Fiji |
| Event window: | May 29 – June 2, 2017 EXTENDED |
| Today's call: | No contest today – Final set for Sunday, June 4, 2017 |
TAVARUA/NAMOTU, Fiji (Friday, June 2, 2017) – The Outerknown Fiji Women's Pro, Stop No. 5 on the 2017 World Surf League (WSL) Championship Tour (CT), will not be running the Final today, the last day of the competition window, due to poor conditions.
The men's and women's Commissioners (Kieren Perrow and Jessi Miley-Dyer) have coordinated to allow the women's Final to take place on Sunday morning, the opening day of the men's window, when the surf is projected to be solid.
"Final day of the window and we don't have any surf on offer," said WSL Deputy Commissioner Jessi Miley-Dyer. "The concept behind the OK Fiji Pro is to have both the men and women challenge themselves in solid, critical conditions. We can't always promise that and while we've had some impressive surfing already this week, conditions deteriorated too rapidly to complete the event. Coordinating with Commissioner Kieren Perrow and our events team across logistics, we're very excited to announce that the women's Final of the OK Fiji Pro will be held Sunday morning in projected solid surf at Cloudbreak."
"Jessi and I work really closely together to try and get everyone in great surf and that's really important because the men and the women both want equal opportunity," said WSL Commissioner, Kieren Perrow. "This is a really unique opportunity, we're down to the Final and Jessi made a good call not to run when the conditions had deteriorated. This decision gives us the ability to put the women out in the Final, the pinnacle of the event, in incredible surf and go head-to-head in the waves that we come to Fiji for."
Courtney Conlogue (USA) and Tatiana Weston-Webb (HAW), two of the hardest-charging surfers in the field, will battle for the event title in solid six-foot (10 foot faces) Cloudbreak in front of the world's best male surfers as they await the commencement of Round 1.
Conlogue stormed her way to the Final by defeating reigning WSL Champion and No. 1 on the Jeep Leaderboard Tyler Wright (AUS) and defending event winner Johanne Defay (FRA).
"I'm really looking forward to what's to come, it's really exciting," Conlogue said. "I'm so looking forward to this Final knowing that WSL is giving us the opportunity to wait for swell. This has never been done before and to allow us to showcase in good waves is going to be incredible and especially in a place like Fiji. To have a Final with Tatiana in swell is going to be incredible."
Weston-Webb earned her first Final appearance of 2017 with a string of incredible victories that saw her take down two-time event winner Sally Fitzgibbons (AUS), 3X WSL Champion Carissa Moore (HAW) and 6X World Champion Stephanie Gilmore (AUS).
"It's really taken a lot of self-belief to get here and I'm so happy I made the Final," said Weston-Webb. "I'm really excited that the WSL has chosen to give us a huge opportunity, surf some big waves and explore possibilities. It's definitely going to be exciting and I hope to really put on a show for everyone."
Minor/flat surf prevails Friday. New, long period SW swell builds through Saturday with overhead surf developing at Cloudbreak through the morning and even larger surf in the afternoon. That swell peaks Sunday, along with new, shorter to mid period SW swell for the solid surf at Cloudbreak. A new, long period SW swell picks up on Monday to keep the surf strong, before fading through mid next week. More swell is on the radar in the long range. Surfline.