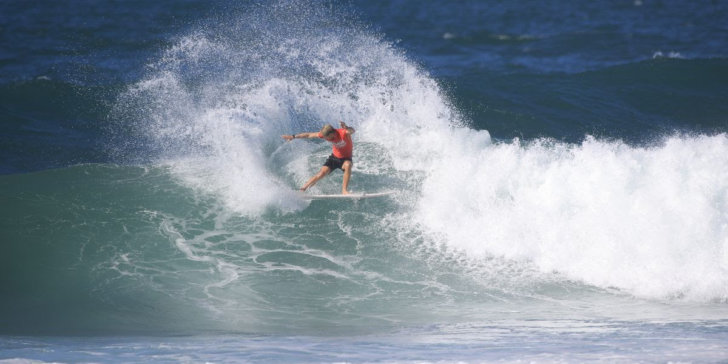 John John Florence Debuts in World Champion Form

Challenger Series Contenders, Californians Debut in Formidable Form

Qualification Race Tightens with Early Exits from Championship Tour Hopefuls
Pictured  front page:
2X WSL Champion John John Florence (HAW) returned to competition in spectacular form with a near-perfect debut at Haleiwa. 
Credit
: © WSL /  Brent B.
HALEIWA, Oahu/Hawaii (Friday, November 26, 2021) – Opening day of the World Surf League (WSL) Michelob ULTRA Pure Gold Haleiwa Challenger, the final stop of the 2021 Challenger Series, produced an extravaganza of world-class surfing in pumping Haleiwa conditions. A six-to-eight, occasional plus, foot swell delivered more than enough power for some of the elite contenders who paddled into the lineup and many rose to the occasion.
In arguably the heat of the day, 2X WSL Champion John John Florence (HAW) put on a highlight reel during his long-awaited return to competition alongside the Brazilian duo of Thiago Camarao, also advancing, Mateus Herdy, and Australia's Sheldon Simkus. Florence's near-perfect 18.30 heat total (out of a possible 20), including a 9.23 (out of a possible 10) were both the day's best in his first heat since May when he was forced to withdraw from the Boost Mobile Margaret River Pro pres. by Corona due to injury.

"I'm feeling really good and the knee feels awesome, and I'm just happy to be back in a jersey," said Florence. "It's such a prestigious event and I've been watching it since I've been growing up. It's also really good just being here with some of the best surfers in the world and surfing against everyone."

However, in true heartbreak fashion, the performance from Camarao ended Herdy's chances of making a dream run toward Championship Tour (CT) qualification.

"The heat was really good with John," said Camarao. "It's always emotional to surf with the best in the world and he was very well prepared for the heat. The heat started on fire and it stayed that way until the end."
The race to qualification couldn't be tighter and current Challenger Series No. 3 Jake Marshall (USA) isn't leaving anything to chance after the opportunity slipped away at this very wave in 2019. The Encinitas, California, athlete dismantled the Haleiwa lineup for a near-perfect 9.00 and 7.83, leaping from fourth-to-first-place in the heat to best Oahu, Hawaii's own Ezekiel Lau, who has already qualified for the CT and also advanced today in his Round 2 debut.

"That's exactly what I wanted to do out there and I just got a nice set wave with three turns," said Marshall. "A couple years ago I was in a similar position and I had a bad heat out here. I think I learned a lot from that and now I'm just really excited to be back. I want to get a good result here regardless of how I finish on the Challenger Series after I've put a lot of time into this wave."
Pictured: Crosby Colapinto (USA) made his presence known to the field with a brilliant opening day performance. Credit: © WSL /  Heff

Fellow Californian Crosby Colapinto (USA), younger brother to CT competitor Griffin, who dazzled those in attendance at Haleiwa with an impeccable performance in his Round 1 debut by notching a 16.00 heat total before complementing that with yet another 16.00 combination in Round 2. Colapinto helped eliminate one of the top-seeded surfers Rio Waida (IDN) in a stunning showcase of power surfing before continuing his success into Round 2 and eliminating CT hopeful Jackson Butler (AUS).

"This is my new favorite wave," said Colapinto. "This time last year I spent two months here and watched my brother qualify at this wave (in 2018). I just wanted to get better at this wave and places like Sunset, and just to be in this contest is really fun with only a few people out."
Pictured: (L) Qualifying Series veteran Ian Gentil (HAW) brought everything to his Round 1 victory. (R) Australia's Kalani Ball wasn't to be stopped with a terrific debut. Credit: © WSL /  Heff & Brent B.

Maui, Hawaii's Ian Gentil set the standard in Round 1 with an excellent 8.50 and 16.27 heat total on his ferocious forehand attack that matched Haleiwa's formidable power. The 25-year old remains in the hunt for his first-ever major WSL win after multiple runner-up finishes, including the Sunset Open in 2018. Gentil put the field in Haleiwa on notice today with his debut performance among the Challenger Series elite.

"I haven't had a heat like that all year, so that felt really good and I was really excited just to get out there today," said Gentil. "That's the first Haleiwa event I've done that wasn't small. Usually the first round of these events is slower and then the next round starts pumping, so I was stoked to roll the dice a few times."

Australia's Kalani Ball found his long-awaited heat win on the Challenger Series in defining fashion with an excellent 8.00 and overall heat total of 16.00. Ball's surfing on the Qualifying Series (QS) from 2017-2020 never saw him out of the Top 100, but he looks to turn things around while competing against the Challenger Series elite in excellent conditions.

"I've done this event a few times, so it's just epic to get it in these conditions and do some good rail work," said Ball. "I got all these boards I'm on that were shaped in California and they're based off Griffin's (Colapinto) boards and they work really well. I'm definitely stoked they're holding out there with these conditions and power that's in the water."

Notable Opening Day Performers 
Pictured: North Shore competitor Shion Crawford powered through opening day and is into Round 3 with plenty of momentum. Credit: © WSL /  Heff

Ball's fellow countryman and CT hopeful Callum Robson delivered in his Round 2 debut, as did former CT competitor Jesse Mendes (BRA) who also notched two solid scores with a 15.17 heat total. It was Mendes' opening performance alongside compatriot Joao Chianca as 2015 event victor Wade Carmichael (AUS) was eliminated.

North Shore's own Shion Crawford made a forceful statement in his opening day campaign, coming into the event as an alternate, ending with a Round 2 heat win to secure his place into Round 3. Crawford's power surfing and huge off the tops led to the elimination of 4X Jaws Challenge victor Billy Kemper (HAW) in Round 1 and CT hopeful, 2020 Olympian Lucca Mesinas, in Round 2.

"I did not expect to be in this contest," said Crawford. "I was way back on the alternate list at the start and thought there's no way I'm getting in so this all just amazing. It was a slow second heat and just to be in a heat with guys like Jack (Freestone) was great."

South Africa's Shane Sykes found his rhythm by starting off brilliantly, garnering a 7.27 and 6.57 on his way to eliminating one of Hawaii's most beloved surfers Mason Ho, in addition to fellow North Shore competitor Finn McGill.

"It felt nice to finally get a heat win as I haven't gotten one in all of these Challenger Series events," said Sykes. "Waves are pumping, boards are feeling really good and once I got out there I knew what I was looking for to get it done. I'll just stick with my routine that I have going on and I'm stoked to make it through that first heat."

CT competitor Conner Coffin (USA) led the charge to start Round 2 Heat 1 with a dominant display of his signature forehand power surfing that left his fellow competitors in a battle for second-place that ultimately went to France's Charly Quivront. Coffin's fellow CT contender Jack Robinson (AUS) blasted through his first heat in Round 2 Heat 7 alongside West Australia threat Jacob Wilcox, who earned the runner-up spot.

A 7:30 a.m. HST call will determine a possible 8:00 a.m. HST start for either men's Round 2 or women's Round 1.
Watch LIVE
The Michelob ULTRA Pure Gold Haleiwa Challenger will be broadcast LIVE on WorldSurfLeague.com, the WSL app, and on WSL's YouTube Channel. Also, check local listings for coverage from the WSL's broadcast partners.For more information, please visit WorldSurfLeague.com.The Michelob ULTRA Pure Gold Haleiwa Challenger is proudly supported by Michelob ULTRA, Vans, Shiseido, Hydro Flask, Sambazon, Draft Kings, Expedia, and HIC.