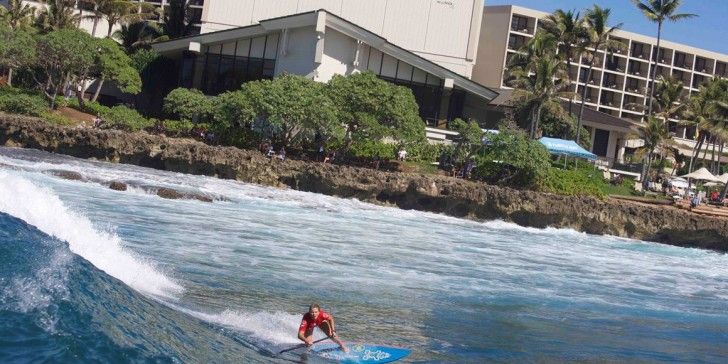 Beautiful conditions proved  the star of today's action as the World's best stepped up to do battle in clean, overhead surf. WIth a truly international field in attendance ranging from Australia, Japan and South Africa, to France, the Canary Islands, Brazil and of course the USA and Hawaii, Turtle Bay proved the consumate host with its completely unique and unparalleled amphitheater.
However, the athletes did make it look impressive and put on a fitting spectacle for the assembled crowds to complete 3 full rounds of competition, as we anticipate Round 4 thru to the Finals to be completed tomorrow.
Shakira Westdorp turns heads on Day 1 of the Turtle Bay Pro, posting the single highest score of the day advancing to 1/4 finals
Shakira Westdorp (Starboard) made her presence felt throughout today's action, posting the single highest wave score of the day (9.33), wowing the judges with her powerful backhand assault in the glassy righthanders on offer at Turtle Bay's infamous Pool Bar.
As we head into Day 2, there is no doubt that Shakira will be one to watch out for, as we wrap Round 4 and go into quarterfinal action, and competition intensifies.
Current World Champion, 2013 World Champion, 2015 World #2 and an exciting new force on Tour are through to the quarters
Izzi Gomez (Starboard) kept her composure today to secure consistent scores through Rounds 1&3 and avoiding the ever dangerous repechage rounds. Looking fitter than ever, Izzi has her sites on victory here in Hawaii, the only event that she has not been able to win yet on Tour.
Meanwhile Nicole Pacelli (Art in Surf) from Brazil who was not only the 2013 World Champion, but also two times winner of the Turtle Bay Pro, is looking for redemption in 2016, and a shot at the World Title once again.
As mentioned above, Shakira Westdorp (Starboard) has shown herself to be a force to be reckoned with, not only after her performances last year, but her impressive showcase today, posting some impressive scores to earn her place in the quarterfinals.
Finally, Fiona Wylde (Starboard) continues to amaze, showcasing herself to be one of the most complete athletes on Tour at the moment, as one of the World's fastest racers, and a formidable talent in the surf as well, clearly benefiting from her winters spent in Hawaii.
The last 4 spots in the quarters will be decided in the morning, as it will come down to the wire and a Champion will most likely be crowned right here at Turtle Bay Resort.
El Nino is not to disappoint as the Sunset Beach Pro returns from Monday 8th February to open the 2016 Stand Up World Tour
WIth a string of large to extra large swells forecast over the coming 10 days, we are anticipating an epic showdown at Sunset Beach next week for Stop #1 of the 2016 Stand Up World Tour.
In addition, watch out for the Waterman Challenge, that is inviting 20 of the World's most well rounded Ocean Sports athletes to battle it out at Sunset Beach across shortboard, longboard and SUP for the prestige of being crowned Champion at this multi sports spectacle at Sunset Beach.
Make sure to stay tuned to http://watermanleague.cmail20.com/t/r-l-vhyplt-dhxyhhjih-jd/ through the holding period (8th – 20th February) and watch all the action go down LIVE athttp://watermanleague.cmail20.com/t/r-l-vhyplt-dhxyhhjih-jh/