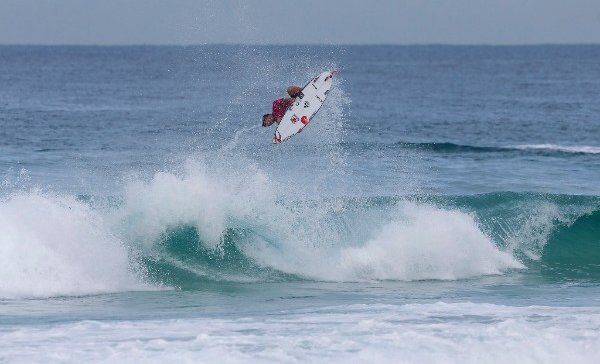 ….WAS CALLED ON FIRST HOUR OF TUESDAY IN HAWAII
– MEN'S ROUND 1 CALLED ON FOR 7:05 AM START(12:05 AM HI TIME)
– WOMEN'S ROUND 1 TO FOLLOW MEN'S COMPETITION
-SLATER WITHDRAWS DUE TO BACK ISSUES. Ranked 13th in the world, not sure when he'll return.
"I've been working through some injuries the past several seasons and, unfortunately, I need to take some time off to mend my body," Slater said. "I won't be in Rio and I don't know how long I'll need." "My lower back has been in constant pain for the last three years and although I've been able to fight through it with short stints of rehab, it hasn't fixed the problem. If I don't do this now, at some point, I'll ruin my body. I'm spending the next five weeks rehabilitating with WSL Doctors in Australia and we'll see how I feel after that. I'm hopeful that I will be in top form again this season at some point." Heal up! With the Outer Known Fiji Pro starting up in a few weeks, it wont be the same.
 Up first this morning will be 2014 WSL Champion Gabriel Medina (BRA) against 2017 CT Rookie Ezekiel Lau (HAW) and injury replacement Nat Young (USA) in the opening heat of Round 1 of the Oi Rio Pro pres. by Corona.
Credit: © WSL / Smorigo
| | |
| --- | --- |
| Location:    |   Saquarema, Rio de Janeiro, Brazil |
| Event window: |   May 09 – 20, 2017 |
| Today's call: |   Men's Round 1 & Women's Round 1 called ON |
| | |
| --- | --- |
| Conditions: |        4 – 6+ foot faces |
Tuesday, May 9, 2017 (Saquarema, Rio de Janeiro/BRAZIL) – The opening day of the Oi Rio Pro presented by Corona, the fourth stop on the World Surf League (WSL) Championship Tour (CT), has been called ON in four-to-six foot (1 – 2 metre) conditions at Saquarema. The event will kickoff at 7:05 a.m. local time with men's Round 1 followed by women's Round 1.
"We are excited to see great conditions on the opening day of the window," said WSL Commissioner Kieren Perrow. "We have a solid swell with favorable winds on offer here at Praia de Itaúna in Saquarema and we plan to take full advantage. We are calling the competition on for the day. We will start with men's Round 1 at 7:05 a.m. and then run through women's Round 1."
John John Florence (HAW), reigning WSL Champion and defending event winner,  will face Brazilian chargers Miguel Pupo (BRA) and Yago Dora (BRA). Dora took out the men's trials yesterday to earn the coveted wildcard into the main event and will put all on the line today to beat current World No. 1 Florence.
2015 WSL Champion Adriano de Souza (BRA) looked in great form during the Australian leg and has made his way to fourth on the Jeep Leaderboard. De Souza will surf against compatriots Wiggolly Dantas (BRA) and Jadson Andre (BRA) for the opportunity to skip Round 2 and continue to climb the rankings.
Current World No. 2 Owen Wright (AUS) will face CT veteran Jeremy Flores (FRA) and rookie Leonardo Fioravanti (ITA) in Round 1 Heat 3. On the Jeep Leaderboard, Wright is currently tied with Jordy Smith (ZAF), who will look to win his Round 1 match-up against Jack Freestone (AUS) and injury replacement Bino Lopes (BRA).
Up first this morning will be 2014 WSL Champion Gabriel Medina (BRA) battling against 2017 CT Rookie Ezekiel Lau (HAW) and injury replacement Nat Young (USA) in the opening heat of Round 1. Medina will fight to comeback from his early eliminations on the Australian leg and advance straight to Round 3.
The event will get off to a nice start with a fun to mid size SSW to S swell lining up for the first couple days of the waiting period (9th-10th) and light morning wind. The surf looks down for Thursday before another increase in S swell on Friday/Saturday (12th/13th). Long range charts point to a potential strong swell early to mid next week (15th-17th) with the surf potentially lingering into the last several days of the contest waiting period. Surfline.
For more information, check out WorldSurfLeague.com.
Oi Rio Pro Men's Round 1 Match-Ups:
Heat 1: Gabriel Medina (BRA), Ezekiel Lau (HAW), Nat Young (USA)
Heat 2: Adriano de Souza (BRA), Wiggolly Dantas (BRA), Jadson Andre (BRA)
Heat 3: Owen Wright (AUS), Jeremy Flores (FRA), Leonardo Fioravanti (ITA)
Heat 4: Kolohe Andino (USA), Josh Kerr (AUS), Jesse Mendes (BRA)
Heat 5: Jordy Smith (ZAF), Jack Freestone (AUS), Bino Lopes (BRA)
Heat 6: John John Florence (HAW), Miguel Pupo (BRA), Yago Dora (BRA)
Heat 7: Filipe Toledo (BRA), Frederico Morais (PRT), Ethan Ewing (AUS)
Heat 8: Matt Wilkinson (AUS), Adrian Buchan (AUS), Ian Gouveia (BRA)
Heat 9: Joel Parkinson (AUS), Connor O'Leary (AUS), Joan Duru (FRA)
Heat 10: Michel Bourez (PYF), Mick Fanning (AUS), Bede Durbidge (AUS)
Heat 11: Sebastian Zietz (HAW), Conner Coffin (USA), Kanoa Igarashi (USA)
Heat 12: Julian Wilson (AUS), Caio Ibelli (BRA), Stuart Kennedy (AUS)
Oi Rio Women's Pro Round 1 Match-Ups:
Heat 1: Carissa Moore (HAW), Sage Erickson (USA), Laura Enever (AUS)
Heat 2: Courtney Conlogue (USA), Nikki Van Dijk (AUS), Bronte Macaulay (AUS)
Heat 3: Stephanie Gilmore (AUS), Keely Andrew (AUS), Taina Hinckel (BRA)
Heat 4: Tyler Wright (AUS), Coco Ho (HAW), Bianca Buitendag (ZAF)
Heat 5: Sally Fitzgibbons (AUS), Tatiana Weston-Webb (HAW), Pauline Ado (FRA)
Heat 6: Johanne Defay (FRA), Lakey Peterson (USA), Silvana Lima (BRA)