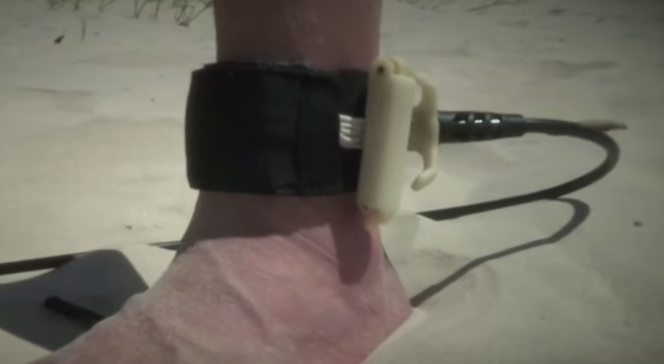 A surf leash that's also a tourniquet
Surf News Network, 4 August, 2015. Saint Petersburg, Florida – OMNA Inc. – developers of products that increase life saving capabilities for water sports enthusiasts, and life saving professionals – launched their Tourniquet Leash.
The Tourniquet Leash innovatively integrates a tourniquet into the ankle cuff of a surfboard leash. The result is an increase in the capabilities of the surfer without any loss in performance.
Surfing and other water sports are already dangerous. Hazards such as sharks, reefs, crocodiles, crowds, etc., can increase the risk of injury exponentially. Any of those hazards could potentially inflict life-threatening bleeding to a surfer, and since a person can bleed out in minutes a tourniquet must be readily available.
Research of shark attack reports indicate that a number of lives have been saved because of the application of improvised tourniquets. The Tourniquet Leash eliminates the need to find materials to make a tourniquet providing surfers immediate access to high quality tourniquets.
Life threatening bleeding requires prompt action before the onset of shock and arriving at a hospital. The Tourniquet Leash enables surfers to quickly stop the bleeding, and seek medical attention.
TOURNIQUET LEASH FEATURES:
High quality tourniquet built into ankle cuff
Modular rail saver
Nylon / stainless steel swivel assembly
Deluxe padded ankle strap
1 Year limited warranty
There are two versions of the TOURNIQUET LEASH.
Windlass Tourniquet Leash: This version is configured with a foldable windlass bar mechanism that can be rotated to tighten the device around a limb and locked in place to stop life-threatening bleeding.
Elastic Tourniquet Leash: This version is configured with an elastic strap that can be wrapped around a limb to stop life-threatening bleeding.
People can currently subscribe to be notified when they can pre-order the products on Kickstarter by subscribing here
Source: HERE