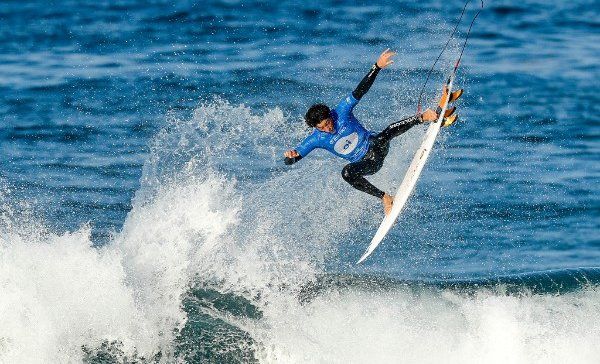 – WSL CHAMPION MEDINA SURVIVES ROUND 2
– WILDCARD DORA DISPATCHES TOP SEED ANDINO
– WRIGHT, WILKINSON FIND SUCCESS IN EARLY ELIMINATION ROUND
 Event wildcard Yago Dora (BRA) eliminated 2017 World Title contender Kolohe Andino (USA) in the dramatic opening heat of Round 2 at the Oi Rio Pro pres. by Corona.
Credit: © WSL / Poullenot
Wednesday, May 10, 2017 (Saquarema, Rio de Janeiro/BRAZIL) – The Oi Rio Pro presented by Corona, the fourth stop on the World Surf League (WSL) Championship Tour (CT), continued today with the first four heats of men's elimination Round 2 in three-to-five foot (1 – 1.5 metre) conditions.2014 WSL Champion Gabriel Medina (BRA) survived elimination Round 2 against event wildcard Jesse Mendes (BRA). The all-Brazilian matchup saw both surfers charge through the Praia de Itaúna lineup, but it was Medina who earned the advantage with his 14.20 (out of a possible 20) combined score over Mendes' 10.66. Medina will advance to Round 3, while Mendes is eliminated from the draw.
"It is good to surf in Brazil," said Medina. "There are a lot of people rooting for you. I am stoked to get the win. Jesse [Mendes] and I have had some good battles and he is a really good surfer. He is so hard to beat and I am pretty sure he is going to qualify this year. I am rooting for him. That was a tough one because we had tricky conditions with a good surfer, so it makes it even harder."
Current World No. 2 Owen Wright (AUS) will continue through to Round 3 after dispatching injury replacement Bino Lopes (BRA) in Heat 2. Wright delivered an excellent 8.50 and 7.50 to post the highest two-wave score of the day and will look to put the pressure on his next opponent in elimination Round 3.
"The waves are really tricky," said Wright. "I got an 8.50 on my first wave and I thought it would be easy to get another score, but a few minutes went by and I thought that I would just do a couple turns to get another 5 on the board just in case I was out of position. It ended up being like that for the rest of the heat. I am glad to make it through because you know the Brazilians are always going to perform their best in their home ground and there is a lot of support for them over here"
The event also witnessed a huge upset earlier this morning with the elimination of current World No. 5 Kolohe Andino (USA) by event wildcard Yago Dora (BRA) in the opening heat of Round 2. Andino held the lead for a majority of the heat, even with Dora's near-perfect 9.10. Needing a 4.13, Dora pulled off an air under Andino's priority to steal the win. Andino will be eliminated in Equal 25th place, his worst result of the season.
"That was my first heat win on a CT event," Dora said. "I am really psyched to get that last wave. I got really nervous on the end because Kolohe [Andino] had priority, and I was lucky to get the one-maneuver section and was able to do the air with the bump. I am stoked to make it through."
Matt Wilkinson (AUS) eliminated 2017 CT Rookie Leonardo Fioravanti (ITA) in Heat 4 of Round 2. Fioravanti has yet to secure a heat win this season and will now focus his attention to Fiji. Wilkinson will advance to the next round.
Following the completion of Round 2 Heat 4, event officials called the competition OFF for the day due to deteriorating conditions and unfavorable winds. Event officials will reconvene tomorrow morning at 6:45 am local time to assess conditions and make the next call.
Easing S swell offers fun surf on Wednesday with conditions most favorable in the morning. The surf looks down for Thursday before another increase in S swell on Friday/Saturday (12th/13th). A mix of SSW and S swells on Sunday eases into Monday morning before a potentially solid swell builds on Monday afternoon into Tuesday. S trending SSE/SE swell is due for mid to late next week.   Surfline.
Oi Rio Pro Men's Round 2 (H1-4) Results:Heat 1: Yago Dora (BRA) 14.27 def. Kolohe Andino (USA) 13.23
Heat 2: Owen Wright (AUS) 16.00 def. Bino Lopes (BRA) 8.97
Heat 3: Gabriel Medina (BRA) 14.20 def. Jesse Mendes (BRA) 10.66
Heat 4: Matt Wilkinson (AUS) 11.00 def. Leonardo Fioravanti (ITA) 10.43
Oi Rio Pro Remaining Men's Round 2 Match-Ups:
Heat 5: Michel Bourez (PYF) vs. Jadson Andre (BRA)
Heat 6: Sebastian Zietz (HAW) vs. Ethan Ewing (AUS)
Heat 7: Caio Ibelli (BRA) vs. Joan Duru (FRA)
Heat 8: Conner Coffin (USA) vs. Bede Durbidge (AUS)
Heat 9: Connor O'Leary (AUS) vs. Stuart Kennedy (AUS)
Heat 10: Adrian Buchan (AUS) vs. Miguel Pupo (BRA)
Heat 11: Frederico Morais (PRT) vs. Jack Freestone (AUS)
Heat 12: Ezekiel Lau (HAW) vs. Wiggolly Dantas (BRA)
Oi Rio Women's Pro Round 2 Match-Ups:
Heat 1: Tatiana Weston-Webb (HAW) vs. Laura Enever (AUS)
Heat 2: Nikki Van Dijk (AUS) vs. Bronte Macaulay (AUS)
Heat 3: Tyler Wright (AUS) vs. Taina Hinckel (BRA)
Heat 4: Carissa Moore (HAW) vs. Bianca Buitendag (ZAF)
Heat 5: Lakey Peterson (USA) vs. Pauline Ado (FRA)
Heat 6: Keely Andrew (AUS) vs. Silvana Lima (BRA)