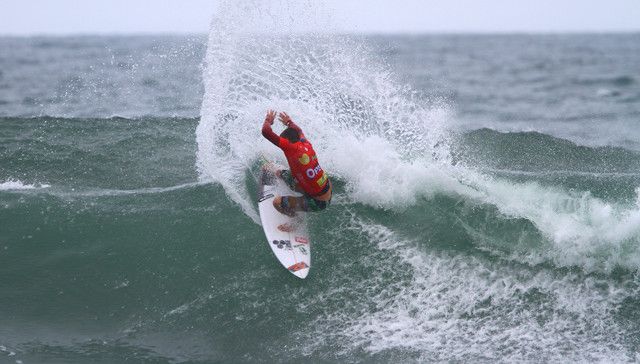 World Surf Legue QS 10,000 Men's Event
Sao Sebastiao, Maresias, Sao Paulo Brazil
2 – 8 November 2015
Event will will conclude the WSL South America Surf Series
Surf News Network, 3 November, 2015.
Action began on Tuesday as the first nine heats were concluded at the Oi HD Sao Paulo Open of Surfing presented by Banco do Brasil at Praia de Maresias, in Sao Sebastiao. The athletes in the 96-man field vying for the U$250,000 in prize money were eager to hit the water at the final World Surf League QS 10,000 event prior to the year-end Hawaiian leg.
At this time of the year, each heat has the potential to decide the future of the athletes in competition. While some surfers are trying to maintain their spot on the CT through requalification on the Qualifying Series, surfers on the QS are looking to make the big jump onto the elite division in 2016. With so much at stake, emotional highs and lows are at a constant.
Ryan Callinan (AUS), Stu Kennedy (AUS) and Joan Duru (FRA) have fought hard all year long to be in a position to qualify onto the CT. The trio entered the Oi HD Sao Paulo Open of Surfing ranked in 7th, 12th and 15th respectively. All three were eliminated in Round 1, leaving the door open for the pack that's chasing them from behind.
Sitting in 34th place on the QS ranking, Sebastian Zietz (HAW) has proven that he has the talent to be on the Championship Tour, but since qualifying, he has not been able to validate his skill with meaningful results.
In Heat 4 of Round 1, Zietz went full throttle and scored an 8.33 and an 8.50 on the righthanders in the 3-4 foot range (1 meter) at Maresias for the highest heat total of the day with a 16.83 (out of a possible 20 points). Hiroto Arai (JPN) advanced in second, eliminating Heitor Alves (BRA) and Deivid Silva (BRA), both of whom looked outstanding in the QS 6,000 events in Florianopolis and Itacaré.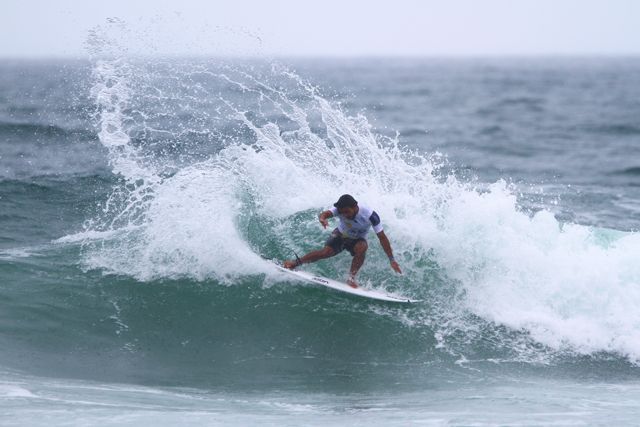 Tomas Hermes © WSL/Smorigo
"There's kind of this messy left and a rip current out front, but there's a right peak that seems pretty consistent and I was able to get those two good ones," said Zietz. "It sucks to come down to the end of the year needing a result and thinking I might have taken some heats for granted in the beginning of the year and didn't give it my all from beginning to end."
"I love what I do, traveling all around the world and surfing all these places. We live the best lifestyle in the world and I really want to be back on the CT and hopefully I'll do well enough so I don't have to do the QS next year. This year is the most I've ever traveled and haven't been home too much. But it's super fun to be back in Brazil. The water's super warm and the waves are fun, so it's good"
Substituting Jordy Smith (ZAF) during the European leg of the World Surf League CT events, Tomas Hermes (BRA) had an outstanding beginning to the QS 10,000 event by scoring a 9.00 on a series of explosive hacks for the highest single wave ride of the day. Davey Cathels (AUS) who is at No. 20 on the QS standings advanced in second place, while Medi Veminardi (REU) and Marco Giorgi (URY) were eliminated.
"When you get a good score to start off in a heat, you only think about getting a good backup score. So I tried to get at least a 5 or 6 point ride so I wouldn't get overtaken," said Hermes. "On that 9-point ride, I was in doubt if I should 've gone or not because it had this weird wonk in it. But after my first snap, it just opened up and it let me do a few more turns before hitting the closeout section. I love surfing here in Maresias, so I'm stoked that the forecast looks good and I hope we all get to show what we can do in the next few days."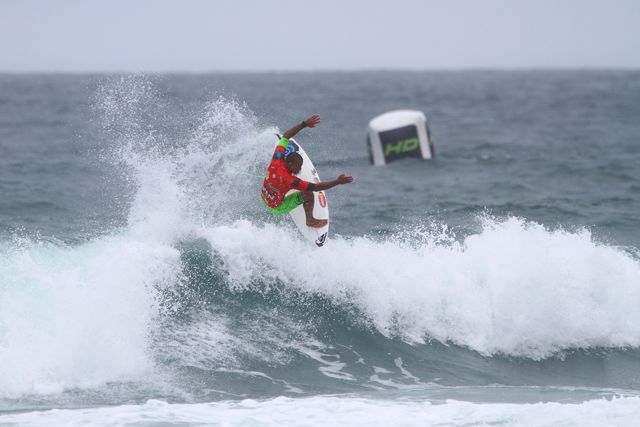 Wiggolly Dantas © WSL/Smorigo
Conner Coffin (USA) is also looking to become a rookie on the CT in 2016, but first needs to advance two more rounds at the Oi HD Sao Paulo Open of Surfing before making it into the top ten list of surfers that will be eligible. Coffin stayed busy and attacked the lefts at Praia de Maresias for a total heat score of 14.60 (7.67 + 6.93) to advance in first place. Hizunome Bettero (BRA) moved on in second place with a 12.40, taking down Michael Wright (AUS) and Joan Duru (FRA).
"I got pretty busy at the start and that's what I wanted to do. But there's always that fine line between getting busy and making sure it's a good one," Coffin said. "You don't want to start with 3's. I was stoked that I got that really good left and then I kept looking for the lefts because I feel comfortable on my backside in waves like these. It's super important to get a good start at these events. I've had a good run in Brazil and it's always good to get results when you put the time in. I didn't do well in Itacare, but I told my parents that I was saving some of my good mojo for Maresias and I couldn't spend it all on the 6000. So I hope to keep the rhythm going and I'm stoked there are waves and I'm looking forward to a fun week."
Young Italian surfer Leonardo Fioravanti (ITA) is steadily making a comeback after fracturing a vertebrae in his spinal column after a nasty wipeout at Pipeline last year. In Heat 6, Fioravanti looked powerful as he scored two rides in the excellent range (8.00 + 8.17) to advance in first place alongside Billy Stairmand (NZL). Stuart Kennedy (AUS), who entered the event in 12th place on the QS rankings, was visibly distraught after being eliminated in Round 1 along with Nomme Mignot (FRA).
"Actually it's pretty fun out there," Fioravanti said. "You just have to wait for the right two waves. It's tough because there's a lot of water moving and it's windy. But if you're patient, you should be able to get two good waves in a 30-minute heat. [About his return to Hawaii after the injury] I'm actually excited to go back to Hawaii. I don't know what I'll feel when I go to Pipe, but I love the whole scene in Hawaii. I've been going there since I was really young, so I can't wait to get out there. I'm frothing."
A call is set for 7:30 am local time for continuation of the Oi HD Sao Paulo Open of Surfing presented by Banco do Brasil. Competition will recommence with Heat 10 of Round 1 consisting of Jack Freestone (AUS), Evan Geiselman (USA), Cooper Chapman (AUS) and Michael February (ZAF).
Watch all the action LIVE: www.worldsurfleague.com