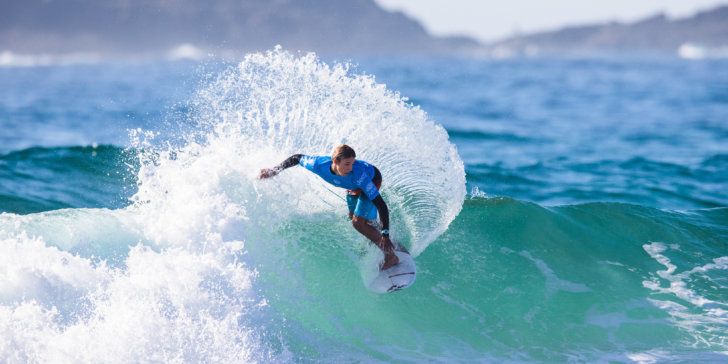 Ocean Macedo takes it on in Kiama when he eliminated Aussie hopeful Reef Heazlewood (AUS) in Round Two Heat 3.
Credit: © WSL /  Matt Dunba
Fin McGill still in it…Eli Hanneman out….see results below.
Location:              Bombo Beach, Kiama NSW/Australia
Event window:     January 4 – 12, 2018
Today's call:         Men's Round Two Complete to Heat 10 – Next call January 8, 7:00 AM  Conditions:          Clean 2-to-3 foot waves
Kiama,  NSW/AUS  (Sunday, January  7, 2018) –  Competition has resumed on Day 4 of the 2017 Jeep World Junior Championship in Kiama and the action didn't disappoint with big performances and even bigger upsets going down in fun 2-to-3 foot surf at Bombo Beach. With a building North swell throughout the day, contest directors were able to complete Men's 10 heats of Round Two until strong winds forced an early finish on Day 4 of the waiting period.
In what was one of the most heavily anticipated matchups of the event thus far, Australia/Oceania 2017 Junior QS Champion Reef Heazlewood (AUS) came up against good friend and roommate, Ocean Macedo (HAW) in Heat 3 of Round Two. In 30 explosive minutes of action, Macedo and Heazlewood went toe-to-toe, boosting huge air-reverses and giant snaps in an attempt to move through to the third round. When the heat boiled down, Macedo was able to claim the win by a 0.5 margin in what is surely the most bittersweet victories of his young career. Heazlewood was unlucky with his 15.90 heat total (out of a possible 20) coming in at the second highest of the day to Macedo's 16.40, meaning he would have won any other heat.
"That was definitely bittersweet, but it feels great to take that one out," said Macedo. "The dynamic in the house Reef and I are staying at was a little tense over the last few days, but nothing too bad. Reef is such a cool guy, that I think that this is just one of the things that's best left in the water. To get into the third round is a giant relief though."
The first heat of the day looked like getting off to a false start as Finn McGill (HAW) and Kauli Vaast (FRA) traded a handful of low scoring waves. McGill and Vaast both shared moments where they appeared to gain the upper hand, however, McGill managed to get the edge thanks to a respectable 4.63 wave score that propelled him in front of Vaast by a 0.26 margin and cemented his spot in Round Three.
"That heat was a nailbiter for sure," said McGill. "I just tried to get myself on the best wave of the heat because I knew that's how I could get ahead of Kauli. I'm one of the most amped people ever, so even though the waves were small, I was so excited to surf the heat. In saying that, I got really nervous in the last moments of that heat and had to tell myself to just calm down and relax. I'm stoked it worked."
Japanese competitor Yuji Nishi (JPN) had the tough task of taking on Frenchman Marco Mignot (FRA) in Heat 5 of Round Two. Mignot struggled to find his feet falling on a number of air attempts while Nishi strategically waited for the rare set waves. Nishi unleashed on his backhand to post a solid heat total of 15.00 and progress into Round Three while Mignot was sent packing in equal 25th place.
"That was a really intense heat," Nishi said. "Marco was catching a lot of waves an I wasn't sure if I should do the same. Luckily waiting paid off and I scored a couple of the bigger waves of the day. I'm having an awesome time here in Australia and just want to  keep making heats."
Heat 8 of Men's Round Three was an all South African showdown as Joshe Faulkner (ZAF)took on compatriot Max Elkington (ZAF). The good friends traded blows throughout the heat, utilising lefts and rights to post their respective scores. In the end, it was Faulkner's smooth drawn out backhand that saw him progress with a two-wave total of 10.90. Faulkner admitted although it was a heated battle in the water, their friendship comes before heat results.
"We are super good friends and have been for a long time but that is all left on the beach when we are competing against one and other," Faulkner said. "It is tough coming up against a good friend but we are here to win so that is all I focused on during the heat. It was a shame to come up against one and other this early in the comp in tough conditions like this but that is surfing I guess. I'm stoked to be into Round Three and am excited to get back out there for my next heat."
Following a less than stellar year in on the 2017 Australia/Oceania Junior Qualifying Series (JQS), Rio Waida (IND) shifted his focus to the Qualifying Series (QS) where he was able to get to 96th on the rankings. As a result, Waida was awarded a wildcard into the World Junior Championship, which he proceeded to take full advantage of in his Round 2 heat when he took down Peruvian Jhonny Guerrero (PER). Waida threw down an array of impressive backside snaps as well as one critical air-reverse to get the edge over Guerrero with a heat total of 14.57.
"I worked pretty hard in the juniors at the beginning of 2017, but I didn't have the best results," said Waida. "I started thinking that if I can get into a good enough spot on the QS then I might still be able to get into this event. Fortunately, it worked and now I just want to go out there and have fun."
After the heats were put on hold over the high tide, competition kicked back off with two highly regarded juniors in Tyler Gunter (USA) and Eli Hanneman (HAW) going head-to-head. The small windblown conditions put Hanneman in favour on paper but Gunter had other ideas posting a two-wave total of 12.90 to take the lead. Hanneman was left chasing a solid 8.54 point ride but was unable to get into a rhythm leaving Gunter to progress into Round Three.
"I was about to paddle out for my heat earlier today and there wasn't much happening so I'm stoked we went on hold," Gunter said. "There is a lot more energy in the ocean now so it was definitely the right choice. Eli (Hanneman) is such an amazing surfer and at only 15 years of age, I'm sure he will dominate this event in the years to come. I'm really enjoying it here and am pumped to be in Round Three."
The final heat of the day saw WSL America JQS winner Ryland Rubens (USA) overcome Ford Van Jaarsveldt (ZAF) in quickly deteriorating conditions. In what became the final heat of the day, Rubens ran way with the win posting a two-wave total of 13.60 to progress into Round Three.
The 2017 WSL Jeep World Junior Championship will be held from January 4 – 12, 2018. For more information, highlights and images, head to www.worldsurfleague.com and on the WSL App.
2017 WSL Jeep World Junior Championships Men's Round Two Results:
Heat 1: Finn McGill (HAW) 10.63 def. Kauli Vaast (FRA) 10.37
Heat 2: Rio Waida (IDN) 14.57 def. Jhonny Guerrero Yauri (PER) 11.83
Heat 3: Ocean Macedo (HAW) 16.40 def. Reef Heazlewood (AUS) 15.90
Heat 4: Keanu Kamiyama (JPN) 11.53 def.  John Mel (USA) 10.03
Heat 5: Yuji Nishi (JPN) 15.00 def.  Marco Mignot (FRA) 12.40
Heat 6: Joao Chianca (BRA) 14.10 def. Theo Juliette (FRA) 13.27
Heat 7: Cole Houshmand (USA) 12.27 def. Yuri Ogasawara (JPN) 10.57
Heat 8: Joshe Faulkner (ZAF) 10.90 def. Max Elkington (ZAF) 9.03
Heat 9: Tyler Gunter (USA) 12.90 def.  Eli Hanneman (HAW) 8.50
Heat 10: Ryland Rubens (USA) 13.60 def.  Ford Van Jaarsveldt (ZAF) 5.70
Remaining Men's Round Two Match Ups:
Heat 11: Mikey McDonagh (AUS) vs. Lucas Wrice (AUS)
Heat 12: Adin Masencamp (ZAF) vs. Te Kehukehu Butler (NZL)