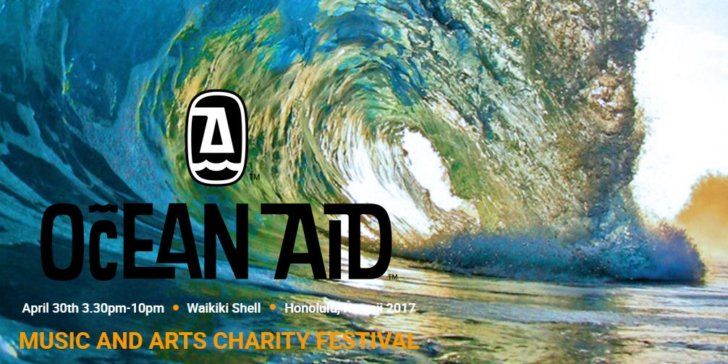 Ocean Aid Hawai'i, a benefit concert April 30th, has the goal of eradicating plastic pollution from the ocean. The outdoor music & arts festival lives the motto "Love The Sea, Plastic Free". They will feature renowned funk, hip-hop, reggae, and Hawaiian musical acts, along with notable environmental speakers. It's a don't miss.
Ocean Aid Hawai'i attendees get to experience  musical performances by Cee-Lo Green, Grandmaster Flash, Bootsy Collins (accompanied by Prince's backup band), Maxi Priest, Henry Kapono, Ohio Players, Fishbone, Ron Artis II, Ekolu Kalama, DJ Lethal (House of Pain and Limp Bizkit), DJ Mateo (Fun Lovin' Criminals), DJ Big Daddy Carlos, and more. Stand-up comedian Steve Byrne will be one of the evening's hosts-ambassadors for the cause.
THE PROBLEM
 There is currently over 5.25 trillion pieces of trash and plastic the Worlds Oceans.
 Our oceans and wildlife are being destroyed by massive amounts of plastic pollution, now easily seen on most exposed shorelines and as floating island garbage patches that form in oceanic gyres. These gyres are massive circular currents of water formed by global wind patterns and forces created by the earth's rotation. The plastic and marine debris is breaking down into micro forms that are ingested by fish, birds, turtles and other endangered marine species such as whales and seals, which often die from entanglement or blocked digestive systems.
FACT
Over 8 million tons of plastic is dumped in to the ocean every year, by 2050 scientists estimate there will be more plastic in the ocean than fish. The problem is only getting bigger and more complex to solve as more plastic and trash continues to accumulate.
OCEANAIDHAWAII.ORG HERE