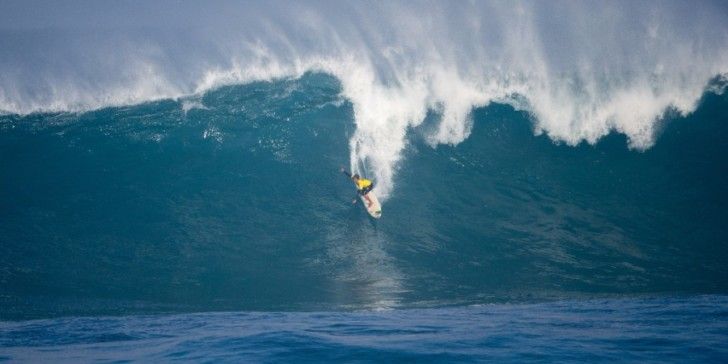 FAMED OCEAN ATHLETE KAI LENNY MAKES
QS DEBUT AT SUNSET OPEN 
 Maui's Kai Lenny navigates a critical drop on a Sunset bomb. Image: WSL / Freesurf / Heff
| | |
| --- | --- |
| Location:    | Sunset Beach, North Shore, Oahu                                                   |
| Rating: | Mens QS1,000 and Men + Women's JQS1,000   |
| Event Window:    | January 18 – 28 |
| Today's Conditions: | 20+ ft. waves, WNW swell, clean offshore easterly winds |
HALEIWA, Oahu/Hawaii (Thursday, January 19, 2017) — Internationally acclaimed ocean athlete Kai Lenny (HAW) made his Qualifying Series (QS) debut today at the World Surf League (WSL) Sunset Open Men's QS1,000 event and was as cool and calm in raging 20+ foot surf as ever. Professional surfing outside of the Big Wave World Tour (BWWT) is kind of a last frontier for Lenny, 24, who has mastered big wave windsurfing, tow-in surfing, foil boarding and countless other ocean pursuits.The ocean churned as extra large surf pumped consistently through the lineup for Rounds 1 and 2 as a handful of new comers to the QS tested their mettle and endurance at the big wave venue. A mix of veterans and rookies filled the 112-man field with all-time action on tap and wash-through sets surging up the sand. Athletes navigated the challenging break with barrels, power hacks and wipeouts and kept beach goers on their toes throughout the afternoon.
Well-rounded waterman Lenny relished in the massive waves while competing in his first ever QS event. Ranked No. 10 on the BWWT, Lenny is using these events to train for upcoming big wave competition.
"I figured this would be the best QS to start, since I love Sunset and it's in Hawaii," said Lenny. "North Shore's a second home and I just kind of wanted to do it because I'd like to get these breaks with nobody out. That's part of it too, but I just love competing as well. This will keep me tuned up in case one of the Big Wave World Tour events goes off."
The 20+ foot waves were an ideal match for Lenny's confidence, who went on to secure two of the highest single waves scores of the day, an 8.0 and 7.75.
"These are the conditions I was hoping for for this event," said Lenny. "It's my first QS I've ever done and it was really nice to have a ton of waves in the heat especially bigger ones in the 10 to 12-foot range to make the heat to continue surfing. When the wind comes up and the current backs down I think it's going to get really good out there so I'm excited."
At just 13 years young, Robert Grilho III (Kapolei) impressed judges and contest organizers after advancing in first place ahead of Jordy Collins (USA) in his Round 1 heat. With only three waves ridden during the 24 minutes, Grilho survived with a combined heat total of 5.25.
"This is my first QS and it just feels good to get first in my first heat and boost my confidence level," said Grilho. "I didn't think I would do that great, and it's pretty bombing out there so I would think the bigger guys would have an advantage over me so, it just feels good and I'm pretty stoked."
The teen typically surfs Kewalos in Honolulu and Barbers Point in Kapolei, but has been putting in time at Sunset in preparation for both the QS and Pro Junior event this week.
"[Sunset] is pretty new for me, but I've been practicing here for a week or two and just getting advice from everyone," continued Grilho. "Out here, it's pretty much just positioning, not really the biggest wave." Grilho missed the opportunity to advance further after being stopped short in Round Two Heat 7, which saw Sebastian Williams (ZAF) and Kekoa Cazimero (HAW) advance.
Eliott Napias, an 18-year-old surfer from Tahiti, arrived on the North Shore a few days prior to prepare for his first ever QS event as well. He went against seasoned surfersTakayuki Wakita (HAW) and Jason Shibata (HAW) and advanced in second behind Wakita by staying busy in the shifting waves.
"Was a little bit nervous before the heat because it's big and I had Wakita in my heat, he's a big name," said Napias.  "This is the first time I've competed at Sunset, but I've surfed it before. Was a little bit hard, but that's alright."
2016 was his final year as a Junior, which saw him place second at the Papara Pro Junior in Tahiti. Napias now looks to Australia for more QS events and will return to Hawaii to clock in more time on the North Shore.
Former Vans Triple Crown winner (2001) and last year's runner up at the Sunset Open Myles Padaca (HAW) advanced behind Brazil's Lucas Silveira in Round Two Heat 2 after showcasing seasoned experience in the lineup. But advancement didn't come without tribulations as Padaca, 45, felt the inevitable exhaustion from surfing the big wave venue, which has a notoriously large playing field.
"It's pretty challenging out there today," said Padaca. "I paddled out this morning on a small board, a 7'0, and proceeded to get cleaned up on the west peak because there's a lot of current running through the lineup so you can't sit still the whole time. You have to be paddling so I'm pretty exhausted from that last heat, just stoked to scrape through really."
Contest organizers will reconvene tomorrow morning to assess conditions and determine whether competition will resume, with Junior surfers on standby for a possible start to the Men and Women's Sunset Pro Junior JQS1,000. Up next in the water for the Sunset Pro will be Heat 12 of Round Two, which features Imaikalani deVault (HAW), Noah Beschen (HAW), Facundo Carranza (ARG), and Kainehe Hunt (HAW).
Surfline forecasts a new/solid NW pulse tomorrow, which moves in and peaks in the afternoon as the old WNW energy fades with light to moderate East veering NE trades.
Check out WorldSurfLeague.com for more updates, info and photos.
RESULTS
Surfers shown 1st through 4th, all athletes from Hawaii unless otherwise noted.
Round of 96, 1st and 2nd advance, 3rd = 65th place, 4th = 81st place
H1: Lucas Silveira (BRA), Myles Padaca, Luis Diaz (CNY), Ezra Sitt
H2: Jason Shibata, Eliott Napias (PYF), Takayuki Wakita, Brad Young
H3: Kai Lenny, Ulualoha Napeahi, Gregg Nakamura, Tinirau Taramu (PYF)
H4: Luke Adolfson, Chris Foster, Gavin Gillette, Isaac Stant
H5: Charly Guivront (FRA), Riley Laing (AUS), Shayden Pacarro, Tom Dosland
H6: Kekoa Bacalso, Kalani Rivero, Love Hodel, Rainos Hayes
H7: Sebastian Williams (ZAF), Kekoa Cazimero, Robert Grilho III, Alex Pendleton
H8: Hideyoshi Tanaka (JPN), Mikey Bruneau, Jordy Collins (USA), Lorenzo Avvenenti (PYF)
H9: Coconut Willie, Braiden Maither, Anthony Walsh, Wyatt McHale
H10: Alonso Correa (PER), Logan Bediamol, Kaulana Apo, Kevin Sullivan
H11: Michael O'Shaughnessy, Sheldon Paishon, Landon McNamara, Taichi Wakita
Round of 112, 1st and 2nd advance, 3rd = 97th, 4th =105th
H1: Lucas Silveira (BRA), Brad Young, Cole Alves, Laka Burgess
H2: Kai Lenny, Luke Adolfson, Kona Johnson, Wolf Wertheimer
H3: Charly Quivront (FRA), Kalani Rivero, Kainaru Kato, Patrick Furlotti
H4: Robert Grilho III, Jordy Collins (USA), Koalaukani Ramos, Kala Willard
H5: Anthony Walsh, Alonso Correa (PER), Keoni Picollo, Timmy Ashton (USA)
H6: Michael O'Shaughnessy (USA), Kainehe Hunt, Sacha Levy-Agami (PYF), Kaisho Kato (JPN)
H7: Lucca Mesinas Novaro (PER), Reef McIntosh, Kaiwi Berry, Dante Silva
H8: Barron Mamiya, Miguel Blanco (PRT), Ryder Guest, Ocean Macedo