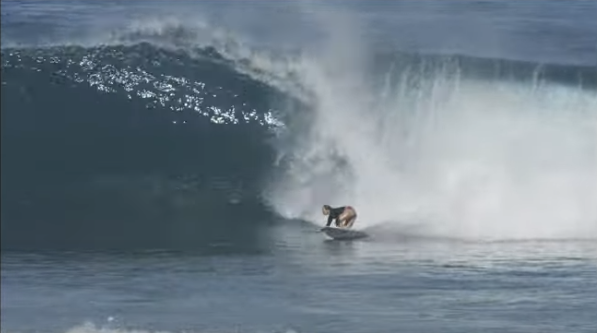 Carissa Moore & John John Florence Win The Digital Vans Triple Crown Of Surfing

STORY FROM WSL
The first-ever digital version of the Vans Triple Crown of Surfing saw male and female surfers stacking clips from Pipe, Haleiwa and Sunset.
Carissa Moore and John John Florence have been surfing together, and in some instances against one another, since they were groms. And in large part, their trajectory has been much the same: Winning multiple World Titles. And now, together again, they have won the Digital Vans Triple Crown of Surfing, in the first year that both men and women collectively competed at Pipeline, Haleiwa and Sunset.

Our most versatile World Champ…Mrs. Moore at Backdoor 
Moore's win is a fitting reward after a winter in which she pushed the envelope on the North Shore, including surfing in the Final of the first women's Championship Tour event at Pipeline.
"I was pretty much surfing the North Shore almost every day, I live in town but I was making the drive up probably five to six times a week," Moore told the WSL.
This is Florence's fourth Triple Crown title, and while the format may have been different this year due to the Covid pandemic, it further secures his position in a prestigious club of surfers from Hawaii with multiple Triple Crown wins to their credit, including Andy Irons, Sunny Garcia, and Derek Ho.

Can you be the current World's Best Surfer without having the current World Title? Answer: Yes  (SNN opinion)
"It's a really cool event because it allows so much freedom and it really allows the surfers to go above and beyond on their waves rather than building a heat structure in that short 30 minutes and trying to get the best waves you can in 30 minutes," Florence told the WSL.
While competitors may not have faced the pressure of a traditional heat, the added emphasis on creativity and the requirement to be determined without time pressures added a new challenge.
As far as submissions to this year's digital format go, Florence's waves from Haleiwa will go down as some of the best-ever ridden out there. It set his campaign off to a hot start as he dropped a pair of bombs. His 29-point ride (out of 30) was the highest wave score of the event.
"When I went into it, I just was thinking about doing a big turn and the face was so clean and I was riding a smaller board. I just felt like I was going a million miles an hour on it. It just felt amazing," he said. "And coming out of that turn, I wasn't really expecting the barrel to be right there. I kind of just came up and I was like, oh, barrel. And it was just this perfect double up and I just stood there and then came out and had that end section."
(DIGITAL) VANS TRIPLE CROWN OF SURFING – Full Results
2020 VTCS Men's Champion: John Florence
2020 VTCS Women's Champion: Carissa Moore
Hawaiian Pro, Haleiwa Men's Winner: John Florence
Hawaiian Pro, Haleiwa Women's Winner: Carissa Moore
World Cup, Sunset Men's Winner: John Florence
World Cup, Sunset Women's Winner: Bronte Macaulay
Pipe Men's Winner: John Florence
Pipe Women's Winner: Moana Jones Wong
Fan Voting Men's Winner: Jack Robinson
Fan Voting Women's Winner: Tatiana Weston-Webb
For More Check Out: John John Florence VS Kelly Slater!!! Semifinal 2020 PIPE MASTERS FULL HEAT REPLAY – https://youtu.be/_Lwdbce6a4E
The Best of John John Florence…EVER! – WSL Highlights –https://www.youtube.com/watch?v=r3IcM…
THE BEST OF CARISSA MOORE!! This is Why She Won Four World Titles – WSL Highlights – https://www.youtube.com/watch?v=v8_DS…
WSL Subscribe to the WSL for more action: https://goo.gl/VllRuj
Watch all the latest surfing action of the world's best surfers in the world's best waves.
Heats on demand, event highlights and exclusive interviews, right here on the WSL's Youtube channel.
For More Visit: http://www.worldsurfleague.com/