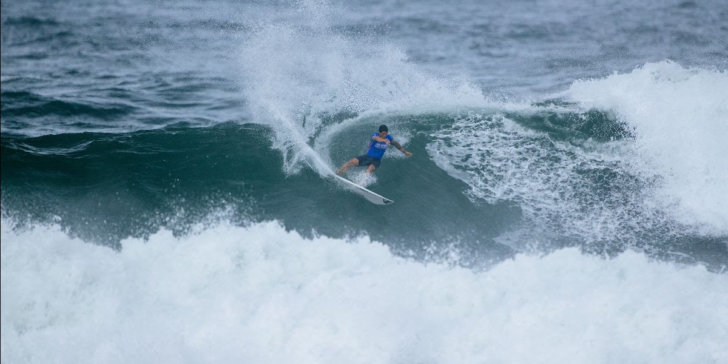 Local Heroes Ezekiel Lau and John John Florence Shine

Haleiwa's Own Shion Crawford's Dream Run Continues with Decisive Heat Win

Australians Find Their Form in Immaculate Fashion
North Shore's own Ezekiel Lau may already be qualified for the 2022 Championship Tour (CT) but that's not slowing him down.
Credit
: © WSL / Brent B.
HALEIWA, Oahu/Hawaii (Saturday, December 4, 2021) – The long-awaited return to action at the World Surf League (WSL) Michelob ULTRA Pure Gold Haleiwa Challenger, the final stop of the 2021 Challenger Series, was worth the wait as winds turned southwest and helped groom the eight-to-ten foot swells with occasional pluses that pumped into Haleiwa's iconic lineup. The Men's Round of 32 is a wrap and now only 16 surfers remain to vie for valuable points as women's competition was called off for the day.
Confirmed 2022 Championship Tour (CT) qualifier and North Shore, Oahu's own Ezekiel Lau lit up the challenging conditions with an immaculate showcase of power surfing. Lau, who claimed the title of 'The Ultimate Surfer,' proved he's ready to rejoin the world's best with his signature railwork on full display on his way to accumulating a 14.94 (out of a possible 20) heat total.

"This is my main focus right now and I don't want to do anything else except finish the year strong," said Lau. "I had a good year on the Challenger Series and I love surfing Haleiwa, and I just want to put on a good performance. I had to go a couple inches bigger on my board just to make it easier getting around the lineup with a lot of water moving, but being in the position for the clean ones will make the difference."

A battle for runner-up in the heat ended with 2022 CT hopeful Callum Robson (AUS) claiming another massive result, keeping his quest to join the Tour alive and well.
Meanwhile, an in-form Jake Marshall (USA) continues to streak through heats after boasting an excellent 8.00 (out of a possible 10), with World No. 4 Conner Coffin (USA) advancing alongside his fellow Californian. But, it was 2X WSL Champion John John Florence (HAW) who dropped jaws once again with a one-hit-wonder – a massive off the top layback to garner a 7.20 and 14.37 heat total to take control of Heat 3. In the same heat Western Australia's Jacob Wilcox bested former CT competitor Jesse Mendes (BRA) to keep his CT aspirations alive.

"(I was) focused and excited, Haleiwa is always fun when it's big like this," said Florence. "There's just so much water moving and you don't know what's going to happen. On the really big sets it barrels off the reef out there, so I was excited to surf. I've been training and learning from my injuries the last couple of years and I just want to be strong."
Pictured: 
Newcomer taking the event by storm, Shion Crawford (HAW), continued to surge through this event to help eliminate a CT hopeful. 
Credit
: © WSL /  Brent B.
Hawaii's dominance continued with a showcase from up-and-coming local talent, last-minute alternate Shion Crawford, delivering another stunning performance. Crawford's patience and ability to tackle heavy sections at Haleiwa garnered an impressive 7.33 to overpower CT competitor Jack Robinson (AUS), while eliminating CT hopeful Joao Chianca (BRA).
"Surfing at my home break and just getting good waves, so I'm really stoked," said Crawford. "(John John Florence's turn) was so crazy; I saw him do that and I was tripping out, and thinking I may have to try that in my heat."
Pictured: 
Australian CT hopeful and event threat Liam O'Brien before entering the Haleiwa arena for a vital heat. 
Credit
: © WSL /  Brent B.
The Australians held their ground to end the Round of 32 with event threat Kalani Ball relentless in his tear through each additional heat. Ball, along with CT hopeful Samuel Pupo (BRA), powered through to the Quarterfinals after an amazing comeback in 2021 dealing with a serious injury in 2020.
Fellow Aussie and current Challenger Series No. 9 Liam O'Brien put on a dominant showcase to keep his spot secure and move forward in the competition along with Ian Gentil (HAW), who earned runner-up. However, O'Brien's compatriot and CT hopeful, Jordan Lawler, fell short of advancing.
"I was pretty anxious the last few days with all the lay days and wasn't sure if it was going to run today or not," said O'Brien. "Every heat is a hard one moving forward, but I found my rhythm and got a few good ones. Those are tough too when you want guys like Jordy (Lawler) to do well and see it fall apart, so it turns into just focusing on yourself and wanting to perform."
Also advancing with decisive heat wins were Australia's Connor O'Leary who continued surging with a brilliant 14.67 heat total and Griffin Colapinto (USA), who secured his spot into the Quarterfinals.
Event organizers will reconvene for a 7:35 a.m. HST call on Sunday as they look toward a possible 8:00 a.m. HST start.