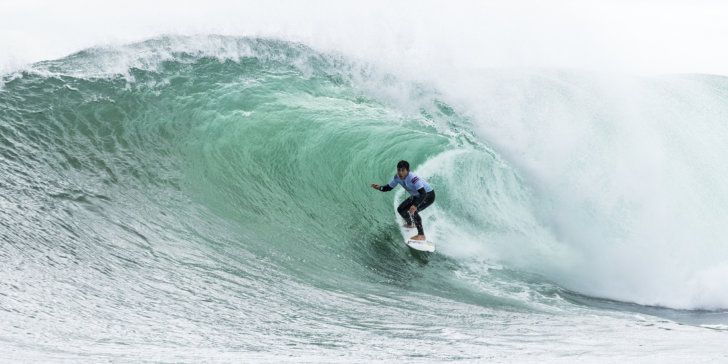 BIG BARRELS CHALLENGE MEN'S ROUND 1
EARLY WINS FOR WSL CHAMPIONS FLORENCE AND MEDINA
 Keanu Asing (HAW) opened the Margaret River Pro with a stunning performance to earn his first heat win of the 2018 season.
© WSL /  Cestari
Location:   
  Margaret River, Western Australia, Australia
Event window:
  April 11 – 

22, 2018

Today's call:
  Men's Round 1 (H1-7) complete
Conditions:
  6 – 8 foot (1.8 – 2.4 metre)
MARGARET RIVER, Western Australia/AUS (Friday, April 13, 2018) – After back-to-back lay days, the opening of the Margaret River Pro did not disappoint today as the world's best surfers took on heavy six-to-eight foot (1.8 – 2.7 metre) conditions at North Point. North Point, the backup event site known for some of the longest and most intense barrels in the world, challenged the surfers in the first seven heats of men's Round 1 at Stop No. 3 on the World Surf League (WSL) Championship Tour.
Reigning, two-time WSL Champion John John Florence (HAW) found redemption in his opening heat, overcoming wildcard Mikey Wright (AUS), who famously eliminated him in last place at Stop No. 1 on the Gold Coast earlier this year. It was bound to be a monumental heat as the reigning Margaret River Pro event winner needed to regain his footing against Wright and 2018 CT Rookie Wade Carmichael (AUS). All three competitors found incredible waves, but it was Florence whose finesse and timing in the tube saw him take the win with a 14.60 heat total (out of a possible 20).
"I didn't really see that as a grudge match or anything," Florence said. "I just went out and did my own thing, which was easy as the waves are firing right now. There are so many incredible waves coming through out there, but it is hard to know where to sit and which ones to go for. It's nice to get a heat win in the first round and get a bit of a rhythm going. Wherever we'll be for my next round, it doesn't matter. All three locations here are so fun, so I'll be stoked where ever we surf."
2014 WSL Champion Gabriel Medina (BRA) had the unenviable task of taking on local trials runner-up Kael Walsh (AUS) and CT sophomore Joan Duru (FRA) in his opening round matchup. Walsh, who is renowned for his hard-charging approach, hunted for sets early but struggled to complete his waves. Medina, on the other hand, made backhand barrel riding look easy with one long tube for the heat win.
"It's really tricky out there and hard to find the good ones," Medina said. "I was lucky to find that longer one and make the barrel. There were a lot of air sections out there, so I was trying to go big, which is fun but not good for scores unless you land them. I've been having fun warming up here in Western Australia. There are always fun waves around. I saw Kael (Walsh) go for some big ones and knew he was going for it, which is good to see and pushes everyone."
Jack Robinson (AUS), the replacement surfer for an injured Caio Ibelli (BRA), earned a big win in the opening round against current World No. 4 Owen Wright (AUS) and Miguel Pupo (BRA), the injury replacement for Kelly Slater (USA). Heat 3 saw the local wildcard weave his way out of a number of epic North Point barrels, even posting an excellent 8.27 to comfortably take down his more experienced counterparts. Earlier today, Robinson defeated Jerome Forrest (AUS) in a surf off to win Ibelli's replacement position.
"It's been a really crazy 24 hours for me," Robinson said. "I was actually up in Perth when I got the call about the surf off and thought I'd better get back home. It was all so unexpected and a little bit overwhelming, to be honest. I feel so at home here at North Point, so I wasn't really worried at all. I just went out there and did what I'd do any other time I surf here. It was really cool to see the waves come up throughout the day. I'd say the good ones are eight out of ten for North Point, which is really good and so good for a contest."
Current World No. 1 Julian Wilson (AUS) continued his solid form in 2018 today with an opening heat win over 2018 CT Rookie Jesse Mendes (BRA) and Drug Aware WA Trials winner Dave Delroy-Carr (AUS). Although his early round exit at Bells Beach hinged more on conditions than his surfing, Wilson was keen to show the world that he belongs in the Jeep Leader Jersey.
"That opening wave was nice," Wilson said. "It was exactly how I wanted to start the heat and was the wave I was looking for. You can definitely roll the dice out there, but it is worth looking for that really good one. I don't think Bells was shakey — I just didn't have much opportunity. My surfing was feeling good and I was feeling good in general. I feel like this is going to be a good year. I'm ready to square my shoulders up and not be timid and really get stuck in. This is one of my favorite places in the world. I spend a lot of time here and am really comfortable so to move around and surf all of the spots on offer is really cool, especially today as we waited and waited and eventually it paid off."
Keanu Asing (HAW) earned his first CT heat win in 2018 over Australians Matt Wilkinson andConnor O'Leary in the opening heat of the event. In what looked to be an impossible escape, Asing set the bar with a technical exit out a deep tube for an excellent 8.00 (out of a possible 10). The 24-year-old is back on the elite CT after falling off in 2017 and will use this momentum for a solid result in the third event of the year.
"I'm so stoked to finally get a heat win this season — especially in good waves," Asing said. "It's tough out there. It's really windy. I was so deep, and I didn't think I was going to make it. I just went through that first section and held my ground. I was just so happy to finally get a good wave."
Jordy Smith (ZAF), 2017 World Title contender, continues his opening heat-winning streak with a third-straight Round 1 win in 2018. Smith overtook Brazilian chargers Ian Gouveia and Tomas Hermes in Heat 2 with a big barrel exit for a 7.67 and a 4.50. The South African skips to Round 3, while the Brazilians prepare for an elimination Round 2 showdown.
"The waves are pumping out there right now," Smith said. "It's just turned on in the last hour, so it was such a good call to wait. Taking a Round 1 heat win is super important as I hate to lose and skipping Round 2 is a massive bonus. It was great to get barrels in a heat and to feel like I was on top of my strategy."
The final heat of the day, Heat 7, witnessed a tough go for the competitors as they each experienced massive wipeouts. California's Conner Coffin (USA), in particular, faced his fair share of epic falls throughout the heat and ended just 0.27 points short of the heat win overFilipe Toledo (BRA). Coffin and Michael February (ZAF) will now need to battle out of elimination Round 2 when competition resumes.
Event officials will regroup tomorrow morning at 7:00 a.m. AEWT to assess the conditions for a potential 7:30 a.m. start.
The strong SW swell that filled in through the afternoon today will ease through the day on Saturday (strongest in the morning).  Fading, but still fairly solid, surf and favorable morning wind looks likely for Sun-Mon. Mid size W swell looks possible Wed-Thu, although wind may trend back onshore. Another solid SW to WSW swell remains possible for the end of the event window around the 20th-22nd. Surfline.
Margaret River Men's Pro Round 1 Results:
Heat 1: Keanu Asing (HAW) 10.70, Matt Wilkinson (AUS) 5.33, Connor O'Leary (AUS) 4.64
Heat 2: Jordy Smith (ZAF) 12.17, Ian Gouveia (BRA) 10.67, Tomas Hermes (BRA) 2.54
Heat 3: Jack Robinson (AUS) 13.94, Owen Wright (AUS) 4.03, Miguel Pupo (BRA) 2.40
Heat 4: John John Florence (HAW) 14.60, Mikey Wright (AUS) 11.87, Wade Carmichael (AUS) 8.50
Heat 5: Gabriel Medina (BRA) 10.16, Kael Walsh (AUS) 8.96, Joan Duru (FRA) 1.97
Heat 6: Julian Wilson (AUS) 10.56, Jesse Mendes (BRA) 10.00, Dave Delroy-Carr (AUS) 3.40
Heat 7: Filipe Toledo (BRA) 6.14, Conner Coffin (USA) 5.87, Michael February (ZAF) 2.57
Margaret River Men's Pro Remaining Round 1 Matchups:
Heat 8: Adriano de Souza (BRA), Kanoa Igarashi (JPN), Yago Dora (BRA)
Heat 9: Adrian Buchan (AUS), Griffin Colapinto (USA), Willian Cardoso (BRA)
Heat 10: Italo Ferreira (BRA),  Sebastian Zietz (HAW), Michael Rodrigues (BRA)
Heat 11: Kolohe Andino (USA), Frederico Morais (PRT), Ezekiel Lau (HAW)
Heat 12: Joel Parkinson (AUS), Michel Bourez (PYF), Patrick Gudauskas (USA)
Margaret River Women's Pro Round 1 Matchups:
Heat 1: Sally Fitzgibbons (AUS), Silvana Lima (BRA), Coco Ho (HAW)
Heat 2: Carissa Moore (HAW), Sage Erickson (USA), Bronte Macaulay (AUS)
Heat 3: Stephanie Gilmore (AUS), Keely Andrew (AUS), Mikaela Greene (AUS)
Heat 4: Lakey Peterson (USA), Caroline Marks (USA), Paige Hareb (NZL)
Heat 5: Tyler Wright (AUS), Tatiana Weston-Webb (HAW), Macy Callaghan (AUS)
Heat 6: Johanne Defay (FRA), Nikki Van Dijk (AUS), Malia Manuel (HAW)