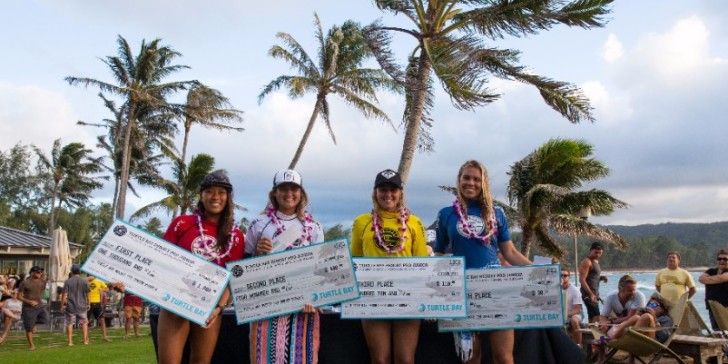 Women's finalists, L to R: Mahina Maeda (1st), Brisa Hennessy (2nd), Summer Macedo (3rd), Zoe McDougall (4th). Image: WSL / Freesurf / Keoki
| | |
| --- | --- |
| Event:    |      Turtle Bay Resort Pro Junior                                                   |
| Rating: |      Men & Women's JQS1,000  |
| Location: |      Turtle Bay Resort, North Shore, Oahu/Hawaii  |
| | |
NORTH SHORE, Oahu/Hawaii (Friday, October 14, 2016) –  In the final, most anticipated Pro Junior event of the season, Noa Mizuno (Kuliouou, Oahu) and Mahina Maeda (Sunset Beach, Oahu) captured the win at the Turtle Bay Resort Pro Junior, the last World Surf League (WSL) Junior Qualifying Series (JQS) of the year. Today's success saw Mizuno advance past Cody Young (Makawao, Maui) for the Regional Junior Champion title, while Brisa Hennessy (Kailua, Oahu) grabbed the title in the women's division and runner-up place behind Maeda. Mizuno and Maeda's performances catapulted them into the qualifying slots for the World Junior Championship in Australia this January.
With so much at stake during this event the upsets were inevitable, but ultimately 8 surfers stood atop the podium to be awarded with checks, leis and scholarships. Joining Mizuno, Maeda, Young and Hennessy in January's World Junior Championships areNoah Hill (Maui), who placed third in today's event, and Christopher Bluthardt (Oahu).

Mizuno and Hennessy went home with the Regional Junior Champion title today. Image: WSL/Freesurf/Keoki
Hennessy was a standout during the event and talked about what it means to secure the Regional Junior Champion title: "It feels so good. It was kind of stressful going into this event knowing that there's so many amazing surfers trying to qualify so I was kind of nervous, but it feels so good to come out on top."
The Men's Final saw a nail-biting back and forth battle between Mizuno and Young, while the coastline crowd cheered and whistled as 4-6ft. sets marched through the lineup. Mizuno dropped the highest single wave score of the heat, a 9.15, and backed it up with a 6.20 to take the lead over Young, who stayed equally busy but ultimately fell short by a point.

Mizuno made his mark today in Hawaii's competitive junior field. Image: WSL/Freesurf/Heff
"I'm just stoked, I worked hard for this," said Mizuno. "This is my first big win and to just take the regional title and go to Australia as the top Hawaii contender is probably one of the best feelings for me. I'm just stoked how this day turned out because a lot of hard work was put into this and it's good to know it paid off."
The women's Final saw four out of the top five ranked junior women battle it out for the title, but Maeda's backhand proved unbeatable in the challenging conditions. Hennessy,Summer Macedo (Maui) and Zoe McDougall (Oahu) fell to the former WSL World Junior Champion in second, third and fourth place respectively.

Maeda was fierce on her backhand. Image: WSL/Freesurf/Heff
"The final was really intense and the girls that I went up against were the team that I traveled with back in Azores, so it was kind of like a Hawaii surf team class, it was just super fun," said Maeda. "All of us were pushing each other and Brisa just came back from the Azores as the ISA World Junior Champion, so she was definitely the one person to beat. I'm just really glad I redeemed myself in that heat."
Maeda had the strongest wave of the Final, an 8.0, and backed it up with a 4.75, however Hennessy nipped on her heels with a 6.90 and 5.50, only .35 points behind Maeda. Macedo showed true grit in the lineup after injuring herself a day prior to the competition. Although her performance was not enough to take the win, this was a personal victory for the event.

Turtle Bay Resort provided an epic venue for the final stop on the JQS Hawaii tour. Image: WSL/Freesurf/Keoki
Finn McGill (Oahu) threw down the highest heat total of the event, a near perfect 19.00 in the first round after nailing a 9.75 and backing it up with a 9.25. McGill missed out in the Semifinals, but will go on to surf in the next WSL Hawaii event, the HIC Pro, Presented by Vans, October 27 – November 9. This event will see many of the juniors from today compete against the world's best and is the official regional qualifying event into the Vans Triple Crown of Surfing, November 12 – December 20.
RESULTS
Surfers listed from 1st through 4th, all surfers from Hawaii unless otherwise noted.
MENS FINALS
1st – Noa Mizuno, (Men's Regional Champion)
2nd – Cody Young
3rd – Noah Hill
4th – Barron Mamiya
WOMENS FINALS
1st – Mahina Maeda
2nd – Brisa Hennessy (Women's Regional Champion)
3rd – Summer Macedo
4th – Zoe McDougall
MENS SEMIFINALS – 1st and 2nd advance
SF1: Barron Mamiya, Cody Young, Ocean Macedo, Brodi Sale
SF2: Noah Hill, Noa Mizuno, Logan Bediamol, Finn McGill
WOMENS SEMIFINALS – 1st and 2nd advance
SF1: Mahina Maeda, Zoe McDougall, Honolua Blomfield, Gabriela Bryan
SF2: Brisa Hennessy, Summer Macedo, Vahine Fierro, Summer Ivy
MENS QUARTERFINALS – 1st and 2nd advance
QF1: Barron Mamiya, Brodi Sale, Kaulana Apo, Dylan Franzmann
QF2: Cody Young, Ocean Macedo, Tony Nunez, Sammy Gray
QF3: Finn McGill, Logan Bediamol, Kala Willard, Cole Alves
QF4: Noah Hill, Noa Mizuno, Wyatt McHale, Cole Frye
WOMENS QUARTERFINALS
QF1: Mahina Maeda, Gabriela Bryan, Aloha Lopez, Izzi Gomez
QF2: Zoe McDougall, Honolua Blomfield, Luana Coelho-Silva, Angelina Yossa
QF3: Summer Macedo, Vahine Fierro, Savanna Stone, Kelta O'Rourke
QF4: Brisa Hennessy, Summer Ivy, Leila Riccobuano, Keala Tomoda-Bannert
MENS ROUND of 32 – 1st and 2nd advance
H1: Barron Mamiya, Ocean Macedo, Kyle Tester (USA), Jake Riccobuano
H2: Brodi Sale, Tony Nunez, Noah Beschen, Christopher Bluthardt
H3: Sammy Gray, Kaulana Apo, Kelson Lau, Koa Yokota
H4: Cody Young, Dylan Franzmann, Makana Pang, Keoni Picollo
H5: Finn McGill, Cole Frye, Luke Swanson, Dante Silva
H6: Cole Alves, Wyatt McHale, Wolf Wertheimer, Ty Simpson-Kane
H7: Noa Mizuno, Kala Wallard, Kainaru Kato, Kainehe Hunt
H8: Noah Hill, Logan Bediamol, Jackson Bunch, Ryder Guest
MENS TRIALS FINAL
H1: Cole Frye, Kai McIntyre, Robert Grilho, Christopher O'Donnel
MENS TRIALS ROUND 1 – 1st and 2nd advance
H1: Kai McIntrye, Christopher O'Donnel, Kade Ketcheson, Zac Hedemann
H2: Robert Grilho, Cole Frye, Diesel Storm-Butts, Gavin Hogan
WOMENS TRIALS ROUND 1 – 1st advances to main event
H1: Summer Ivy, Nicole Fletcher, Alexa Muss (USA), Tegan Harrs