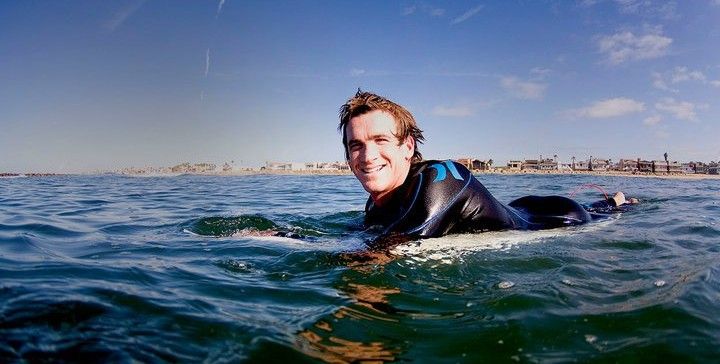 Steph, Michel, John John and now Simpo pull out of Fiji event. Free surfs can be dangerous for the best who constantly push their envelope.
Surf News Network, 3 June, 2015. The injury list for the 2015 Fiji Pro just got longer. Brett Simpson (USA) has withdrawn from the event due to injury sustained at Huntington Beach, while John John Florence (HAW) withdrew after rolling his ankle in Brazil.
Simpson's spot will go to Jay Davies (AUS), while there are Florence will be replaced by one of three surfers, depending on availability: Tomas Hermes (BRA), Aritz Aranburu (ESP) or Garrett Parkes (AUS). The three were next in line on the 2014 QS end-of-year rankings, next in line on the 2014 CT end-of-year rankings and next in line on the 2014 QS end-of-year rankings respectively (QS, CT, QS). Davies was selected by the WSL Commissioner's Office for his outstanding performance at the 2015 Drug Aware Margaret River Pro.
With only one event on the 2015 Samsung Galaxy WSL Championship Tour, Davies is currently ranked 29th on the Jeep Leaderboard, following a Quarterfinal finish at Margies. Surfing there at The Box, Davies defeated a string a CT heavyweights, including Gabriel Medina (BRA) in Round 2, Mick Fanning (AUS) in Round 3 and Jeremy Flores (FRA) in Round 5, before falling to Florence in the Quarterfinals.
Florence and Simpson join an injury list that already includes Michel Bourez (PYF) and six-time World Champion Stephanie Gilmore (AUS). Both also suffered freesurf injuries that have kept them out of the water for weeks. Gilmore hurt her leg last month, and was replaced by Keely Andrew (AUS) in the Fiji Women's Pro.
This marks the second consecutive event that Gilmore, who currently sits at No. 4 in the world, has had to miss due to injury. She hasn't not paddled out since the Women's Drug Aware Margaret River Pro where she injured herself during a freesurf. The Aussie had hoped to compete in the Oi Rio Women's Pro, but when her injury proved more serious than originally believed, she was forced to withdraw.
In her interview on Dawn Patrol during the Fiji Women's Pro, Gilmore said she was trying to embrace a rare break from the road while she is recovering. Her May 18 Instagram pic revealed a decidedly less active side of the pro surfer, who told Joe Turpel that sitting still was a challenge.
Among the men, meanwhile, Michel Bourez has withdrawn from the Fiji Pro, the next stop on the men's Samsung Galaxy Championship Tour (CT), due to an injury that has yet to heal. Like Gilmore, Fiji is the second contest in a row that he has had to miss, after he broke his hand and a vertebra while freesurfing Teahupo'o. According to his Instagram, the Spartan has another four weeks of recovery ahead.
Replacing Bourez once again is Alejo Muniz (BRA). Muniz finished one spot short of requalification at the end of last season and has been selected by the Commissioner's Office as WSL Injury Replacement No. 1. Should a surfer on the Tour ever be injured, in this case Bourez, Muniz will compete.
Make sure to adjust your Fantasy Surfing accordingly and don't miss the Top 17 continue to tear apart Cloudbreak at the Fiji Women's Pro LIVE here and on the WSL App through June 5, local time. The men's Fiji Pro kicks off LIVE daily June 7, local time.