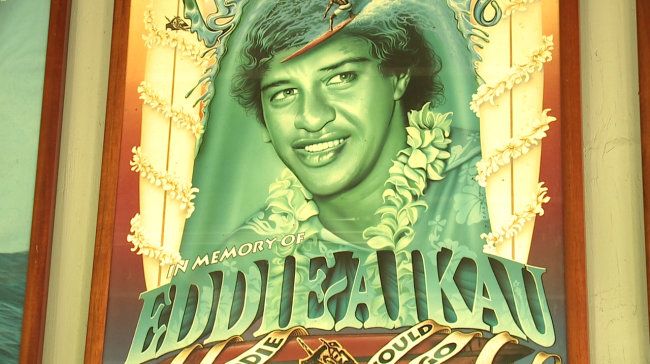 KHON2 & Manolo Morales were on the story early…
Manolo gave me a call to see how I felt about the decision/circumstance.
My gut reaction was the disappointment of course, as it was for most of the surf community (Get Makua Rothman's reaction in the KHON link).
Then, I quickly imagined how it would be so pure to go grassroots & hearken back to the days of Eddie. Back then, there was no big business bankrollers, immediate media bombardment, and PR explosions when the Bay went off. Then, Eddie would spend 8 hours in the lineup.
The event could still 'Go' just as long the 'Bay Called the Day'. But this time, it could be 'core'…simpler, with plenty volunteers, organizers, friends (and of course, a few sponsors). But, no towering budget obligations, no big prize money, complicated contracts, no excessive exposure or circus incentives.
Just surf. I think Eddie would like that.
To be clear, I'm stoked with how amazing it's been the past 30+ years. But, I believe 'The Eddie' would be BIG enough on its own. Just as long as the waves matched his spirit. Gary Kewley.
Story: "One of the most prestigious surf contests in the world will not happen this year.
The family of legendary lifeguard and surfer Eddie Aikau says "The Eddie" has been called off.
An opening ceremony was previously scheduled for Nov. 30, but problems with permitting and sponsorship forced the family to cancel.
Myra Aikau, Eddie Aikau's sister, tells KHON2 by the time they were able to get everything necessary to put the event together, it was just too late.
The City and County of Honolulu said a permit was issued at the beginning of the month, but the Aikau family says there were other details that had to be resolved…"
Read the full article HERE
'The Eddie' won't go: Family confirms big wave contest off this season
For other KHON features on The Eddie
In the meantime, let's support The Eddie Aikau Foundation…a charitable organization created to share Eddie Aikau's life, contributions and accomplishments while promoting education and the advancement of Hawaiian culture. The Foundation strives to inspire people to develop a strong sense of pride in themselves, their heritage and their community through Eddie's remarkable spirit and character. For more info GO HERE
And lastly, let us enjoy some surfing….