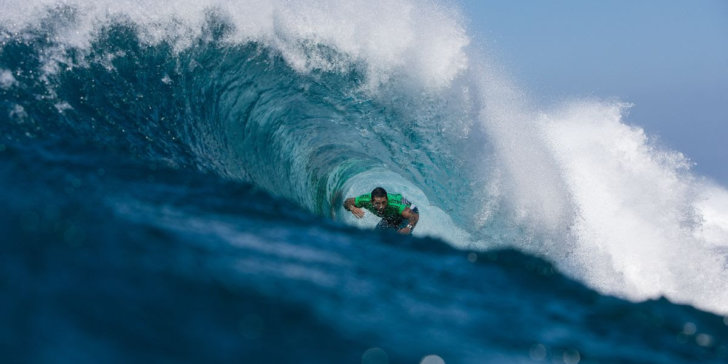 Hawaii Qualifying Series Returns to Sunset Beach
– Defending Event Winner Billy Kemper, Regional Standouts Hunting Sunset Open/ Pro Junior Titles
– Kai Lenny Looks to Kick Off QS Campaign at Sunset
– Event Window Opens January 18 – January 28
 Billy Kemper (HAW) locked into a Sunset barrel where he's more comfortable than most.
CREDIT: © WSL / Tony Heff
Sunset Open Men's QS 1,000/ Men and Women Pro Junior
HALEIWA, Hawaii (January 9, 2019) – The countdown to Hawaii's professional surf season is officially underway as competition begins next week at the Sunset Open/Pro Junior, the first event of the World Surf League (WSL) Hawaii/Tahiti Nui 2019 regional calendar.
One hundred sixty athletes from 15 countries will compete in the Men's Qualifying Series (QS) 1,000, Men's Junior, and Women's Junior divisions at Sunset Beach, one of the most iconic venues on Oahu's famed North Shore.
2017/8 Big Wave Tour World Champion and defending event winner Billy Kemper is seeking his second Sunset Open title, coming off a stellar 2018 in which he became the only three-time Jaws (Pe'ahi) Challenge champion.
Billy Kemper tackles a monster in the 2018 Jaws (Pe'ahi) Challenge.
Credit: WSL / Richard Hallman
Fellow big-wave charger and all-around waterman Kai Lenny joins Kemper in the deep field of 112. Lenny, who only began competing on the QS circuit a mere two years ago, finished runner-up to Kemper in the 2018 Jaws Challenge and is also no stranger to Sunset's powerful, big-wave conditions and notoriously challenging lineup.
"Sunset is one of my favorite waves because it has traces of my home wave of Hookipa," Lenny said. "It's that big-wave feel, with a lot of water moving out the back … I want to do more QS events as training toward the ultimate goal of getting more competitively sound. My focus is of course on the Big Wave Tour, but to be able to get into the Triple Crown is the absolute. I think if you're from Hawaii that's the ultimate goal as well, and from there anything can happen. I'm really into the idea of taking it QS by QS and getting into those bigger events."

Lenny is no stranger to the heavy conditions of Sunset and is always an event threat.
Credit: WSL/ Mike Chlala
"Sunset Beach is the perfect location to kick of the Hawaii season," adds Marty Thomas, WSL Hawaii/Tahiti Nui Tour Manager. "It's a great opportunity for local athletes to get started at home before heading off on their qualification campaigns. And if you do well enough, you should find yourself right back here at Sunset for the Vans Triple Crown of Surfing, so any opportunity to compete at Sunset is going to be a valuable experience."
The event has attracted a roster of international contenders looking for a strong start to the year, including former Championship Tour competitor Wiggolly Dantas (BRA) and perennial Sunset standout Jack Robinson (AUS), who claimed his first QS win here at the Sunset Open in 2017.
Hunting his own maiden QS victory is 2018 Men's Regional Junior Champion Barron Mamiya, who made both the Sunset Open and Sunset Pro Junior finals last year. Mamiya is coming off an incredible 2018 in which he made his Championship Tour debut as an injury replacement wildcard, claimed Hawaii's Regional Junior title, and finished no worse than third in any Junior-level event (having skipped the Taiwan Open World Junior Championships to instead compete in the Vans Triple Crown of Surfing).

Barron Mamiya at the 2018 Vans World Cup of Surfing.
Credit: WSL / Tony Heff
No longer age-eligible for the 18-and-under Junior Tour, Mamiya graduates from a class of incredible local talent, led by Oahu's Wyatt McHale and Maui's Eli Hanneman, the top two seeds in the Men's Pro Junior draw. McHale begins his final Junior-level campaign having finished third on the 2018 Regional Junior rankings, just one notch above Hanneman. The 16-year-old Hanneman bested McHale, Mamiya, and fellow Hawaii young gun Finn McGill to earn his first career event title at last October's HYSDO Pro Junior at Turtle Bay Resort.
In the Women's draw, defending Women's Sunset Pro Junior champion Gabriela Bryan of Kauai will look to continue her regional dominance. Bryan went on a tear in 2018, claiming four event victories, winning the Women's Regional QS, and becoming Women's Regional Junior Champion. Just 16 years old, Bryan's relative experience will be tested against both fresh and familiar faces, including 2017 Women's Regional QS winner Savanna Stone.
The Sunset Open/Pro Junior is presented by the Hawaii Youth Surfing Development Organization (HYSDO), a 501c3 nonprofit providing greater opportunities for local youth in and around surfing. The event will be contested on the four best days of conditions during the January 18 through January 28 window. (Competition may not run on January 21, Martin Luther King Day, per local ordinance.) Equal prize money will be awarded across the Men's and Women's Pro Junior divisions. Live scores and results will be available on competition days at worldsurfleague.com, and on the free WSL app.
Community partners (including WSL) are currently undertaking long-term erosion mitigation efforts at Sunset Beach. The public is encouraged to be mindful of limited parking, carpool or choose public transportation where possible, and use designated beach access points when on-site to protect the new sand dunes.