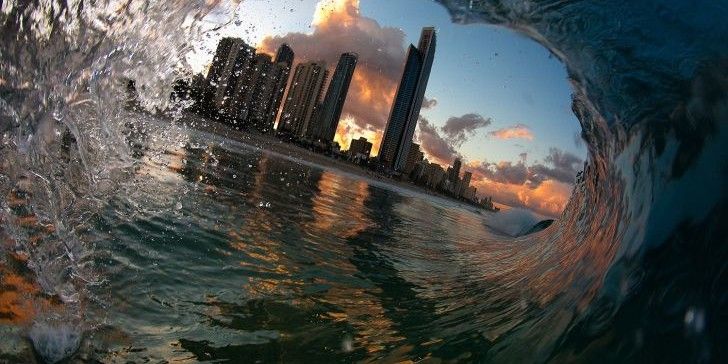 Pic: Sustainable Stoke © Grant Davis
University of Plymouth Press to release Sustainable Stoke: Transitions to Sustainability in the Surfing World
Surf News Network, 6 May, 2015. Plymouth, United Kingdom – The greatest challenges to sustainability in the surfing world have been laid bare in a new book featuring contributions from the industry's global elite.
Sustainable Stoke – Transitions to Sustainability in the Surfing World includes the views and opinions of more than 40 recognized global experts, including former world champions, environmental campaigners and the directors, CEOs and founders of some of the industry's most recognizable brands. Contributors identify key areas in need of attention including education, environmental awareness, sustainable supply chains, corporate governance, economic development and philanthropy, media, and public attention.
Practitioners on the coal face of surfing's transition to a more sustainable future present potential solutions to many of these issues before the book concludes with a call to political action from some of surfing's senior statesmen in recognition that the industry, the sport, and the lifestyle of surfing need to adapt now or face an uncertain future. Sustainable Stoke, published by University of Plymouth Press, is the brainchild of Dr Gregory Borne, Director of the Plymouth Sustainability and Surfing Research Group, and Associate Professor Dr Jess Ponting, Director of the Center for Surf Research at San Diego State University.
"Following the 10th Annual Surfing Arts Science and Issues Conference in February 2012 it seemed clear that the surfing world was at a tipping point, and that sustainability was an inevitable, if distant, destination for the broader surfing world and its residents," said Co-Editor Dr Borne. "So Jess and I decided to try and create a discursive snapshot of what the best minds in surfing were thinking about sustainability, the major challenges, and any positive examples which could be built on for the future."
"This book explodes the 'Spicoli myth' of the stoner surfie bum," said Co-Editor Dr Ponting. "We have contributions from the founders, CEOs and executive management from brands including Quiksilver, Reef, Vans and Volcom, the Surf Industry Manufacturers Association, the International Surfing Association, and NGOs including Surfrider Foundation, World Surfing Reserves, and Surfers Against Sewage.
"In addition, the most cerebral of former world surfing champions including Senator Fred Hemmings, Shaun Tomson, Wayne 'Rabbit' Bartholomew and Cori Schumacher lend their perspectives alongside the leading academics in the surfing space, journalists, policy influencers and campaigners from across the globe. Amassing knowledge on this scale, breadth, depth and quality from surfing's best thinkers has never been attempted before."
Dr Borne, a lecturer in Public Policy and Management at Plymouth University, added: "Traditionally, surfing has been perceived as a very laid back sport and industry, but in recent years segments of it have really woken up to the need to be sustainable if they are to survive and thrive. But sustainability in the surfing world involves more than just the greening of surf industry supply chains and supporting environmental initiatives.
Social and cultural issues like the preservation of surfing history will build an understanding of etiquette, while the social/cultural impacts of surf tourism in destination communities, and the leveraging of surf contests to support local, social and cultural initiatives, are equally as important. Additionally, economic issues such as the creation of sustainable livelihoods related to surfing, creating economic growth centers around surf breaks, the value of surf tourism, complimentary services and backward linkages into other sectors are important."
Chris Hines, one of the book's contributors and co-founder of Surfers Against Sewage, said: "Sustainability is core to how we live on this planet. Surfing could be a massive power tool for driving positive change." Sustainable Stoke – Transitions to Sustainability in the Surfing World is published by University of Plymouth Press and can be ordered via the Plymouth University store. All profits from the sale of the book will go to surfing related charities.