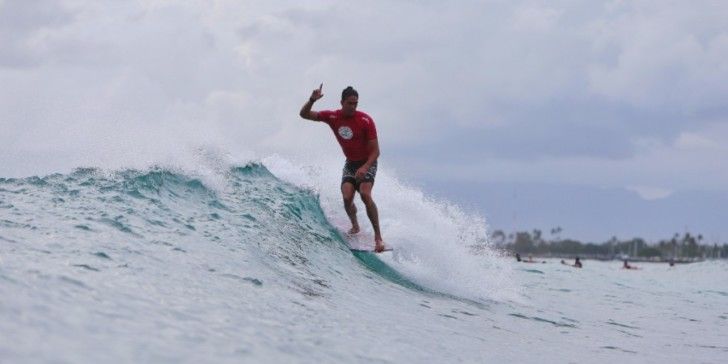 THEY NOW QUALIFY FOR JEEP WORLD LONGBOARD CHAMPIONSHIP!
Nelson Ahina (HAW), five toes over for the number one spot. Image: WSL /  Freesurf / Keoki
Event:                  Duke's Waikiki Kane/Wahine Longboard Pro
| | |
| --- | --- |
| Location:    |     Queens, Kuhio Beach, Waikiki, Oahu                                           |
| Event window: |     August 22 – 25, 2016 |
| Rating: |     Men and Women's LQS1,000 |
| | |

SNN: Waikiki, Oahu, HAWAII – (Tuesday, August 23, 2016) —
It was a picturesque Finals day at world-famous Waikiki Beach for the Duke's Waikiki Kane/Wahine Longboard Pro, with
Nelson Ahina (HAW)
and
Honolua Blomfield (HAW)
taking the win at the World Surf League (WSL) Longboard Qualifying Series (LQS) event. This competition is the Hawaii regional qualifier for the prestigious WSL Jeep World Longboard Championship, and while Ahina was pre qualified for the Championship after his 12th place finish from last year's event, Blomfield nabbed the sole regional spot in the Women's division after her victory today.
The Men's final came down to Ahina and defending event winner Kai Sallas (HAW), both who stayed focused during the wave lulls that filled the lineup. Ahina nabbed the first wave and scored an 8.0 and maintained the lead throughout the heat. With seven minutes left on the clock, Ahina used his priority to secure a 6.65 backup score and the win.
"It was really nerve-wracking," said Ahina post-heat. "It's hard to go against Kai first of all, and just to be in the Final and have it on the line is even more pressure. It just feels good to get out of there and successfully win it."
Sallas, along with Ahina will travel to China in December to compete in the Jeep World Longboard Championship.
"(This win) is a motivator," continued Ahina. "I haven't won one in a long time and this is my second event of the year, so it feels good that I'm on the right page. Next up is Worlds… I know where I am so I'm really  motivated to go to China this year."
In the Women's division, Blomfield dominated the Final by taking an early lead and comboing opponent Megan Godinez (HAW) with a 9.8 and 9.15 – the highest combined wave totals of the event. Blomfield, 17, was extremely controlled and maintained flow on every wave, which was rewarded by the judges with excellent scores.
"I usually like to start off my heats by getting a wave, it doesn't matter if it's good or bad, just getting one on the board because then I feel more confident," said Blomfield after the win. "I stayed on the inside to keep building my scores, and I was just having fun with it. There were good waves for our Final, and 30 minutes was perfect so I feel like it was fair and I just kept getting lucky with good waves."
The Haleiwa surfer won this event three years ago and has come head to head with Godinez in the Finals in the past. Another victory here was on the bucket list for Blomfield, and the athlete now finds herself with a seed into the World Championship.
"This has been my goal to win this contest for the past few years, and I had to win it to make it to China so that's what I've been working towards for a long time," maintained Honolua. "I've been really psyching myself up for this contest so that I do well, I'm so happy… I feel like I'm on top of the world."
At last year's World Longboard Championship, Nelson Ahina, Kai Sallas and Ned Snow (HAW) placed 12th, 13th and 16th respectively in the competition, which granted them re qualification into this year's event. Next in line to receive placement into the Championships was equal third place winner, Waikiki's Kaniela Stewart and former World Longboard Champion Duane DeSoto (HAW).
Stewart, 15, was the second youngest competitor in the Men's division and this year marks his third time competing in the Duke's Waikiki Kane Longboard Pro.
"I'm so excited, just so hyped up and I'm thankful to go to China," said Stewart, who hails from Waikiki. Brother to professional surfer Eala Stewart, the boys are both chasing a competitive career and Kaniela demonstrated his aptitude for the big leagues today at Queens.
The Duke's Waikiki Kane/Wahine Longboard Pro is part of Duke's OceanFest, a commemorative sporting series that honors legendary Hawaiian surfer and Olympian Duke Kahanamoku. Now in its 15th year of running, Duke's OceanFest combines a variety of water and beach sports during its 9-day extravaganza and celebrates the Duke's birthday each year on August 24.
Results
All surfers from Hawaii unless noted
Surfers shown in order of 1st through 4th
Men's Final
1st – Nelson Ahina, $750 and 1,000 points
2nd – Kai Sallas, $350 and 750 points
Women's Final
1st – Honolua Blomfield, $750 and 1,000 points
2nd – Megan Godinez, $350 and 750 points
Men's Semifinals
SF1: Nelson Ahina, Kaniela Stewart
SF2: Kai Sallas, Ned Snow
Women's Semifinals
SF1: Megan Godinez, Ashley Ahina
SF2: Honolua Blomfield, Sally Cohen (USA)
Men's Quarterfinals (1st advances, 2nd=5th, $50 and 420 points)
QF1: Nelson Ahina III, Duane DeSoto
QF2: Kaniela Stewart, Makame DeSoto
QF3: Kai Sallas, Laakea Davis
QF4: Ned Snow, Maui Zack Meyers
Women's Quarterfinals (1st advances, 2nd=5th place, $50 and 420 points)
QF1: Megan Godinez, Miku Uemura
QF2: Ashley Ahina, Kelta O'Rourke
QF3: Sally Cohen (USA), Tabatha Knudson (USA)
QF4: Honolua Blomfield, Sierra Lerback (USA)
Men's Round of 16 (1st and 2nd advance)
H1: Nelson Ahina III, Kaniela Stewart, Scotty Fong Jr., Hiro Ito
H2: Makame DeSoto, Duane DeSoto, Fritz Belmoro, Nick Alexander
H3: Kai Sallas, Ned Snow, Micah DeSoto, Adam Lefebvre
H4: Maui Zack Meyers, Laakea Davis, Andre Derizans, Keegan Edwards
Men's Round of 24 (1st and 2nd advance)
H1: Scotty Fong Jr., Makamae DeSoto, Kevin Skvarna (USA), David Carvalho
H2: Duane DeSoto, Kaniela Stewart, Koby Gilchrist (USA), Edrick Baldwin
H3: Kai Sallas, Laakea David, Dino Miranda, Wesley Moore
H4: Keegan Edwards, Micah DeSoto, Kaimana Takayama (USA), John Paul Kaleupa'a
Men's Trials (1st and 2nd advance)
H1: Micah DeSoto, David Carvalho, Len Barrow, Crispin Nakoa
Women's Round of 16 (1st and 2nd advance)
H1: Megan Godinez, Kelta O'Rourke, Stacia Ahina, Summer Ivy
H2: Ashley Ahina, Miku Uemura, Mason Schremmer (USA), Satoo Ukeguchi (JPN)
H3: Sally Cohen (USA), Sierra Lerback (USA), Kelis Kalepaa, Nouko Furuie (JPN)
H4: Honolua Blomfield, Tabatha Knudson (USA), Natsumi Taoka (JPN), Soleil Errico (USA)
Women's Round of 20 (1st and 2nd advance)
H1: Megan Godinez, Miku Uemura, Tehani Hinkley
H2: Sally Cohen (USA), Taoka Natsumi (JPN), Dominique Miller, Kailey Bogart