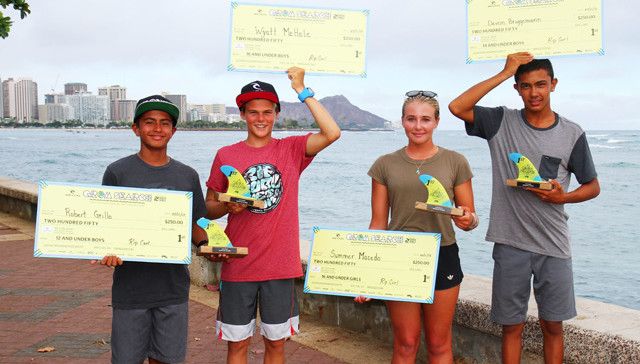 Stop #2 event winners © Rip Curl/Willy Edwards
GromSearch Stop #2
Rip Curl GromSearch Series
Kewalos, Oahu Hawaii
11 – 12 July 2015
McHale Dominates  in Firing Surf  Stop #2 Kewalos, Oahu 
Surf News Network, 15 July, 2015.  Hawaii's top talent gathered once again at Kewalo Basin on the south shore of Oahu for the annual Rip Curl GromSearch presented by Banzai Bowls. With a record setting RCGS Kewalos attendance of 94 competitors, who were greeted to perfect 3-4 foot A-frame peaks, the level of surfing was phenomenal! Competitors were not only battling for bragging rights, cash, and amazing prize bags, but also more importantly, for the highly coveted invitation to compete in the RCGS National Final this October, at Upper Trestles, CA.
With the top four finishers in each division earning a spot at Uppers, the boys and girls in the 16 & Under divisions will also have the opportunity to compete in the RCGS International Final, which is going on the Search once again in 2015 to an undisclosed location.
One young surfer who dreams to make the run all the way to the International event is 14-year-old Wyatt McHale who absolutely dominated the competition. McHale fought his way to making two finals, while taking home the 16 & Under title, finishing 3rd in the 14 & Under and also winning the Banzai Bowls Maneuver of the event for a stalefish air reverse. All in all, McHale went home with $550 for his efforts, qualified for two divisions at the RCGS Nationals, and surfed pumping Kewalos all day long.
When attributing to his run of success McHale explained, "I just try to have fun and not get nervous. I train with Kid Peligro and he has taught me some great warm ups to get me ready for my heats. And lastly I get to see all my friends down at the event, which takes my mind off the stress of doing well, which seems to work well for me."
McHale continued to describe why winning the $300 courtesy of Banzai Bowls was so special, "My favorite part of the GromSearch events has to be the Banzai Bowls Maneuver of the Event because it really pushes everyone to go big and for me (at least in this contest) that ended up paying off."
Finishing 2nd in the 16 & Under went to Cody Young, 3rd place Kaulana Apo, and rounding out the final in 4th was the GromSearch's only other double finalist, Cole Alves.
On the girl's side, a super stacked 6-girl final was a battle not only for the win but the top four receiving invites to the National Final. Taking home the win this year was regular foot powerhouse, Summer Macedo. Macedo earned $250 for the win and a large bag of loot. 2nd went to Julie Nishimoto, 3rd former International GromSearch winner Brisa Hennessy, 4th Gabriela Bryan, 5th Emily Nishimoto, and 6th Summer Ivy.
Moving on to the boy's 14 & Under last year's 4th place finisher, Devin Brueggeman put in some extra effort to claim the title with aggressive surfing on both his frontside and backside. 2nd place went to Cole Alves, 3rd Wyatt McHale, 4th Koa Matsumoto, 5th Crosby Colapinto, and 6th Ocean Donaldson.
The youngest division saw the tightest battle of all the finals. The boy's 12 & Under had a split decision for the win with Robert Grillho taking a slim victory over Ocean Macedo as both surfers scored multiple waves in the 7-8.5 range. 3rd place went to Kade Matson who flew over from California in hopes of a national qualification, 4th Kai Martin, 5th Luke Swanson, and 6th Koby Hughes.
Rip Curl's Official Retail Partner of the GromSearch Kewalos, Hawaiian Island Creations, once again donated a custom surfboard to the most inspirational surfer who demonstrated sportsmanship and aloha spirit, this year's recipient was Kailey Bogart. Congrats Kailey on your award!
Rip Curl is so thankful to once again bring the GromSearch to Kewalo Basin year after year. With the consistent swells on offer, it's a favorite on the event schedule. We are also very grateful for our 2015 supporters, our presenting sponsor Banzai Bowls for delivering a healthy meal to all competitors, Smith Optics, FlexFit, Kicker Audio, Futures Fins, Famous Surf, Surface Sun Systems, DHD Surfboards, Wahoo's Fish Tacos, and our official media partners Surfing Magazine, Surfline.com, as well as HIC, our official retail partner. We hope to see you at stop #3 of the 2015 Rip Curl GromSeach at New Smyrna Inlet, Florida, August 8th – 9th. Sign up now at ripcurl.com/gromsearch.
Boys 16 & Under
1. Wyatt McHale ($250)
2. Cody Young
3. Kaulana Apo
4. Cole Alves
Girls 16 & Under
1. Summer Macedo ($250)
2. Julie Nishimoto
3. Brisa Hennessy
4. Gabriella Bryan
5. Emily Nishimoto
6. Summer Ivy
Boys 14 & Under
1. Devin Brueggman ($250)
2. Cole Alves
3. Wyatt McHale
4. Koa Matsumoto
5. Crosby Colapinto
6. Ocean Donaldson
Boys 12 & Under
1. Robert Grillho III ($250)
2. Ocean Macedo
3. Kade Matson
4. Kai Martin
5. Luke Swanson
6. Koby Hughes
Banzai Bowls Maneuver of the Event
Wyatt McHale ($300)
HIC Sportsmanship Award
Kailey Bogart