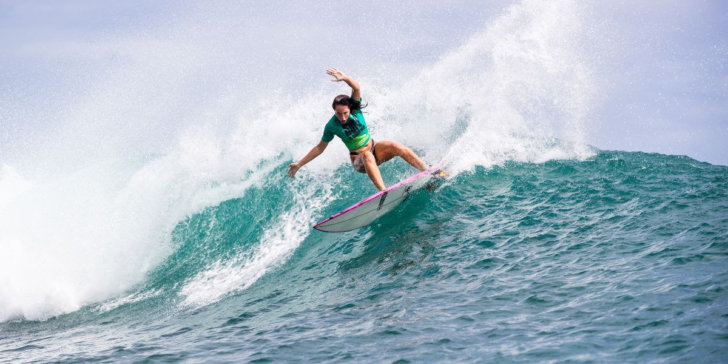 for the Local Motion Surf Into Summer At Home In The Hawaiian Islands
Finals Day starts at 730am Thursday…(an absolutely gorgeous day with lite to moderate trades and a near 3′ South! SNN)
Ivy Flourishes In First WSL Event Since 2018
Reigning Regional Champion, Event Victor Jones Wong Storms Into Semifinals
Crawford Returns To Bowls With Near-Perfect Heat Total
Braye Finds Near-Perfection As Excellent Scores In Abundance
Front page:
 Summer Ivy (HAW) returned to the WSL jersey for the first time since 2018 in dominant form. 
Credit
: © WSL / Heff
ALA MOANA BOWSL, Oahu, Hawaii (Wednesday, June 14, 2023) – An all-important Finals Day now awaits the Local Motion Surf Into Summer At Home In The Hawaiian Islands, a Qualifying Series (QS) 1,000 and Longboard Regional Qualifying (LQS) 1,000, after more dominant displays of power and progression continued in two-to-three foot, pristine conditions that grew tougher in afternoon winds. Now the men's Round of 32 and women's Semifinalists are locked in to battle it out for the respective event titles with some of the region's best stacked against each other.
Making her presence known in the jersey, Summer Ivy (HAW) delivered an impeccable performance in her first event since 2018 and dropped a 15.00 (out of a possible 20) heat total to march toward the Semifinals. Ivy's formidable forehand earned an excellent 8.00 (out of a possible 10) after she delivered in her debut heat to advance through. Now, she prepares for a big Finals Day.

"It was a little windy in the afternoon and I was kind of bummed, but happy to put a couple waves together," said Ivy. "I haven't competed in a long time so it was a little shocking, but I'm happy to be here and surf with only four girls out at Bowls. I'm just looking to trying my best and having fun, but having fun is definitely my goal."
Reigning Hawaii/Tahiti Nui QS Regional Champion, and reigning event victor, Moana Jones Wong (HAW) put on another showcase in her return to Ala Moana Bowls. Accruing a solid 7.17 in tough afternoon conditions, Jones Wong looks to go back-to-back and kickoff both her regional title and event title defense in winning form.

"I'm super stoked to be back at Bowls, it's one of my favorite waves," said Jones Wong. "It was inconsistent and grindy out there, but I got the job done and made it to the Semifinals. Hopefully I can make it all the way to the Final again and repeat what I did last year, and also see the waves start pulsing again."

Also, fellow Challenger Series contenders Puamakamae DeSoto (HAW) and Eweleiula Wong (HAW) also stormed their way into the Semifinals to start their seasons in strong form with decisive heat wins.
Haleiwa, Oahu's Shion Crawford (HAW) wasted no time getting his 2023/24 QS season underway in decimating form. Crawford's excellent opening scores totaled a 16.34 before using his patience heading into the final minutes and unleashed his backhand attack, utilizing his progression and power, to post a near-perfect 9.67. But, the emerging talent knows the work is far from done and has his goals set after returning from the Challenger Series.

"I'm just wanting to keep the ball rolling after last year I started really good and then ended pretty bad so I just wanted to start good and finish strong," said Crawford. "I didn't really surf my best in the Challenger Series, but I'm stoked I get to do this QS event and show my surfing. Bowls is such a rippable wave and I'm stoked to get a few."
An unstoppable Mihimana Braye (PYF) continued his surge in the top-seeded Round of 64 with a near-perfect 9.33 to start over one of the event favorites Keanu Asing (HAW). Braye's 7.73 backup left Asing and fellow competitors battling for second, secured by Asing in the final moments, as the Tahitian's flourishing form takes him back into the Round of 32. The Challenger Series contender is looking for a big result, returning to the Hawaii/Tahiti Nui region, and find a consecutive regional Finals.

"It would be really good to be in the Final and I'm looking to win this thing," said Braye. "But, it's heat by heat and I'm just trying to have fun. I'm feeling confident, my boards and everything is good and just trying to keep the momentum. My goal is to win the region this year and it's just step by step to get there."

Also notching excellent showings in their debuts, former Championship Tour (CT) competitor Imaikalani deVault (HAW), regional standouts Brodi Sale (HAW), Finn McGill (HAW), Kala Willard (HAW), and Maikai Burdine (HAW) all earned eight-point rides or higher. They join the likes of Sheldon Paishon (HAW), Kai Martin (HAW), Maikai Burdine (HAW), Brodi Sale (HAW), Logan Bediamol (HAW), Kylen Yamakawa (HAW), and Philippe Chagas (BRA), eliminating reigning Hawaii/Tahiti Nui QS Regional Champion Jackson Bunch (HAW), into Finals Day among more.

Event organizers have called Finals Day ON for a 7:30 a.m. HST start, Thursday, June 15, 2023.
CLICK HERE FOR DAY 3 RESULTS 
The Local Motion Surf Into Summer At Home In The Hawaiian Islands will run on the best four days of the event window running June 12 – 19 at Ala Moana Bowls, Oahu, Hawaii.