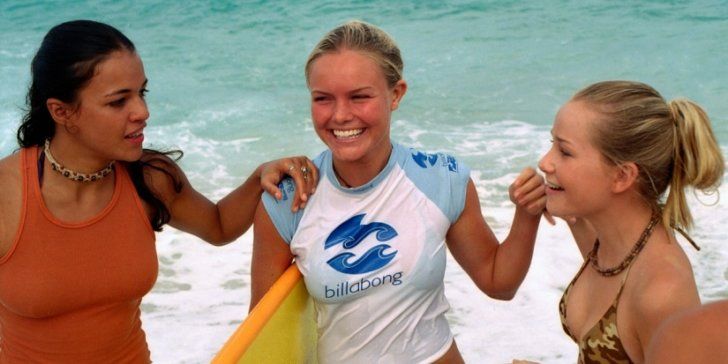 The TV reboot of John Stockwell's 2002 surfing flick….
It's hard to believe that's it's been a 15 year crush but back in 2002, we saw it for the first time. This time the pro surfer girls won't be using a wall phone to call GQ at 596-SURF…LOL.
Hollywood jumps on the bandwagon every so often, trying to strike the balance of making it hot/popular for the masses without getting way too cheesy/fake. But, from the trailer, it looks like they won't be worrying about that very much. Who really cares tho'? If it's fun to watch. Especially for locals, when they can see all their fav friends, restaurants, hangouts and surf spots while shaking their head every so often. Seriously, Blue Crush is the basic stuff life's made of anyway.
And hey, Universal Pictures grossed over $50 million at the box office – that was about double the film's budget. Nice! Money is a huge part of the Hollywood game. Plus, it's a town that know's how to tell a good story. Remember, back then women empowerment wasn't as 'normal' or established as it is today? Pro female surfers are better than 99% of guys nowadays. But back then Blue Crush producers knew that our North Shore challenge was the perfect place to examine & promote female ambition & empowerment.
On Thursday, NBC  made the announcement that will be giving the surf flick a TV relaunch. Brian Grazer, the film's original producer will be executive producer for the television remake. He'll work with Francie Calfo and Jillian Kugler, and the drama written by Hannah Schneider. The storyline for the series reads fairly close to the original. After a tragic accident, a surfer works to revive her career and help save her local community, which is being threatened by commercialism/growth and sketchy surf politics.
Beyond that, the network hasn't revealed much about the new series. We don't know if Keala Kennelly or Kala Alexander will be on camera again. Alexander's said he got into the Screen Actors Guild with his role in 2002. Kennelly went on to work as a host/actor while continuing her own surfing career in the women's World Tour until 2007. Since then they've both charged insane waves. They have always been the real deal. So, I hope we get to see them.