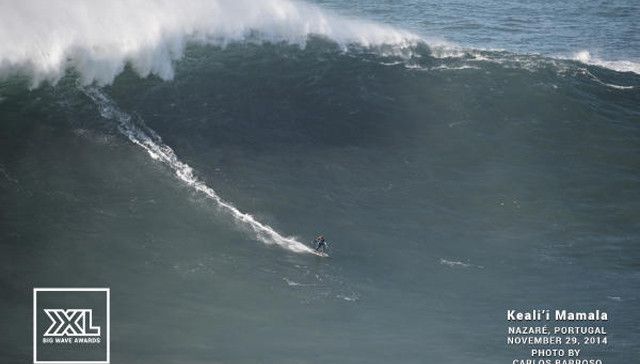 Surf News Network, 30 November, 2014. Just hours after towing into huge bombs at Nazaré, Portugal, Andrew Cotton of Great Britain broke down the massive session that went down on November 29, 2014. Cotty and crew towed into some of the biggest waves of the season at the once-obscure-but-now-famous European big wave spot.
"There was quite an unusual swell," said Cotton. "The swell direction was really west and the storm was close to Portugal, whereas usually in the Bay of Biscay we get a northwest swell. So it was an unusual direction for the height. It didn't feel that big out there, but it was really heavy, really powerful.
"We knew at first light we knew we'd have a small window because the wind was supposed to come up north, which is cross-shore. But as the tide went out, the swell got bigger and the wind held off. There were some bonkers sets toward the end of the session, it was crazy."
SNN estimated size 85 feet in the face "IF" the trough's bottom is the bottom of this photo, and the height of Keali'i is 5′ at this moment.
"Nazare gets pretty dangerous," said Cotton. "It's not like most big wave spots where it's organized or goes into a channel. It's like a beach break that's all over the place. So safety, communication are key. It's the only place I surf with a radio. And we have a backup safety ski. It's pretty gnarly."
The night before a tow-in session, Cotton said, "We make sure we know who's doing what. We work in little teams. Just knowing who you're working with. Like we were out this this swell with Keali'i Mamala and Hugo Vau, who I've surfed with a lot. But also with Will Skudin and Cliff Skudin from New York. I've surfed with them, but not tow-in."
According to Cotton, U.K. surfer Tom Butler scored some of the best waves of the day.
"The wind started getting a bit strong, but just before it did Sebastian Steudtner caught this ridiculous left by the rocks."
"One of Keali'i Mamala's waves looked ridiculous. He seems to have rubber legs: He went straight to the bottom and I thought he was going to get blown up. But he managed to come around the section and make it."
"We were out at first light and I thought we'd surf from 7 until half 8, 9," Cotton said. "But we were out until 12, until the wind switched. It was worth the trek from England, for sure."