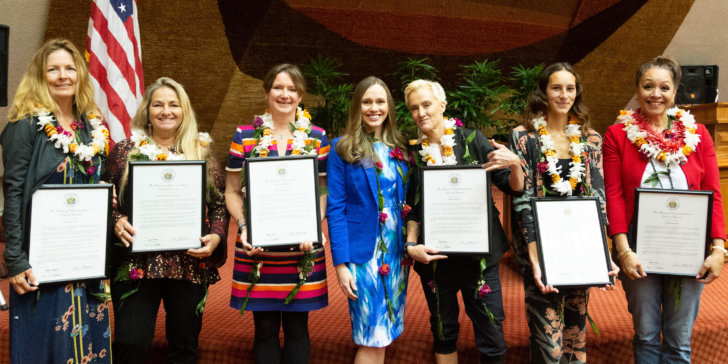 Speech Given in Recognition of the Accomplishments of Hawaii's Women Surfers
Hawaii House of Representatives
3/10/2020 
Rep Quinlan:
Today we have the pleasure of honoring some of the most outstanding female athletes in the world. My district has some of the world's most important surf locations and these communities have produced some of the world's most accomplished surfers. Hawaii is known as the birthplace for surfing and we hold some of the most prestigious surf competitions in the world. However, we are still struggling to have equal opportunities for our male and female competitors. Today I am honored to recognize women who have been tireless advocates for equality in women's surfing.
Our first honoree today is Carol Philips. Carol won two national bodyboarding championships and was the first woman to compete against men at Pipeline. She was the first woman to hold a permit to run a contest at Pipeline, which led to the World Championship of Women's Bodyboarding. It was the first competition of its kind and at one point was the longest running women's wave sport event in the world. She also founded the North Shore Surf Girls, a surf school with the goal of providing a fun, inclusive, and safe experience for people of all ages and from all over the world to experience surfing. She continues her work as a powerful advocate of sharing surfing, Hawaii's gift to the world, with new generations of surfers.
Our next honoree is "Banzai" Betty Depolito. She's made a monumental impact in the surfing world since 1979, for a while traveling the world competing as a top-ten rated international surfer and is said to be one of the first women to have caught 18 to 20 foot waves. Betty has helped push women's surfing to a whole new level by pioneering women's surfing in places like Waimea Bay, Pipeline, and Sunset beach. A videographer, producer, and director, Betty has highlighted the accomplishments of female surfers through numerous sports programs, documentaries, and by serving as contest director and media coordinator for contests like the Pipeline Women's Pro and Red Bull Queen of Waimea Bay. Her work continues to promote trailblazing female athletes and lay the groundwork for future generations of female surfers.
Next, we have Sabrina Brennan. Sabrina is a political advocate for the inclusion of women in big wave surf competitions. Sabrina has served as a commissioner on the San Mateo Harbor Commission since 2012 where she successfully advocated for the inclusion of women in the Mavericks big wave surf competition. After her success with the Mavericks big wave surf competition, she co-founded the Committee for Equity in Women's Surfing that has led the charge for quality, inclusion, equal access, and pay parity in professional surfing. Her work is the subject of two documentary films and hundreds of news stories including the New York Times Magazine feature titled "The Fight for Gender Equality in One of the Most Dangerous Sports on Earth." Her perseverance and determination benefits every single woman surfer and has allowed them to showcase their athletic talent around the globe.
I will now defer to the Representative from Waialua to recognize the rest of our honorees.
Rep. Matsumoto:
I'm thankful for this perfect opportunity to honor these women athletes. This year we're celebrating the 100th anniversary of women gaining the right to vote, and it's also women's history month — all in all, it's a perfect time to honor these athletes who are quite literally making history.
Hawaii has produced some of the most outstanding athletes in the world, several of whom we're honoring today. But each of these women are much more than just incredible athletes – they're also powerful advocates for equality in competitive surfing
There's still a long way to go before there's true equality: equal pay, representation, and access to world-qualifying competitions in Hawaii are just some of the vital causes our honorees today are fighting for. Thank you to the advocates for all you do.
Now I have the honor of recognizing current athletes at the top of women's surfing. These women have spent decades honing their craft and truly becoming masters at what they do. Among them, they hold multiple local and world championship titles. Some will be surfing in the Olympics this summer where surfing will be a part of the games for the first time.
First, we have Paige Alms. (not pictured)
Paige Alms is a self-taught and self-motivated big wave surfer from Maui. At the age of 15, Paige's first big wave session had her hooked. She worked hard, literally. She worked as many jobs as she could to pay for her gear and travel expenses so that she could compete in surf tours. While most surfers had sponsors to fund their ability to compete, Paige did it on her own. And it paid off! Paige was the very first female Big Wave World Champion and has won two World Champion titles. Paige is a surfer that is deeply invested in surfing for a greater purpose: one that is based on values that inspire women to dream big and accomplish their goals. One of her goals is the Olympics, which she will be surfing in this summer in Tokyo. Thank you Paige.
Next, we have Keala Kennelly.
Keala Kennelly is a professional surfer from Kauai, Hawaii who began competing professionally at the age of 17 and quickly rose to the top of the ranks as one of the best female surfers in the world. Victory after victory, tour after tour, Keala spent a decade ranked in the top ten of the ASP World Championship Tour winning accolades and setting records. Making history for female surfing, she won the first women's big wave contest at the Nelscott Big Wave Classic in 2010, opening the door for more female big  wave surfing competitions in the future: like the Big Wave World Championship, which she won in 2018. Thank you Keala.
Next, we have Honolua Blomfield.
Honolua Blomfield started surfing when she was only two years old. From day one, this native of Haleiwa, Hawaii spent her life outdoors enjoying activities such as hiking, skateboarding, and stand-up paddle-boarding. She competed in her first surf competition, the Menehune Surf Contest at four years old. Since then she has competed in both shortboard and longboard competitions and has won in both, but has truly excelled on her longboard, recently becoming the World Longboard Champion for the second time. With two World Titles under her belt, Honolua continues to surf around the globe from competition to competition. Congratulations Honolua. Thank you Honolua.
Next we have Carissa Moore. Carissa was unable to be with us today because she is surfing in Australia. But Carissa would not be where she is today without the dedicated support of her parents. To accept the certificate on her behalf is her mother Carol Moore.
Carissa Moore is a four-time World Champion from Honolulu and ranked No. 1 in the world. Carissa started racking up wins at National Scholastic Surfing Association junior surf competitions and top spots at the International Surfing Association World Junior Surfing Championships, where she helped Hawaii win a team victory. She clinched a record 11 NSSA amateur titles, and age 18, she became the youngest person – male or female – to win a surfing world title and was the first woman to compete in the Triple Crown of Surfing, Hawaii's most prestigious contest series featuring the world's best male surfers. Carissa is looking forward to representing the United States at the 2020 Olympic Games in Tokyo. She surfs with remarkable power and finesse and is known for her work to help young girls develop confidence and pursue their dreams.
These women aren't just out on the waves for accolades and personal gain. They are out there for each other, cheering one another on to keep going, keep charging. They are out there for every girl that has dreams to do something bigger than herself. I am so proud of all of their accomplishments and everything they have done to push the world of surfing forward not just in Hawaii but around the world. We are so blessed to have all three world champions, shortboard, longboard, and big wave champions all from Hawaii. Today we're honoring women who are not just great surfers from Hawaii, but the best in the world who continue to fight for equality for women in competitive surfing. Congratulations!