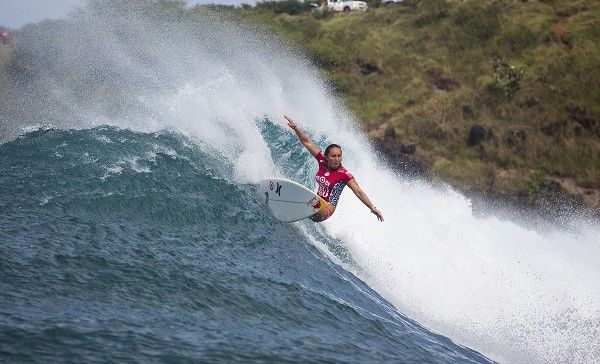 WSL TITLE SHOWDOWN AT WORLD-RENOWNED HONOLUA BAY STARTING THIS SATURDAY!
– REIGNING 6X WSL CHAMPION STEPHANIE GILMORE WITHDRAWS FROM EVENT
– BATTLE FOR REQUALIFICATION RAGES ON FOR WORLD'S BEST SURFERS
– WATCH LIVE AT WORLDSURFLEAGUE.COM
2x WSL Champion Carissa Moore (HAW) and current Jeep Rankings Leader will look to make it three-in-a-row at Honolua Bay and claim the 2015 WSL Title.
Image: WSL / Kirstin Scholtz
Location: Honolua Bay, Maui/Hawaii
Event window: November 21 – December 4, 2015
Today's call: Upcoming
Conditions: Upcoming
HONOLUA BAY, Maui/Hawaii (Wednesday, November 18, 2015) – The world's best female surfers have converged onto the Hawaiian island paradise of Maui to contest the final event of the 2015 Samsung Galaxy World Surf League (WSL) Women's Championship Tour season, the Target Maui Pro, holding a competition window of November 21 to December 6, 2015.
Heading into the 2015 season-ender, two surfers remain in contention for the world surfing crown: two-time WSL Champion Carissa Moore (HAW) and Californian challenger Courtney Conlogue (USA). All eyes will be on these two power brokers as they contest for surfing's most sought after title against the idyllic backdrop of Honolua Bay.
Moore, two-time defending Target Maui Pro winner (2013, 2014), had a sensational start to the 2015, claiming back-to-back wins on the Gold Coast and at Bells Beach to vault out to an early ratings' lead. While the Hawaiian phenom has remained consistent throughout the season, it was her emphatic win at Lower Trestles in September that put her on pace to potentially secure the 2015 title in Maui.
"It's been a really inspiring year with such a high level of surfing and it's definitely exciting for the title race to come down to the final event," Moore said. "Courtney (Conlogue) is a very strong surfer and I enjoy watching her surf Honolua. I love the wave and have had a lot of success there in the last two years. Hoping to repeat that this coming week."
Conlogue, who was sidelined throughout the 2014 season due to a near career-ending injury, rebounded in fantastic form in 2015, stealing Moore's initial thunder with back-to-back wins at Margaret River and Rio de Janeiro to punctuate a consistent season of her own. A win in Portugal and a back-and-forth for the Jeep Leader Jersey with Moore has resulted in one of the most exciting WSL title races in history.
"I think Carissa (Moore) and I swapped the leader jersey a few times over the last few events and neither one of us could seal throughout the European leg," Conlogue said. "Really looking forward to this week and hopefully we get to decide the title in solid surf at Honolua."
2015 WSL Women's Title Scenarios:
If Moore finishes 13th or 9th, Conlogue needs a 3rd to claim the title.
If Moore finishes 5th or 3rd, Conlogue needs a win to claim the title.
If Moore finishes 5th and Conlogue finishes 2nd, they'll be tied and the title will be decided by a surf off.
If Moore makes the Final, she will be the 2015 WSL Women's World Champ.
In addition to the 2015 race for the WSL Title,another key story unfolding in Maui is the battle for requalification for the 2016 tour. The 2016 WSL Top 17 will be comprised of:
the Top 10 finishers on the 2015 Championship Tour (CT)
the Top 6 finishers on the 105 Qualifying Series (QS)
one WSL wildcard
The Target Maui Pro is the last opportunity for surfers to qualify for next season's elite tour.
Stephanie Gilmore (AUS), reigning six-time WSL Champion and three-time Honolua Bay winner, has withdrawn from the Target Maui Pro citing an ongoing injury that has plagued the icon since April.
"I am not feeling a great level of strength or confidence in my surfing at the moment," Gilmore said. "That is what's needed to perform on this stage at the final event of the year so I've officially withdrawn from Maui and I'll take this time to get a head start on 2016."
Since her injury in Margaret River in April, Gilmore has missed five events this season and current sits at WSL No. 12, outside of the requalification cutoff. If Gilmore is to return in 2016, she will do so courtesy of the WSL wildcard position.
Surfline, Official Forecasters for the World Surf League, are calling for:
Small N swell prevails on the first day of the waiting period and will offer rideable waves, with a decreasing trend over the weekend and into early next week. Small, partially to heavily shadowed NW swell for Sun PM/Mon AM, although it will offer only minimal size. The second half of the waiting period looks more promising for larger swell.
The Target Maui Pro will be webcast LIVE on WorldSurfLeague.com and on the WSL app.
The world's best surfing will also be broadcast LIVE on Fox Sports in Australia, MCS Extreme in France, EDGE Sports in China, South Korea, Malaysia and other territories and on Globo TV in Brazil.
Target Maui Pro Round 1 Match-Ups:
Heat 1: Tyler Wright (AUS), Tatiana Weston-Webb (HAW), Dimity Stoyle (AUS)
Heat 2: Lakey Peterson (USA), Malia Manuel (HAW), Sage Erickson (USA)
Heat 3: Carissa Moore (HAW), Silvana Lima (BRA), TBD
Heat 4: Courtney Conlogue (USA), Coco Ho (HAW), Keely Andrew (AUS)
Heat 5: Sally Fitzgibbons (AUS), Nikki Van Dijk (AUS), Laura Enever (AUS)
Heat 6: Bianca Buitendag (HAW), Joanne Defay (FRA), Alessa Quizon (HAW)