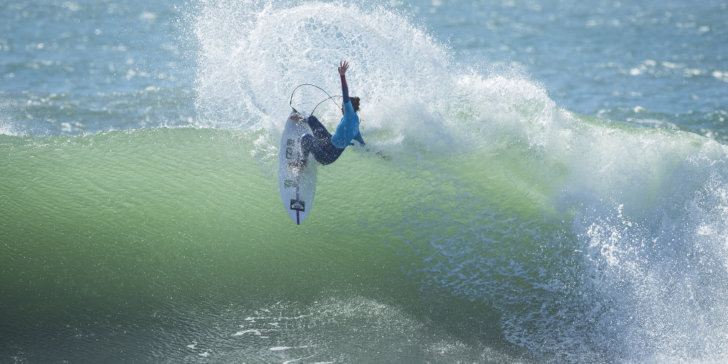 The MEO Vissla Pro Ericeira
Hawaii's Devault and Sakura Johnson Find Near Perfection
Shino Matsuda Catches Fire in Round 3 Superheat
Excellence Prevails from Young, Munoz, Pupo, Lima and More
Next Call Friday at 7:35 a.m (WEST) (11 hours ahead of Hawaii)
Front page : Bettylou Sakura Johnson (HAW) was on a league of her own today in Ericeira. Credit: © WSL /  Poullenot
RIBEIRA D'ILHAS, Ericeira / Portugal (Thursday, October 7, 2021) – The MEO Vissla Pro Ericeira, Stop No.2 on the 2021 Challenger Series, continued in absolutely epic conditions as a solid groundswell distilled long walls at Ribeira for the third rounds of competition in both the men and women's fields.
It was on the maps and in everyone's minds since the beginning of the event's waiting period, but until it manifested, the big swell was just a fantasy. This morning when surfers arrived at dawn they were met with big, long, perfect waves lining up on the Ribeira d'Ilhas reef.
The excitement level was maxing in the freesurf and despite a couple of slow first heats, the day just kept getting better and better as the tide came in and surfers started taking apart the lineup.
Imaikalani Devault Goes Near Perfect in Pumping Ribeira
One of the outstanding surfers of the previous two rounds, Maui's Imaikalani Devault (HAW) continued to dominate the Ribeira lineup. With two previous heat results in the 16+ point range, there was very little doubt the powerful Hawaiian surfer wouldn't put on a show as conditions started to pump.
And what a show that was. Devault only needed 10 minutes of his heat to put on an absolute clinic, pushing his turn stronger, in gnarlier sections than everyone else and with a flow that just made his performance look effortless.
"That was so fun, I just love heats where I get to surf and have plenty of chances," Devault said. "Something's been working for me so I'm just going to keep doing what I've been doing. With those two scores and so much time I wasn't even thinking of the heat at that point, I was just trying to find different lines to draw and really just enjoying myself."
If his opening score of 9.60 was a statement, what followed was simply sheer perfection. Wave selection, perfect. Sections and maneuvers choice, perfect. Flow in between, perfect. And the score came in as, surprise, a perfect 10 point ride, the first in this event.
Bettylou Sakura Johnson Secures Huge Heat Total, Goes On to Get Barreled at Ribeira
Pictured: 
Bettylou Sakura Johnson (HAW) finds cover in Portugal. 
Credit
: © WSL /  Poullenot
16 year-old Hawaiian phenom Bettylou Sakura Johnson (HAW) definitely proved she's a major threat coming up the ranks, with an incredible performance of her own to overcome Macy Callaghan (AUS) in their Round 3 head-to-head matchup.
The graceful natural footer picked the best waves out in the lineup and secured three back-to-back 9+ point rides. She started with a combination of carves and snaps and only just missed her footing on the final maneuver of what could have been a perfect ride, coming in as a 9.00.
Paddling back out she decided to start on an insider that grew big as it hit the sweet section of the reef and locked in a huge layback snap right in the lip, posting a 9.43 on this single high-risk, high-reward maneuver.
As if that wasn't enough, she later found the only clean barrel seen at Ribeira d'Ilhas so far this week, and wrapped it up with a couple of turns for a 9.23 and an outstanding victory over Callaghan with 18.66 on the board.
"I just had a blast, it was really fun out there," Sakura Johnson said. "I was able to read the lineup pretty well and that's been pretty hard. I can't wait for more of this tomorrow, I'm super excited it"ll be super fun."
Shino Matsuda Catches Fire in Round 3 Superheat
Facing yesterday's standout Alyssa Spencer (USA), Japanese underdog Shino Matsuda (JPN) really had a huge challenge ahead and the superheat lived up to expectations. Both surfers went blow for blow in the firing Ribeira lineup, exchanging massive scores each time a set rolled in.
The two goofy footers attacked massive waves with no fear whatsoever, locking in dramatic turns in or right below the lip with maximum commitment. Judges rewarded their efforts accordingly, Spencer with the first 9.43 to regain the lead, before Matsuda further upped the ante with a near-perfect 9.67 to seal her Quarterfinal berth.
"I needed a really big score but I always believed that wave would come," Matsuda stated. "I'm so stoked I got that 9 point, I wanted to just enjoy myself out there surfing and I'm so happy with how that went. I definitely want to qualify at the end of the day, but I don't want to stress myself out, I'd rather enjoy the journey."
Excellence Prevails as Young, Munoz, Pupo, Lima and More Dominate Round 3
It's almost unfair to compare as they all surfed on a lower tide, in slightly different conditions, but the first surfers who started posting big scores paved the way for the later performance of Devault and Johnson in some way.
Californian Nat Young (USA), one of the most prominent righthand pointbreak surfers on tour, once again showed class on the long and perfect waves, finding the pocket repeatedly and timing all this turns to fit the rhythm of the wave.
"I came here this morning and it was bombing for sure," Young said. "I just have this magic shortboard that I just know works so good. It felt a little bit big out there on it so I was a little unsure but I trust it so well and it went fine in that heat. I would have loved to surf again today. It's just so good out there but the forecast looks good for the next couple of days so either way, I'm stoked to surf in man-on-man heats next."
Carlos Munoz (CRI) brought a little flair to the party on his forehand, finding a gem that grew as it went down the reef to give him countless opportunities. The variety in each of his turns proved lethal as he posted a 9 point ride, the highest of the day at that point.
"I was definitely nervous before and at the beginning of that heat," Munoz admitted. "I let that first wave go and I wasn't sure but I kept calm and I managed to find a bomb. I saw everyone get those in the free surf and finally I got mine. I think my training works well, I don't catch many waves so I have to make it count and that's what I did."
The last winner of the event as a QS back in 2019 Samuel Pupo (BRA), his compatriot Alejo Muniz (BRA), Australian underdogs Jackson Baker (AUS) and Callum Robson (AUS) as well as Cole Houshmand (USA) all posted excellent (8+) scores on their way to qualifying for the Round of 16.

Pictured: Gabriela Bryan (HAW) continues to impress with turns like this.  Credit: © WSL /  Poullenot
Long time CT surfer Silvana Lima (BRA) put on another dominant effort to dispatch Keely Andrew (AUS) and move into the Quarters. The Brazilian's dynamic and fast surfing of the waves set the tone in the opening women heat of the day, posting an amazing 17.20 heat total.
"The waves were so good out there it reminded me of J-Bay," Lima said. "I'm so happy to get through and get another opportunity to surf those waves. My board's a little small for this, it's only a 5'7 but it worked out and I'm so happy."
Currently on top of the Challenger Series rankings, Gabriela Bryan (HAW) belted a clutch win to advance into the Quarters. Facing local Yolanda Hopkins (PRT) in front of a beach, packed with support for their athlete, Bryan managed to snag the winning ride in the dying moments of their matchup and comforted her leader status.
The next call will be at Ribeira d'Ilhas at 7:35 a.m (WEST) on Friday with expected similar conditions and potentially even more size in the lineup.
The health and safety of athletes, staff, and the local community are of the utmost importance and there are a robust set of procedures in place to keep everyone safe. Athletes, staff, media and the public will be required to show proof of the "Health Pass" before accessing any of the event facilities or the beach.
The WSL encourages fans to follow the event online and watch all the action LIVE at WorldSurfLeague.com.
All the MEO Vissla Pro Ericeira action will be broadcast LIVE on WorldSurfLeague.com, the WSL app and the WSL's Facebook Page. Also, check local listings for coverage from the WSL's broadcast partners.

The 2021 MEO Vissla Pro Ericeira is scheduled from October 2-10, 2021, at praia de Ribeira d'Ilhas, Ericeira – Portugal. For all results, photos, video highlights and press releases, log on to worldsurfleague.com.

The MEO Vissla Pro Ericeira is supported by MEO, Vissla, Tourism of Portugal, Mafra City Council, Ericeira World Surfing Reserve, EDP, Estrella Galicia, You & The Sea Hotel and Apartments and Hertz.