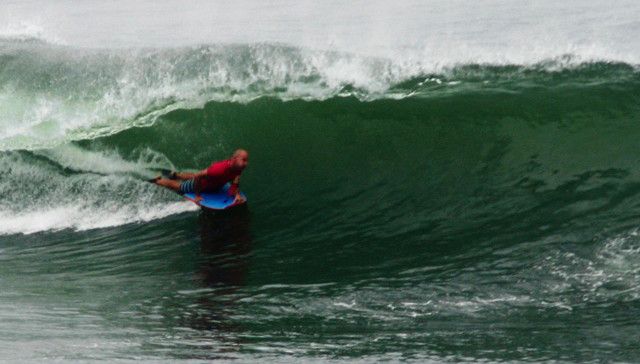 The winning-est Body Boarder and Body Surfer in History, Mike Stewart © Mike Cerrone/Kellog's IBA Hawaii Tour
Millers Surf Big Island Challenge
presented by Science Bodyboards
Kellog's IBA Hawaii Tour
Honoli'i, Big Island Hawaii
21 – 22 November 2015
Nine Time World Champion Mike Stewart Still Got Game
Surf News Network, 24 November, 2015. Mike Stewart was on fire for the third event of the Kellogg's  IBA Hawaii Bodyboarding Tour on the Big Island. The Millers' Surf Big Island Challenge was scheduled to be held at Banyons in Kailua Kona. Support from local officials made it possible to utilize the best possible surf near Hilo at a river mouth spot called Honoli'i. Stewart surfed like a kid in a candy store utilizing the best possible waves and winning every heat on his way to the final.
"I was very selective", said the 52 year old World Champion surfer. "I also really applied myself on every wave I caught even if it didn't end up being a great wave. The fact that most of the waves were hollow I think played to my advantage as I was able to do combinations of moves in and around the tube, something I have quite a bit of practice at."  Surf was superb ranging 4 to 6 feet and with mostly glassy conditions during the event as rain fell on the Big Island.
Stewart has also been an organizer for the 4 event series that challenges Hawaii's bodyboarders. "The idea of this tour is to present a forum for bodyboarders of all disciplines to come together and exchange ideas and challenge each others skills. I want to push the level of riders to be the best they can be. Competition can teach you how to improve your strengths and shed light on your weaknesses and ideally how to be composed and mindful under pressure. These are useful life lessons."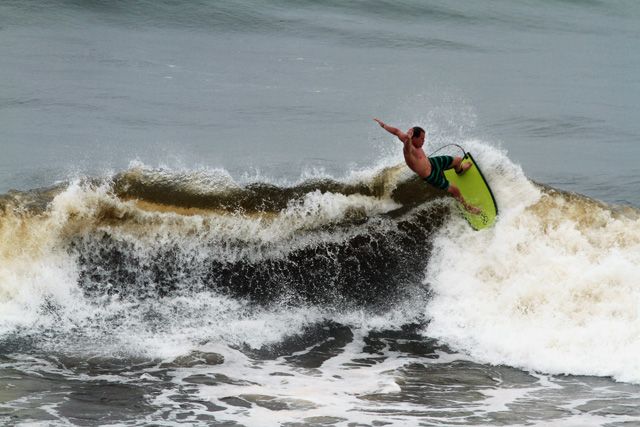 Standup division © Mike Cerrone/Kellog's IBA Hawaii Tour
In the final Stewart scored 16.5 points on two rides and behind in second was  David Phillips with 13.56. Sammy Morretino from Koloa, Kauai took third with 11.84 and leads the tour at this point. Morretino who turned pro this year also won the Stand Up & Drop Knee divisions. Mack Crilley took fourth.
The tour takes quite a bit of organization to stage and Mark Waldo at Millers' Surf Shop was instrumental to having the event on the Big Island. He is looking forward to next year! The next Hawaii tour competition is on Oahu on the west side, December 18, the week end before Christmas.  That event will decide the 2015 overall Kellogg's IBA Hawaii Tour Champions. For tour information go to the IBA Hawaii web site.
MENS  PRO
MIKE STEWART  16.5    1st
DAVID PHILLIPS  13.56   2nd
SAMMY MORRETINO 11.84  3rd
MACK CRILLEY    7.5    4th
Tanner McDaniel Fights Back to Take Junior Win
It was a close battle for the Junior win at Honoli'i. Kawika Kamai pulled into a long barrel at the start of the heat scoring a 9.5. Tanner McDaniel had to keep his confidence going. "It was early so I knew there was plenty of time so I didn't give up and it payed off", McDaniel explained. The 16 year old is from Poipu, Kauai and scored a 9.1 and a 7.9 to take the win over the tour leader Kamai. In the Women's division local Big Island surfer Daynara Tabil did not hold back in the challenging surf and dominated the field to take the win.
JUNIOR
TANNER MCDANIEL  17.07    1st
KAWIKA KAMAI    16.33    2nd
PEYTON ODA    12.73    3rd
BRYCE HOLLIS    8.67    4th
DROP KNEE
SAMMY MORRETINO    16.5    1st
COLE HANSEN    14.6    2nd
DAYTON WAGO    14.13    3rd
KALEO HUDDY    13.26    4th
MASTERS
DAVID KELLY    15.74    1st
JIMMY HUTAFF    15.33    2nd
BEN SEVERSON    13.33    3rd
KEITH SASAKI    11.77    4th
PAT CALDWELL    10    5th
HARVEST BURNS    6.17    6th
STAND UP
SAMMY MORRETINO    14.67    1st
ROB KEYSER    8.16    2nd
MACK CRILLEY    7.34    3rd
LANDON GASPAR    6.84    4th
WOMENS
DAYNARA TABIL    12.5    1st
MAHINA GERRITY    5.5    2nd
TIFFANY YAMAGUCHI    3.43    3rd