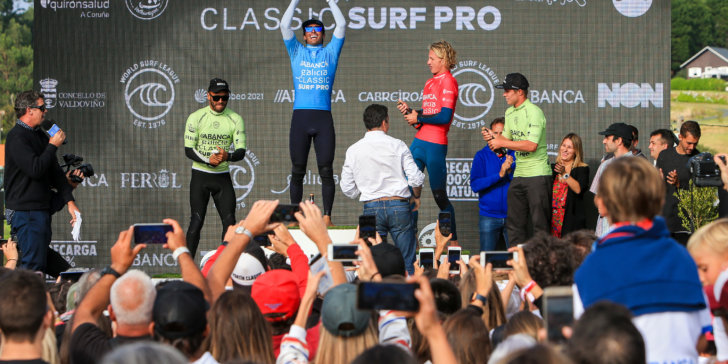 Pupo climbs up to 3rd on the Qualifying Series

Jake Marshall posts breakout performance moves into QS Top 10

Brazil has 50% of the top 10…including top 3 places.

Barron Mamiya is the sole Hawaiian just inside the current top 10
Frontpage

Miguel Pupo (BRA) savors his first win since 2015
Credit: © WSL / Masurel
PLAYA DE PANTIN, Valdoviño / Galicia – Spain (Saturday, September 7, 2019) – Miguel Pupo (BRA) has won the QS10,000 ABANCA Galicia Classic Surf Pro today, claiming victory in the Final against Jake Marshall (USA) held in three-to-five foot surf at playa de Pantin.

Stop No. 9 on the 2019 World Surf League (WSL) European Qualifying Series (QS), the ABANCA Galicia Classic Surf Pro, has juggled with a tricky forecast and witnessed impressive performances from some of the world's best surfers, culminating today with Pupo's victory.

"I have no words to describe what I'm feeling right now," Pupo said. "I've had a few hard years and this feels incredible to be back on the podium and especially winning."

The 27 year-old surfer from Sao Paulo who spent 8 uninterrupted seasons on the Championship Tour, claimed a massive result in his bid to re-qualify for the Elite Top 34 next year. This marks Pupo's fifth victory on the Qualifying Series, each of which he has claimed at the highest-level events: two QS10,000 wins today and in 2015, as well as three "Prime" events, the former highest level of the QS.

"I feel lucky I've been winning the right events and at the right time," Pupo continued. "I lost early at the US Open and since then I've worked really hard so it's great that it pays off. This is going to give me so much power heading into the next two events and I'm super excited."

The Brasilian goofy foot had a stellar path to the Final as he posted big scores in every single heat, culminating with his best performance of the whole week and an astounding 16.87 heat total, out of a possible 20.
Pupo's finals day performance was incredibly impressive on the lefts of Pantin.
Credit: © WSL / MasurelIn the Final, he started with two solid scores claimed on a mix of powerful turns and aerial maneuvers, and never let go of the lead, even strengthening it with another excellent number to seal the deal. His opponent Jake Marshall (USA) unfortunately didn't get many opportunities to fight back.The 20 year-old Californian from Encinitas claimed the biggest result of his young career but is yet to break the glass-ceiling and take a first win on the Qualifying Series in three Final appearances."This is amazing and it came at a great time so I couldn't be happier," Marshall said. "I love Europe and Pantin is going to have a good place in my heart for a long time. I love surfing in a wetsuit and cold water it's just like home. My goal is obviously to qualify so now I'm going to focus on the next one and try to bag another big result."However by reaching the Final, he became the highest-ranked American surfer on the QS and as such received a wildcard slot into the upcoming Freshwater Pro pres. by Outerknown, held at the WSL Surf Ranch in Lemoore, California from September 19-21.

"I'm not really sure yet if I'm going to go, I might just focus on my main goal to qualify and head to the Azores where my brother and my dad are meeting me soon," Marshall added. "But I recognize this as a huge opportunity obviously and I'm going to have a long think about it and talk to a few people before I make a decision."
Marshall's solid surfing was a clear statement of his intentions for the rest of season.
Credit: © WSL / MasurelIn the first Semifinal, Marshall defeated one of the standouts of the week, current World No. 29 Jadson Andre (BRA). With an equal third finish in Pantin, Andre takes the pole position on the Qualifying Series and is looking very strong to secure a Top 10 finish by year's end and another season on the Championship Tour in 2020."I've been here three times in Pantin and never made a single heat so honestly I feel just as if I'd won the event," Andre said. "Coming into this week my goal was to solidify my spot for next year and I feel like I've done that so I'm very happy with my performance. I feel relieved and will definitely enjoy the end of my season both on the CT and QS a lot more."In the second Semifinal, Pupo took on young Australian Morgan Cibilic (AUS) and the Brasilian's experience and flair in the windy lefts of Pantin gave Cibilic very few chances to advance. The surfer from Angourie posted his own best-ever result with an equal 3rd place finish at this level of competition and jumped 56 spots on the QS to integrate the Top 20 for the first time.

"I've never even dreamed in the past couple of years to see myself in this position so I'm stoked," Cibilic said. "I focused on my heat strategy mainly and on these little lefts I can kind of rely on a couple of power maneuvers that the judges liked so I'm happy. I did win one of my heats with an air but I mainly stick to the face and I know there's definitely some work to be done in the air for me. I'm super excited about the next couple of events, I've only heard good things and I'm stoked to be able to explore more places in Europe."

 With the completion of the ABANCA Galicia Classic Surf Pro, the global QS rankings have evolved, here's the new current Top 10:

Global Qualifying Series Men's Top 10:
1 – Jadson Andre (BRA)
2 – Alex Ribeiro (BRA)
3 – Miguel Pupo (BRA)
4 – Jorgann Couzinet (FRA)
5 – Matt Banting (AUS)
6 – Deivid Silva (BRA)
7 – Yago Dora (BRA)
8 – Jake Marshall (USA)
9 – Barron Mamiya (HAW)
10 – Liam O'Brien (AUS)

The next big event on the Qualifying Series is the QS6,000 Azores Airlines Pro, held on the beautiful Sao Miguel island from September 17-22, 2019.

The ABANCA Galicia Classic Surf Pro count on the collaboration of Xunta de Galicia (Turismo de Galicia, Xacobeo 2021, Deporte Galego, Galicia Calidade, Secretaria Xeral de Igualdade, Conselleria de Medioambiente), Diputacion de A Coruña, Ayuntamiento de Ferrol, Ayuntamiento de Valdoviño, Sociedad Mixta de Turismo de Ferrol, Costa das Ondas y Federación Galega de Surf; así como las firmas ABANCA, ESTRELLA GALICIA, CABREIROA, HOSPITAL QUIRON, INTERMAX, VOLKSWAGEN YAÑEZ, TAGHEUER, JOYERIA JAEL, SIROKO,GADIS, GAM, ITG Y VAZVA.

The ABANCA Galicia Classic Surf Pro is scheduled from September 1-7, 2019 at playa de Pantin, Galicia / Spain. For all results, photos, video highlights and press releases, log on to worldsurfleague.com.
About the WSL 
The World Surf League (WSL) is dedicated to celebrating the world's best surfing on the world's best waves through a variety of best-in-class audience platforms. The organization, headquartered in Santa Monica, is a global sport with regional offices in Australasia, Africa, North America, South America, Hawaii, Japan and Europe.The WSL has been championing the world's best surfing since 1976, annually running more than 230 global events across the Men's and Women's Championship Tours, the Big Wave Tour, Redbull Airborne, Qualifying Series, Junior and Longboard Championships, as well as the WSL Big Wave Awards. The League possesses a deep appreciation for the sport's rich heritage while promoting progression, innovation and performance at the highest levels, and in doing so crowns the undisputed Men's and Women's World Champions across all tours.Showcasing the world's best surfing on its digital platform at WorldSurfLeague.com, the WSL has a passionate global fan base with millions tuning in to see world-class athletes like Kelly Slater, Stephanie Gilmore, Tyler Wright, John Florence, Lakey Peterson, Grant Baker, Keala Kennelly, Paige Alms, Kai Lenny, Steven Sawyer, Soleil Errico, Mateus Herdy, Kirra Pinkerton, Carissa Moore, Gabriel Medina, Courtney Conlogue and more battle on the most dynamic field of play of any global sport.For more information, please visit WorldSurfLeague.com