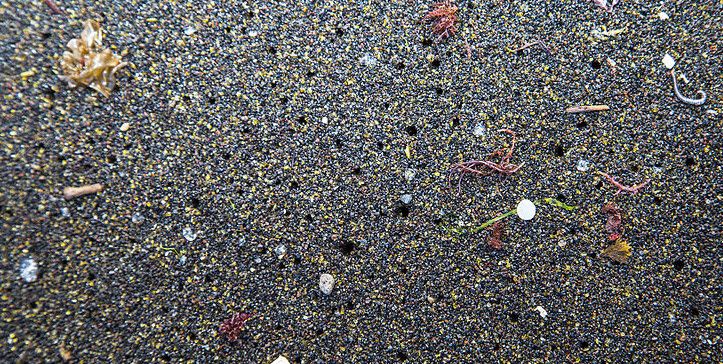 Microplastics: Image by Race for Water/Peter Charaf/Wiki
Sustainable Coastlines Hawai'i to Hold O'ahu's Largest Beach Cleanup
Surf News Network, 3/5/16 – O'ahu's biggest beach cleanup is returning as Sustainable Coastlines Hawai'i and partners gear up for the annual Earth Day Festival and Ultimate Sand Sifter Competition.
Saturday, April 23 from 9 a.m. to 2 p.m. Starting at Waimnalo Beach Park, partners, crews and volunteers will remove marine debris and waste along windward facing shores. The event will feature the new Education Station, live entertainment, games, and more.
"Micro-plastics are abundant along the Windward Coast and are also notoriously difficult to clean out of the sand," said Kahi Pacarro, Executive Director of Sustainable Coastlines Hawai'i. "We invite friends and families to join the fun on Earth Day to clean our coastlines and try out some innovative solutions to this challenging problem."
The Ultimate Sand Sifter Competition encourages community members to create innovative solutions for removing micro-plastic marine debris from the sand. To participate, teams within their age division must design their own state-of-the-art sifter and submit to Sustainable Coastlines Hawai'i for selection. Top sifters will be invited to build and give a live demonstration of their sifter in action at the final challenge on April 23. Seven finalists from each division will have a chance to win a cash prize of $1,000.
"The goal of the sand sifter competition is to foster out-of-the-box thinking for removing the bite-size plastics that harm fish and seabirds," said Pacarro. "We expect to see some of the most innovative designs compete on Earth Day, and look forward to the positive impact that this competition will have on the coastlines and community."
Sustainable Coastlines Hawai'i has hosted 59 fun, hands-on beach cleanups throughout the state in addition to the annual Earth Day Festival. Since its establishment in 2010, over 13,000 volunteers have been recruited to keep Hawai'i's coastlines plastic-free.
sustainablecoastlineshawaii.org/