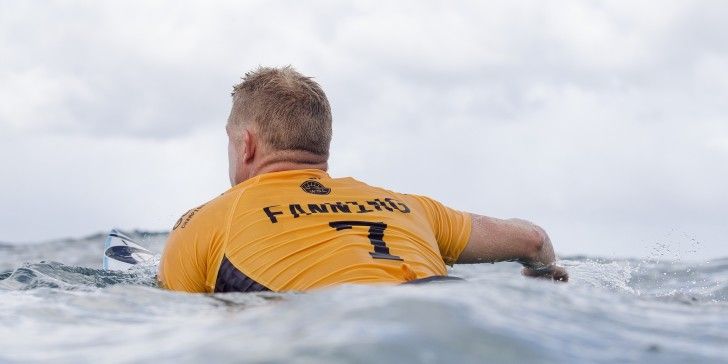 Mick Fanning is hoping to cap an eventful year with his fourth world title at the Pipeline Masters in Hawaii. Photograph: Kelly Cestari/WSL via Getty Images
Mick Fanning remains in contention to win a fourth surfing world crown after the Australian took to the water just hours after learning of the death of his eldest brother.
Fanning won his third- and fourth-round heats at the season-ending Pipe Masters competition in Hawaii despite having been informed of the tragic news on Thursday morning
Peter Fanning, who had been staying at Fanning's Queensland home following his recent divorce, died overnight in his sleep, according to reports.
After advancing directly to the quarter-finals by winning his fourth-round heat against Kelly Slater and John John Florence, a clearly emotional Fanning fought back tears at the end of an interview.
"It's been a huge day," he said. "Just got some personal stuff going on at home. It's sort of heavy to talk about right now. I don't know, I'm just cruising, and just trying to live."
In a post on his Instagram account later in the day, Fanning wrote that Peter, like all his brothers, would always be a hero to him.
"I am so grateful for the incredible love and well wishes that have come my way since learning of my eldest brother's passing this morning," Fanning wrote.
"Today was one of the most challenging days of my life but I knew I could find the strength to take part in the final event of the season because that's what Pete would want.
"I also want to give special thanks to my other brothers – my friends on tour – for their support, I couldn't have got through today without them."
Fanning, who narrowly survived an encounter with a shark during a competition in South Africa earlier this year, lost another brother, Sean, in a car accident in 1998.
Fanning's mother, Elizabeth Osbourne, spoke after the shark incident in Jeffreys Bay – that played out on live television – of her fear of losing a second child.
"I thought, the universe can't be this cruel," she told 60 Minutes. "And it also makes me think of the years we've had without Sean and how we really stuck together during that time and how beautiful it's been. Only the one thing about our family now, especially me, is that I'm much more anxious."
Despite his emotions, a focused Fanning delivered a stunning performance in his round-three Pipe Masters heat against local wildcard Jamie O'Brien, scoring 8.47 on his first wave.
In round four against 11-time world champion Slater and pipe specialist Florence, Fanning went even better with a 9.30 second-wave score that propelled him directly into the quarter-finals, where he will face Slater once again.
"I'm here supporting Mick as a friend," Slater said after seeing off Keanu Asing in the fifth round. "Out in the water, I was just telling him to 'focus, good luck and have fun and try and put everything out of your mind; all the pressure and personal things and just everything going on'.
"It's hard to compete at world level but he did today and that's why he's a multi-world champ and why he's staring down at another one right now."
Fanning's rivals Adriano de Souza and Gabrial Medina also won through to the last eight, but the hopes of a third Brazilian contender, Filipe Toledo, were dashed with defeat to Mason Ho in the third round, meaning it is now a three-way fight for the world crown.
The Banzai pipeline is renown for being one of the most dangerous waves in the world and Australia's Bede Durbridge was taken to hospital earlier in the day after wiping out and hitting a reef during his third-round heat with Asing.
Scans showed Durbridge had fractured his pelvis in two places and Kieren Perrow, the World Surf League commissioner, said he will have to undergo surgery to stabilise the fracture.
Durbridge became the second Australian to be forced out of the competition, after Owen Wright suffered concussion and mild bleeding on the brain following a wipeout during practice.
Depending on swell conditions on Oahu, the tournament could be concluded on Friday (AEDT). The window for competition is open for another four days.
Fanning, who has 22 world tour event titles to his name over a professional career spanning 13 years, was previously crowned world champion in 2007, 2009 and 2013.