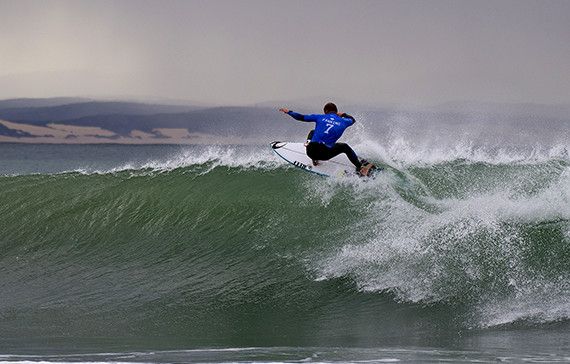 – 3X WSL CHAMPION TAKES 4TH WIN AT JEFFREYS BAY
– JOHN JOHN FLORENCE MOVES UP TO SECOND PLACE ON WSL JEEP LEADERBOARD

Three-time WSL Champion Mick Fanning (AUS) takes his fourth victory (tying Slater's record) at the J-Bay Open.
Image: WSL /Kirstin
| | |
| --- | --- |
| Location:    | Jeffreys Bay, South Africa |
| Event window: | July 6 – 17, 2016 |
| Today's call: | Competition complete – Congratulations Mick! |
| | |
| --- | --- |
| Conditions: | Clean 3-to-4 foot (1 metre) |
JEFFREYS BAY, South Africa (Saturday, July 16, 2016) – Three-time WSL ChampionMick Fanning (AUS) has won the J-Bay Open, stop No. 6 on the 2016 Samsung Galaxy World Surf League (WSL) Championship Tour (CT), defeating John John Florence (HAW) in an exciting Final in three-to-four foot (1 metre) surf at Jeffreys Bay.
Today's incredible victory comes a year after a dramatic incident during the 2015 J-Bay Open Final where Fanning was attacked on live television by what is believed to be a Great White Shark.
"It's definitely a very different feeling this win," said Fanning. "There was a real emotional build up coming back here this year. That Semifinal with Julian was really special and it was wonderful to have a heat with him again. Definitely some emotions went into it paddling out and it was just really special having a surf with him out there and both of us come in safe. I'm stoked that I got to come back and right the wrongs that happened last year. I've done that now so I can move on."
The win today is Fanning's 22nd Championship Tour victory and his fourth at the J-Bay Open, which sees him equal Slater's record of four event wins at Jeffreys Bay. Fanning defeated Filipe Toledo (BRA) and Julian Wilson (AUS) en route to the Final today.
Fanning, who is taking a personal year in 2016 and only surfing in select events this season, leaps up from 16th to 5th place on the WSL Jeep Leaderboard.
"It's awesome to be in 5th place but I don't really care about results this year," said Fanning. "I just want to thank everyone who has supported me over the past year, I've had so much support, and I'm looking forward to celebrating. For me this year feels a lot lighter not going for a world title so I'm really enjoying my surfing and having a lot of fun. I'll be surfing at Trestles and I think that might be my last event of the year. World titles aren't the biggest thing for me at the moment – I'm all about enjoying my surfing."

 Today's victory is Fanning's 22nd on the Championship Tour.
Image: WSL /Pierre Tostee
Today's runner-up finish for Florence sees him move up to second place on the Jeep Leaderboard for the first time in his career and close the gap on ratings leader Matt Wilkinson (AUS) heading into the next event on the CT, the Billabong Pro Tahiti.
Florence, who was absent from the J-Bay Open in 2015 due to an ankle injury, defeatedJordy Smith (ZAF) in the Quarterfinals and Josh Kerr (AUS) in the Semifinals before facing Fanning in the Final and earning his best ever result at Jeffreys Bay.
"I'm really stoked to be back here this year and to be in the Final surfing against Mick," Florence said. "I wasn't here last here when everything went down so just to see Mick win it is pretty inspiring coming back after that."
"It feels really good to move up to second place but I'm not really thinking too much about the points, just taking it event by event," Florence continued. "I'm really excited about these upcoming events. This second half of the year I've always had a lot of fun and done really well. Hopefully we get some big waves in Tahiti and at Lowers, one of the most rippable waves in the world, and also have some fun in France and the European leg and I can't wait for Pipe."

John John Florence (HAW) moves up to second place on the Jeep Leaderboard.
Image: WSL /Kirstin
Fanning got things started in the Final with a solid 7.17 but Florence answered with a technical aerial maneuver followed by two aggressive turns and was rewarded with an 8.50 and the lead. The Australian went on to find the wave of the Final and unleash his trademark turns on the walls of Jeffreys Bay to secure a near-perfect 9.93 and an impressive advantage. Florence fought back with an air reverse with eight minutes remaining to post a back-up score but it wasn't enough to take first place. The final exchange saw Fanning race down the line while Florence delivered two full-rail carves and another air reverse. Florence earned an 8.63 but the score fell short and Fanning took the win with a 17.70 heat total.
Josh Kerr (AUS) took on runner-up Florence in the opening Semifinal match-up. Florence got things started with an air reverse and 5.83 points. An exciting exchange between saw both surfers take to the air but Florence took the edge with an 8.23, leaving Kerr in need of a near-perfect 9.17 as the clock wound down. Just before the final buzzer Kerr got to his feet but didn't get the score. The result today is Kerr's best of the season and also his best ever at Jeffreys Bay. Kerr leaps up ten places to 17th on the Jeep Leaderboard.
"I've really enjoyed the event and it's been a good result for me," Kerr said. "Tahiti coming up is one of my favorite locations so I'm looking forward to that."
A rematch of last year's dramatic final between Fanning and compatriot Julian Wilson (AUS) played out in the second Semifinal bout. Both surfers opened strong but it was Wilson who had the edge. A strategic and selective Fanning used his priority to best advantage to take the wave of the heat and unleash his typical speed and power, posting a decisive 9.10 to win the heat. Wilson goes home in third place and moves to 9th place on the Jeep Leaderboard.
"It's a great result for me," said Wilson. "It's really got my year back on track. I'm so pleased I got have that Semifinal with Mick. I just wish I could have found an opportunity and the right wave to have a real chance at winning."
11-time WSL Champion Kelly Slater (USA) was defeated in the Quarterfinals by Kerr. The four-time J-Bay Open winner kept busy throughout the heat, with nine scoring rides, but wasn't able to find the 6.45 required to surpass Kerr. Slater finishes the event in 5th place and moves from 26th to 19th place on the Jeep Leaderboard.
"I got here about 5 minutes later than I wanted to be this morning," Slater said. "I was trying to turn it around during the heat but I wasn't as patient as I could have been. It really came down to priority in the end and I didn't quite get the score I needed."
"I love this stretch of events," Slater continued. "We go to Tahiti and then Trestles which are waves that have historically been on my side and waves I feel I do well at. They show the better side of my surfing I think. I'm not in the title hunt so I'm just enjoying it and enjoying the time in South Africa. Let's see what Tahiti holds for us. I think the title race is about to get real interesting. Gabriel and John John are right behind Wilko and they both absolutely shred in Tahiti so Wilko should definitely be there right now practicing!"
2014 WSL Champion Gabriel Medina (BRA) was eliminated in 5th place by Wilson in Quarterfinal 3. Medina controlled the opening part of the heat with an excellent 8.33. Wilson, however, took the lead with a 10.83 heat total until Medina found a small back-up score to take the top spot. With one minute remaining Wilson, who was in need of a 5.01 for the win, found a wave and was rewarded with a 6.50. Medina answered quickly on a smaller wave but it wasn't enough. Medina drops down one place to third on the Jeep Leaderboard.
"Everyone is hard to beat and everyone wants to win," said Medina. "John John and Filipe, all these guys want to win. I'm lucky I got my first title just two years ago. Hopefully we can all keep battling — that's what makes it exciting. It's good to see John and Wilko doing well because I think it will be really exciting at the end of the year."
Filipe Toledo (BRA) battled Fanning in a thrilling Quarterfinal duel. Fanning opened strong with a 7.67 but Toledo used his air game to earn an 8.67 under Fanning's priority. Fanning responded with an excellent 9.27 for a series of critical turns and took a narrow lead. With the pair separated by just half a point they went wave-for-wave through the remainder of the heat. Fanning improved his lead with another excellent score, an 8.37, and Toledo continued to chase down an 8.98. The Brazilian was given an opportunity in the final minute but fell on his last maneuver and leaves the event in 5th place, his best ever result at the J-Bay Open, and moves to 13th on the Jeep Leaderboard.
"Definitely it's a really good result for me," said Toledo. "I'm really happy to make a really good heat against Mick. It's always exciting to surf against him. Now I'm just training harder, looking forward and looking for good results. I'm going to Indonesia before Tahiti, right after the US Open, and will probably spend two weeks over there. I'm going to train a lot and try to do my best in Tahiti and at Pipe."
The next stop on the 2016 Samsung Galaxy WSL Championship Tour will be the Vans US Open of Surfing, which will see the world's best female surfers resume this season's title race from July 25 – 31.
For more information, check out WorldSurfLeague.com
J-Bay Open Final Results:
1: Mick Fanning (AUS) 17.70
2: John John Florence (HAW) 17.13
J-Bay Open Semifinal Results:
SF 1: John John Florence (HAW) 16.50 def. Josh Kerr (AUS) 14.43
SF 2: Mick Fanning (AUS) 17.10 def. Julian Wilson (AUS) 15.17
J-Bay Open Quarterfinal Results:
QF 1: John John Florence (HAW) 10.70 def. Jordy Smith (ZAF) 10.50
QF 2: Josh Kerr (AUS) 12.94 def. Kelly Slater (USA) 11.97
QF 3: Julian Wilson (AUS) 12.33 def. Gabriel Medina (BRA) 11.93
QF 4: Mick Fanning (AUS) 17.64 def. Filipe Toledo (BRA) 16.40
WSL Jeep Leaderboard Top 5 (after J-Bay Open):
1. Matt Wilkinson (AUS) 34,250 pts
2. John John Florence (HAW) 31,900 pts
3. Gabriel Medina (BRA) 29,200 pts
4. Adriano de Souza (BRA) 24,400 pts
5. Mick Fanning (AUS) 23,450 pts