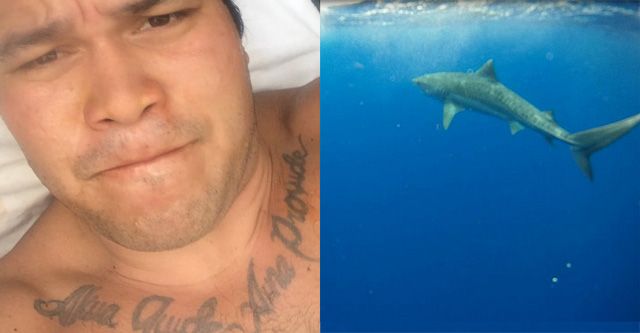 Creator of viral shark-wound video punched shark in the nose
Surf News Network, 24 September, 2015 – Hawaiian spear fisherman Braxton Rocha, who was attacked by a tiger shark earlier this week, says he punched the shark to get it off his leg.
Rocha was attacked about 60 yards off shore in the northern part of the Big Island of Hawaii. He described the attack to CBS News
Rocha said he was underwater when he turned around and came face-to-face with the shark.
"She was jaws wide open, right in front of my face," Rocha told CBS.
He tried to push the shark away by the nose but the shark was too strong and bit down on his leg.
"Once she locked on my leg … I cocked back, I punched her in the nose," he said. "She let go and she swam away."
Rocha said adrenaline and the shark's sharp teeth kept him from immediately realizing he had been bitten.
"I started making some strokes in after I punched her and that's when the blood just started gushing everywhere in the water, and I was like, this is not good," he said. "I started getting scared because I thought she was going to come back in for more."
Rocha said he swam as hard as he could against a strong current to get to shore about 60 yards away. He frantically shouted for his friend, Shannon Pasco, who was diving close to the rocky shoreline.
Once out of the water, Pasco loaded his injured friend into his truck before placing a tourniquet around his thigh.
Rocha took video from the truck bed and posted to social media which then went viral.
BEWARE of BITE: PHOTO Image HERE
Read full article HERE