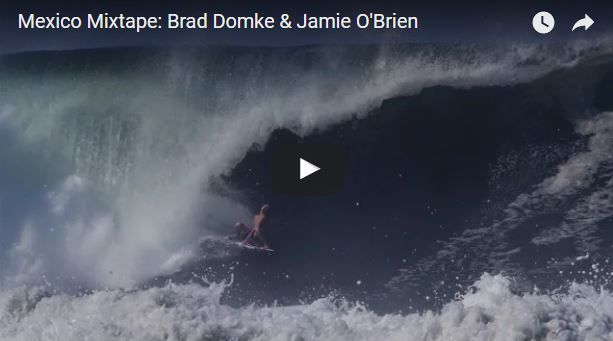 Another one of those "how do they survive?" sessions….
Two crazy expert waterman exploring their respective craft
Surf News Network, April, 2017 – Jamie O'brien & Brad Domke share a high capacity to blow minds and entertain.
One on his skim board & the other on well, just about anything he wants.
Watch now and ask how can they be swapping boards and towing into 20-foot bombs on inflatables…and not die.
Published April, 2017
Mexico Mixtape ReDuX: Originally released in 2015 as a 2 part event on the now deceased SIX Magazine website, the second part being exclusive to their website, is an adventure in Mexico with waterman Brad Domke and professional surfer Jamie O'Brien as they display their incredible abilities in waves of consequence, swapping boards in the middle, throwing on wigs and towing at 20ft faces on inflatables, and experiencing a pretty underground rodeo in the small local town, where they invented a game just for them, where it's Gringo's vs. Mexicans and everyone in each team has to ride the donkey before everyone else in the opposing team does, and Poopies tries his luck with riding a bull, in a speedo! Here is Parts 1 and 2 combined into one cut for your viewing pleasure, we hope you enjoy and thanks for watching!