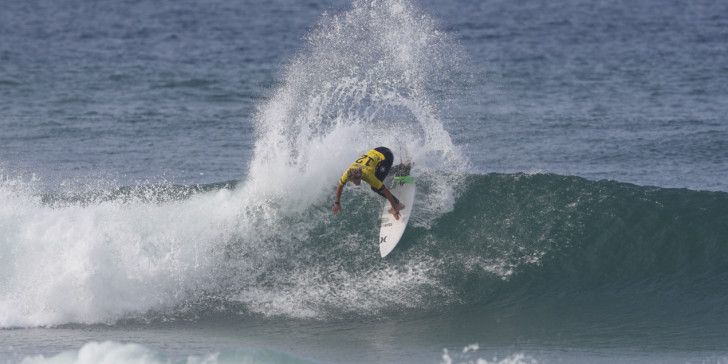 – FLORENCE ADVANCES TO ROUND 4, KEEPS WORLD TITLE HOPES ALIVE
– FLORES DEFEATS MEDINA IN ROUND 3
– TOLEDO AND SLATER ELIMINATED IN EQUAL 13TH PLACE

John John Florence (HAW), current World No. 1 on the Jeep Leaderboard, dispatched event wildcard Frederico Morais (PRT) in Round 3 Heat 6. Florence will advance to Round 4 where he will face 2015 WSL Champion Adriano de Souza (BRA) and Michel Bourez (PYF).
Image: © WSL /  Poullenot
| | |
| --- | --- |
| Location:    | Peniche/Cascais, Portugal |
| Event window: | October 18 – 29, 2016 |
| Today's call: | Round 2 (Heats 6-12) & Round 3 complete |
| Conditions: | Four-to-six foot (1.2 – 2 metre) |
PICO DO FABRIL, Peniche/Portugal (Friday, October 21, 2016) – Action continued today at the Meo Rip Curl Pro Portugal as competition ran through the remainder of Round 2 followed by Round 3. After a day of eliminations and upsets at the back-up site of Pico do Fabril, the field has been narrowed down to just 12 of the world's best surfers.
Current World No. 1 on the Jeep Leaderboard John John Florence (HAW), 24, asserted his dominant form in Round 3 with an impeccable wave selection as the Hawaiian posted big scores right from the opening buzzer to easily advance past lethal wildcard Frederico Morais (PRT). Florence showed a variety of backhand turns in the power section of the waves to quickly build a 16.27 heat total and eliminate Morais. The Hawaiian will advance on to Round 4 and is one step closer to claiming the WSL Title with a win in Portugal.
"It's so great, running up the beach everyone's yelling and getting amped, every time you finish a wave you can hear the whole beach erupt and you're just psyched to go back out and get another one!" Florence said. "I was definitely a little bit nervous, yesterday Frederico (Morais) was surfing out here with us and he was ripping, so I just had to focus on myself."
Jeremy Flores (FRA), 28, delivered another huge upset today by taking out current World No. 2 Gabriel Medina (BRA) in Round 3 of the Meo Rip Curl Pro Portugal, opening the door for Florence to potentially clinch a maiden WSL Title in Portugal. Despite a stronger and faster start from the Brazilian, it was Flores who built momentum throughout their exciting 30-minute battle to continuously improve his scoreboard and eventually push Medina out with a solid 15.77 total. Flores, who also eliminated Jeep Leaderboard No. 3 Matt Wilkinson (AUS) in the second round, advances on to Round 4 and secures his best result of the season.
"I haven't really made a heat all-year and in the hardest heat I have I manage to make it through," Flores admitted. "I feel like I've been in rhythm with the waves, yesterday against Wilko (Matt Wilkinson) and in this one too I felt like I had the good waves. I was so excited, on the wave I was actually thinking 'just breathe, bottom turn and surf.' I had a pretty terrible year in terms of results so I really wanted to make a couple of heats against these big names to get my confidence back and show I can still surf."
Miguel Pupo (BRA), 24, narrowly defeated 11-time WSL Champion Kelly Slater (USA)to move past Round 3 for only the second time this season. This marks an important feat for the Brazilian who currently sits right outside of the re-qualification bubble in 23rd position on the Jeep Leaderboard. Slater, the 2010 event winner, is eliminated in Equal 13th place.
"First of all I was just happy cause I was going to surf a left and I've been waiting all-year to do that," Pupo commented. "It's always hard to surf against Kelly, I've had the privilege to surf against him at Pipe a couple of times but I lost so I'm pretty stoked to get one back. I've been surfing 3 times a day between supertubos and here with the same board to try to make it work whatever the conditions and it paid off."
Conner Coffin (USA), 23, fended off numerous assaults from World No.7 Filipe Toledo (BRA) to continue with the trend of rookies upsetting some of the World's Top surfers in Peniche. The Californian stuck to powersurfing, his signature backhand attack scoring big on the lefts of Fabril, while Toledo tried everything he could including one-off aerial maneuvers eventually in vain.
"Filipe (Toledo) is one of my favourite guys to watch, we've surfed a little bit against each other in the juniors, I beat him once at the US Open on lefts so I was just fingers crossed earlier that the tide didn't come high enough for that little right rip bowl," Coffin said. "I'm stoked that the waves held out the back on that left and hopefully I won't slip off on my last turn on an 8 next time."
The final heat of the day saw current No. 4 of the Jeep Leaderboard Jordy Smith (ZAF)take down 2013 event winner Kai Otton (AUS) with 17.03 heat total. The result sees Smith remain in the Title Race and become the only surfer that can send the title race to Hawaii should Florence make the Final.
"I'm really excited," said Smith. "It was a good call and everyone has been ripping all day. I'm really happy with my performance in that last heat so I'm psyched. Portugal is by far one of my favorite stops of the year, and every year we seem to score."
Tahitian powerhouse Michel Bourez (PYF), 30, used his full surfing repertoire to eliminate Caio Ibelli (BRA) in their Round 3 encounter. Bourez started with a good barrel ride on a throaty left to lock in a good first score and take an early lead, before letting his powerful gauges out on a big and clean wave for a near-perfect 9.70 (the highest score of the day) and a Round 4 berth.
"I was in a really good rhythm out there, I felt like a ten just before my heat, that wave came and I just gave everything I had and it just went perfectly," Bourez stated. "[Caio Ibelli] surfs amazing in his first year and I told him in Fiji that I was impressed by his surfing. He's really well rounded and the kind of guy you don't want in your heat."
Former WSL Champion Joel Parkinson (AUS), 35, was in a difficult position againstWiggolly Dantas (BRA) as the young Brazilian capitalized early with powerful forehand carves, until the Australian found a near-perfect barrel ride to lock-in an impressive 9.33 and eventually take the win  and a ticket for Round 4.
"It was good, I felt like I didn't surf like I wanted to, I was a bit front-footed, probably a wrong choice of board and fins, but that one wave came in and it had possibly a ten point ride written all-over it," Parkinson reflected. "It was really hollow and I just kind of sat there and enjoyed a perfect little vision of sand-bottom barrel and that was it. Sounded like Wiggolly (Dantas) was ripping, I saw a couple of sprays from behind, it was a really exciting heat to be in."
Reigning WSL Champion Adriano de Souza (BRA), 2012 event winner Julian Wilson (AUS), Sebastian Zietz (HAW), Kolohe Andino (USA) and Stuart Kennedy (AUS) will also advance to Round 4 after eliminating Kanoa Igarashi (USA), Jadson Andre (BRA), Josh Kerr (AUS), Matt Banting (AUS) and Italo Ferreira (BRA) respectively.
Event organizers will reconvene at 8 a.m. (local time) tomorrow morning to assess conditions and make the next call.
Old W swell for Friday with shadowed NW/WNW swell and deteriorating conditions on Saturday. Solid surf but unfavorable conditions for Supertubos on Sunday and Monday. Easing surf with improving conditions for Tuesday and Wednesday of next week. Small surf for Supertubos expected after that through the end of the waiting period. Note that the more northerly facing breaks around Peniche will see bigger surf than Supertubos on Saturday with more favorable conditions. The more northerly facing spots around Peniche see solid surf for Sunday and Monday that eases next week with strong local winds creating challenging conditions at times.Surfline.
The Meo Rip Curl Pro Portugal will run from October 18 – 29, 2016 and be LIVE via webcast on WorldSurfLeague.com and on the WSL mobile app.
Meo Rip Curl Pro Portugal Remaining Round 2 Results:
Heat 6: Matt Banting (AUS) 12.00 def. Adrian Buchan (AUS) 11.34
Heat 7: Sebastian Zietz (HAW) 11.64 def. Alejo Muniz (BRA) 9.26
Heat 8: Michel Bourez (PYF) 15.16 def. Jack Freestone (AUS) 13.27
Heat 9: Caio Ibelli (BRA) 14.93 def. Davey Cathels (AUS) 11.20
Heat 10: Stuart Kennedy (AUS) 12.33 def. Dusty Payne (HAW) 6.40
Heat 11: Conner Coffin (USA) 14.67 def. Nat Young (USA) 13.66
Heat 12: Kanoa Igarashi (USA) 11.93 def. Keanu Asing (HAW) 10.83
Meo Rip Curl Pro Portugal Round 3 Results:
Heat 1: Kolohe Andino (USA) 12.43 def. Matt Banting (AUS) 12.04
Heat 2: Joel Parkinson (AUS) 16.10 def. Wiggolly Dantas (BRA) 15.00
Heat 3: Julian Wilson (AUS) 14.97 def. Jadson Andre (BRA) 14.90
Heat 4: Adriano De Souza (BRA) 13.86 def. Kanoa Igarashi (USA) 10.03
Heat 5: Michel Bourez (PYF) 17.23 def. Caio Ibelli (BRA) 12.37
Heat 6: John John Florence (HAW) 16.27 def. Frederico Morais (PRT) 13.30
Heat 7: Jeremy Flores (FRA) 15.77 def. Gabriel Medina (BRA) 14.17
Heat 8: Sebastian Zietz (HAW) 12.07 def. Josh Kerr (AUS) 10.76
Heat 9: Miguel Pupo (BRA) 15.43 def. Kelly Slater (USA) 14.26
Heat 10: Conner Coffin (USA) 13.60 def. Filipe Toledo (BRA) 12.97
Heat 11: Stuart Kennedy (AUS) 11.63 def. Italo Ferreira (BRA) 11.33
Heat 12: Jordy Smith (ZAF) 17.03 def. Kai Otton (AUS) 8.73
Meo Rip Curl Pro Portugal Round 4 Match-Ups:
Heat 1: Kolohe Andino (USA), Joel Parkinson (AUS), Julian Wilson (AUS)
Heat 2: Adriano de Souza (BRA), Michel Bourez (PYF), John John Florence (HAW)
Heat 3: Jeremy Flores (FRA), Sebastian Zietz (HAW), Miguel Pupo (BRA)
Heat 4: Conner Coffin (USA), Stuart Kennedy (AUS), Jordy Smith (ZAF)