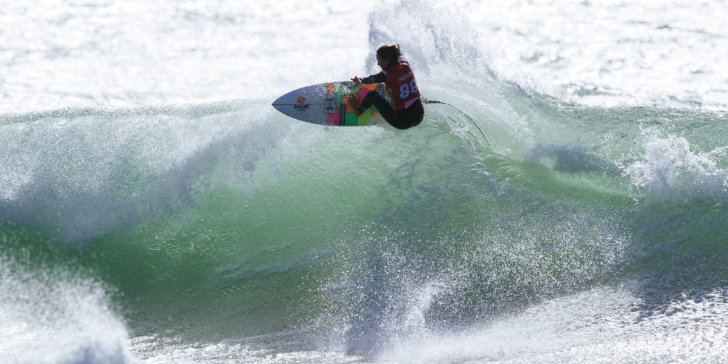 WSL Athletes Kickoff IWD Celebrations with Opening Round Jersey Reveals
CT Veterans Control Proceedings on Opening Day
Rookie Molly Picklum Continues Winning Streak in Portugal
WSL Champion Italo Ferreira Takes it to The Air at Opening Round
Pictured: Sally Fitzgibbons (AUS) dominated the Opening Round of the MEO Pro Portugal presented by Rip Curl in Peniche. Fitzgibbons is representing 11x Olympic medalist Emma McKeon on the back of her jersey to celebrate International Women's Day. Credit: © WSL / Poullenot
PRAIA DE SUPERTUBOS, Peniche, Portugal (Thursday, March 3, 2022) – The MEO Pro Portugal presented by Rip Curl, the third stop on the World Surf League (WSL) 2022 Championship Tour (CT), launched today in wind-affected, building three-to-five foot surf to complete the women's Opening and Elimination Rounds, as well as the first four heats of the men's Opening Round.

Kicking off the celebrations for International Women's Day, the world's best surfers drew inspiration from their female sporting heroes and were vocal about who they were representing on their jerseys and how these women contributed to their rise as professional athletes.
CT Veterans Control Proceedings on Opening Day
In difficult conditions due to the strong winds and affected wave face, rookies and replacement surfers struggled to match the experience from CT veterans as five-time WSL Champion Carissa Moore (HAW), Courtney Conlogue (USA), Johanne Defay (FRA), Sally Fitzgibbons (AUS), and more posted solid results in the women's Opening Round and advanced straight into the Round of 16. Bettylou Sakura Johnson (HAW), Bronte Macaulay (AUS), Tia Blanco (USA) and Gabriela Bryan (HAW) will face the Elimination Round for a chance to proceed in the competition.
California's Conlogue chose to honor four-time World Champion Lisa Andersen (USA) for International Women's Day, by wearing Andersen's name on her competition jersey.
Pictured: Courtney Conlogue (USA) paying tribute to Lisa Andersen's legacy with her jersey at the MEO Pro Portugal presented by Rip Curl. Credit: © WSL / Diz 
"The wind here reminds me of Huntington in the winter when you get those northerlies," Conlogue said. "I'm repping Lisa Andersen's name on my jersey right now and I'm feeling really inspired. I haven't had the results I wanted so I'd like to find a rhythm here."
Moore was in contention as well for the women's best performance on opening day, to kickstart her Portuguese campaign after finishing at 9th place at Sunset.
"I'm really excited to be back," Moore admitted. "I really like Portugal, but the waves can be a bit tricky at times but there definitely are opportunities out there. I didn't have such a great performance at Sunset so it feels good to wash that off and have a clean slate."
Rookie Molly Picklum Continues Winning Streak in Portugal
An exception to the rule was Australia's Molly Picklum who posted one of the day's biggest performances with a flawless attack of the rights of Supertubos with critical turns for an impressive 15.50 total (out of a possible 20). A newcomer to the tour after a breakout season on the Challenger Series in 2021, Picklum was quick to adapt with two good results in the opening events. The young Australian surfer was drawing inspiration from tennis star Ash Barty for International Women's Day.
Pictured: Molly Picklum (AUS) attacked the rights of Supertubos with power and style. Credit: ©WSL / Poullenot
"I was super excited to get out there on those rights, I really enjoy those kinds of waves," Picklum stated. "In conditions like this, simplifying the game is key. I'm fortunate to have a friendship with Ash. On the court she is amazing, just the way she is so authentic and holds herself and tries her best all the time and those are traits that I try to incorporate into my surfing and career."
Another rookie, Luana Silva (HAW) was responsible for the first upset of the event, sending two-time WSL Champion Tyler Wright (AUS) into the Elimination Round. Wright bounced back in the Elimination Round though and advanced in first to keep her Portuguese campaign alive.
"It's a little tricky out there, the wind is hard to manage. It's one of those days where anything can happen. There are plenty of opportunities but it's trickier than it looks," said Wright.
Wright is the only surfer who chose a basketball player for her jersey, representing Sue Bird from the USA.
"I started watching the WNBA the past three years and I think what these women do on and off the court is absolutely amazing," continued Wright. "From social issues to fighting for racial justice and human rights, they are so inspirational. I was out for a long time so for me to come back, watching these women do what they do and speak their minds, they gave me a way to articulate what I was feeling and to come back and stand up for what I believe in and use my platform for something that I think is really important."
WSL Champion Italo Ferreira Takes it to The Air in Opening Round
Three years ago, WSL Champion Italo Ferreira (BRA) went to Peniche with a mission, and two event wins later, claimed the World Title. Since 2019 was the last event in Portugal, the defending winner picked up right where he left off with a dominant effort over compatriot Jadson Andre (BRA) and local wildcard Vasco Ribeiro (PRT).
Pictured: Ferreira took the debate over the lip at Supertubos. Credit:  ©WSL / Poullenot
The dynamic goofyfoot focused on the perfect ramps of the lefts and pulled two major aerial maneuvers for a huge 16.17 heat win (out of a possible 20) into the Round of 32. With a large lead halfway through the matchup, Ferreira spent the rest of the heat chasing barrels up and down the beach of Supertubos.
"I have great memories from here, I'm so stoked to be back," said Ferreira. "I have been training a lot these past couple of days. The last heat was super fun. I caught a lot of waves and that's all I want, to surf and have fun."
Another standout in heavy barrels, Owen Wright (AUS) collected a first heat win in Portugal as well and praised his recent encounter with surfing icon Bethany Hamilton for his current inspiration in the water.
"Bethany Hamilton is an absolute hero to so many people," Wright said. "I got to stay with her during the Pipeline Pro and she was just such a big inspiration, having her three boys there and still charging Pipe. What she's been through and fought back to still be at the top of her game and compete on the World Tour. She charges harder than anyone, cops wipeouts, goes back out and charges hard again and I really take a lot from her."
Rookies Baker, Pupo, Find Early Form in Portugal
By the time the men paddled out for the Opening Round of competition, the lineup had changed considerably and conditions were prime for big moves and aerial attempts. Rookies Jackson Baker (AUS) and Samuel Pupo (BRA) were first to capitalize with wins in the first two heats. The pair of newcomers exploited the rights with big forehand carves and Pupo added a little spectacular element with a great backside rotation for his biggest score of 8.10 (out of a possible 10).
"It was a fun heat, but actually a weird day for me," Pupo explained. "I went for a free surf this morning and didn't feel good, couldn't really catch good waves, just out of rhythm. I found a couple of things I could get better at in these conditions and managed to do that in this heat. I'm really proud to have Naomi Osaka's name on my back and she's bringing me luck!"
With swell conditions building up quickly through the afternoon, conditions are expected to pump on Friday, March 4, 2022, and event officials have set a very early call at 7:20 a.m GMT to potentially continue the men's Opening Round.
MEO Pro Portugal Presented by Rip Curl Women's Opening Round Results:
Heat 1: Courtney Conlogue (USA) 13.46 DEF. Johanne Defay (FRA) 12.20, Bettylou Sakura Johnson (HAW) 10.37
Heat 2: Isabella Nichols (AUS) 12.50 DEF. Brisa Hennessy (CRI) 10.47, Bronte Macaulay (AUS) 7.03
Heat 3: Carissa Moore (HAW) 14.00 DEF. Stephanie Gilmore (AUS) 12.20, Tia Blanco (USA) 7.27
Heat 4: Molly Picklum (AUS) 15.50 DEF. Tatiana Weston-Webb (BRA) 10.10, Gabriela Bryan (HAW) 9.10
Heat 5: Luana Silva (HAW) 11.83 DEF. Malia Manuel (HAW) 9.73, Tyler Wright (AUS) 9.50
Heat 6: Sally Fitzgibbons (AUS) 15.56 DEF. Lakey Peterson (USA) 13.13, India Robinson (AUS) 8.93
MEO Pro Portugal Presented by Rip Curl Women's Elimination Round Results:
Heat 1: Tyler Wright (AUS) 11.16 DEF. India Robinson (AUS) 10.00, Tia Blanco (USA) 5.27
Heat 2: Gabriela Bryan (HAW) 12.33 DEF. Bronte Macaulay (AUS) 11.07, Bettylou Sakura Johnson (HAW) 9.56
MEO Pro Portugal Presented by Rip Curl Women's Round of 16 Matchups:
Heat 1: Johanne Defay (FRA) vs. Molly Picklum (AUS)
Heat 2: Sally Fitzgibbons (AUS) vs. Stephanie Gilmore (AUS)
Heat 3: Brisa Hennessy (CRI) vs. Courtney Conlogue (USA)
Heat 4: Lakey Peterson (USA) vs. Isabella Nichols (AUS)
Heat 5: Carissa Moore (HAW) vs. Bronte Macaulay (AUS)
Heat 6: Tyler Wright (AUS) vs. Gabriela Bryan (HAW)
Heat 7: Tatiana Weston-Webb (BRA) vs. Luana Silva (HAW)
Heat 8: Malia Manuel (HAW) vs. India Robinson (AUS)
MEO Pro Portugal Presented by Rip Curl Men's Opening Round Results (H1-4):
Heat 1: Jackson Baker (AUS) 11.70 DEF. Jordy Smith (ZAF) 11.10, Jake Marshall (USA) 6.00
Heat 2: Samuel Pupo (BRA) 14.60 DEF. Imaikalani Devault (HAW) 13.73, Kelly Slater (USA) 9.90
Heat 3: Owen Wright (AUS) 12.36 DEF. Seth Moniz (HAW) 9.66, Lucca Mesinas (PER) 9.43
Heat 4: Italo Ferreira (BRA) 16.17 DEF. Jadson Andre (BRA) 9.47, Vasco Ribeiro (PRT) 9.17
Remaining MEO Pro Portugal Presented by Rip Curl Men's Opening Round Matchups (H5-12):
Heat 5: Filipe Toledo (BRA), Connor O'Leary (AUS), Justin Becret (FRA)
Heat 6: Kanoa Igarashi (JPN), Callum Robson (AUS), Afonso Antunes (PRT)
Heat 7: Conner Coffin (USA), Frederico Morais (PRT), Caio Ibelli (BRA)
Heat 8: John John Florence (HAW), Ezekiel Lau (HAW), Matthew McGillivray (ZAF)
Heat 9: Ethan Ewing (AUS), Deivid Silva (BRA), Barron Mamiya (HAW)
Heat 10: Jack Robinson (AUS), Leonardo Fioravanti (ITA), Joao Chianca (BRA)
Heat 11: Morgan Cibilic (AUS), Miguel Pupo (BRA), Ryan Callinan (AUS)
Heat 12: Griffin Colapinto (USA), Kolohe Andino (USA), Nat Young (USA)