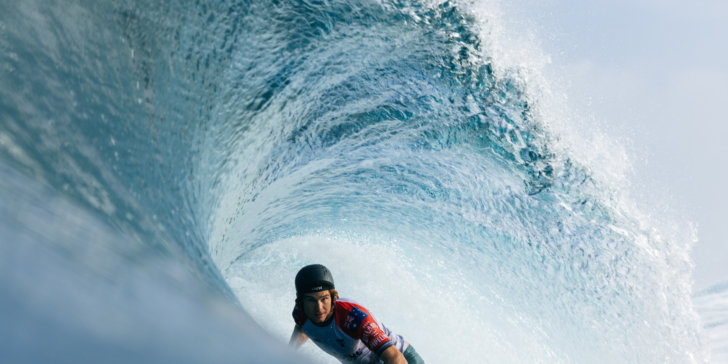 Men's Round of 32 Started at 8:03 AM HST
Men's Round of 16 To Follow, Women's Event OFF for the Day
Overlapping Format To Be Used Through Today's Competition with 40-minute Heats
Front page: Liam O'Brien (AUS) will surf against fellow Australian Ethan Ewing in Heat 5 of the Round of 32 at the Billabong Pro Pipeline. Credit: © WSL /  Bielmann
Billabong Pro Pipeline Men's Round of 32 Matchups:
HEAT 1: Italo Ferreira (BRA) vs. Ian Gentil (HAW)
HEAT 2: Jordy Smith (RSA) vs. Nat Young (USA)
HEAT 3: Griffin Colapinto (USA) vs. Leonardo Fioravanti (ITA)
HEAT 4: Callum Robson (AUS) vs. Jackson Baker (AUS)
HEAT 5: Ethan Ewing (AUS) vs. Liam O'Brien (AUS)
HEAT 6: Seth Moniz (HAW) vs. Barron Mamiya (HAW)
HEAT 7: Caio Ibelli (BRA) vs. Ezekiel Lau (HAW)
HEAT 8: Samuel Pupo (BRA) vs. Ryan Callinan (AUS)
HEAT 9: Filipe Toledo (BRA) vs. Carlos Munoz (CRC)
HEAT 10: Yago Dora (BRA) vs. Kelly Slater (USA)
HEAT 11: Connor O'Leary (AUS) vs. Rio Waida (INA)
HEAT 12: Kanoa Igarashi (JPN) vs. Joao Chianca (BRA)
HEAT 13: Jack Robinson (AUS) vs. Michael Rodrigues (BRA)
HEAT 14: Gabriel Medina (BRA) vs. Jake Marshall (USA)
HEAT 15: John John Florence (HAW) vs. Kolohe Andino (USA)
HEAT 16: Miguel Pupo (BRA) vs. Maxime Huscenot (FRA)
Billabong Pro Pipeline Women's Semifinals Matchups: 
HEAT 1: Lakey Peterson (USA) vs. Tyler Wright (AUS)
HEAT 2: Carissa Moore (HAW) vs. Bettylou Sakura Johnson (HAW)
BANZAI PIPELINE, Oahu, Hawaii, USA (Tuesday, February 7, 2023) – The men's Round of 32 has been called ON at the Billabong Pro Pipeline, the first stop on the World Surf League (WSL) 2023 Championship Tour (CT), for an 8:03 a.m. HST start in five-to-eight-foot waves at the Banzai Pipeline. The men's Round of 32 will be followed by the men's Round of 16. All heats will be 40 minutes long, utilizing the overlapping format. The women's competition is OFF for today. By the end of today, the men's Quarterfinalists will be confirmed, and the stage will be set for Finals Day.
The full day of action will start with World Champion Italo Ferreira (BRA) taking on rookie Ian Gentil (HAW) in the men's Round of 32, Heat 1. California's Nat Young will be up next against tour veteran Jordy Smith (RSA) in Heat 2.

Defending event winner and 11-time World Champion Kelly Slater (USA) is inching closer to his goal of winning the Billabong Pro Pipeline again at age 50. He will match up against Brazil's Yago Dora in Heat 10. Fellow Brazilian and event standout Joao Chianca will meet Final 5 competitor Kanoa Igarashi (JPN) in Heat 12.

Three-time World Champion Gabriel Medina (BRA) has had five Quarterfinal finishes here at Pipeline over his career and hopes to add another to his name this year. He must first make it past tour newcomer Jake Marshall (USA) in Heat 14. Two-time World Champion John John Florence (HAW) won this event in 2021 and is eager for another win. He will surf against California's Kolohe Andino (USA) in Heat 15.

For more information, please visit WorldSurfLeague.com.