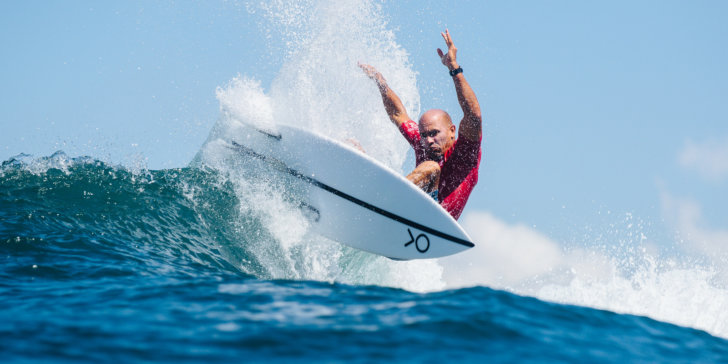 Corona Bali Protected Goes off the Hook! 
Leonardo Fioravanti Defeats Reigning World Champion Gabriel Medina
Slater in the Zone, Eliminates 2018 Event Runner-up Bourez
Next Call Tomorrow at 7:00 AM WITA  (12 pm HI Time)
Front Page: The GOAT Blasting into the Quarters (PHOTO: © WSL / Dunbar 
 Leonardo Fioravanti (ITA) played spoiler today with his win over two-time WSL Champion Gabriel Medina (BRA) at the Corona Bali Protected. 
Credit: © WSL / Dunbar
Keramas, Bali/Indonesia (Monday, May 20, 2019) – The Corona Bali Protected, the third stop on the 2019 World Surf League (WSL) Championship Tour (CT), is now down to the men's and women's Quarterfinalists after narrowing the men's field in the Round of 32 and Round of 16 today. Pumping waves ignited the Keramas lineup (four-to-six foot, 1.2 – 1.8 metre) waves for another day of big upsets and eliminations.
Leonardo Fioravanti Defeats Reigning World Champion Gabriel Medina
Leonardo Fioravanti (ITA), World No. 30, kicked off the day with a massive win over Gabriel Medina (BRA), two-time WSL Champion. The Italian surfer eliminated World No. 5 Medina with superior wave selection and committed turns in the critical section of the big Keramas walls. Medina leaves Bali in 17th place, his worst result of the year so far after 5th place finishes at the Quiksilver Pro Gold Coast and Rip Curl Pro Bells Beach.

"I was so excited to surf that heat," Fioravanti said. "Keramas finally showed up this morning. The tough part was working out if I should go for barrels or do turns. I made a few mistakes trying to get barrelled but to surf pumping waves like this and beat the World Champ, I feel blessed and am so happy. This is a really big win for me, of course. I've had a few injuries and have been struggling with results, but I'm feeling really good now so I hope I can start finding some results."

This upset, paired with yesterday's drama, only sees three surfers remaining in the draw from the men's Top 10 after the eliminations of John John Florence (HAW), Italo Ferreira (BRA), Jordy Smith (ZAF), Gabriel Medina (BRA), Conner Coffin (USA), Seth Moniz (HAW), Ryan Callinan (AUS), Owen Wright (AUS), and Willian Cardoso (BRA).

Despite his success against the reigning WSL Champion, Fioravanti fell to Adrian Buchan (AUS) in the Round of 16. En route to his Quarterfinal entry, Buchan also eliminated rookie Mikey Wright (AUS) in the Round of 32. In the Quarterfinals, Buchan will meet Kanoa Igarashi (JPN), who continued his searing form at Keramas to eliminate Brasilians Peterson Crisanto and Jesse Mendes in R/32 and R/16, respectively.
Slater in the Zone, Eliminates 2018 Event Runner-up Bourez for Quarterfinal Entry
Kelly Slater (USA) is the only men's World Champion left in the draw after defeating Michel Bourez (FRA), 2018 event runner-up, in R/16, Heat 6. Bourez had control of the heat in its majority until a potential priority mistake allowed Slater to stroke into a medium-sized set, which opened up and allowed him some decent time in the tube. Slater came out and smashed a layback snap to clinch the lead and the heat win. Slater moves ahead into the Quarterfinals where he will match-up with Filipe Toledo (BRA).

"I'm stoked because that's always one of those rounds that you really want to get through," Slater said. "That's the money heat when you want to get your ranking up. For me, I'm able to relax once I make it to the Quarters. I'll be a little bit giddy in the next one because it's exciting and the waves are good. I didn't start my day like I normally do today. I got too excited and went out for a surf and missed breakfast and my little meditation. But I know that kind of stuff doesn't win you the heat. You just have to adjust. So I knew I had to work hard for that one. Michel Bourez had me on the ropes. I knew I needed to get my best score of the year to win that heat. But I'm on the up.  In the Quarterfinals, I'm going to be up against Filipe Toledo and I'm going to need bigger scores to win through."
 Kolohe Andino (USA) Credit: © WSL / Dunbar
Kolohe Andino (USA) continues to impress at the Corona Bali Protected with big airs and carves. Today, he continued his success against fellow Californian Conner Coffin (USA) in R/16, Heat 4. The heat came down to the final minutes with Coffin only needing a 4.16 (out of a possible 10) to advance. Andino smartly utilized his priority to keep Coffin off a set wave with three minutes remaining, which paid off after the ocean failed to provide any additional chances for Coffin.

"I was super nervous going into that heat," Andino said. "Conner is such a good surfer and I love the way he surfs on the rail so I was really nervous but also just really excited to get out there. I've never made a heat at Keramas before so to get that heat advancement straight off the bat then to end up in the Quarters feels really good. Quarters on is definitely a result for someone going for a Top 5 finish or a World Title so I'm stoked to be into the business end of the event."

Andino with face Jeremy Flores (FRA) in the second Quarterfinal heat when competition resumes.
Last Brasilians Standing: Michael Rodrigues and Filipe Toledo
Filipe Toledo (BRA) Credit: © WSL / Dunbar
Filipe Toledo (BRA), the only surfer left in the men's Top 5, dispatched Ryan Callinan (AUS), currently the highest ranked Australian surfer on the Jeep Leaderboard. Toledo and Callinan have had great battles in recent history with Callinan dispatching of Toledo as a wildcard in France last September. Toledo was determined to avoid a repeat and dropped the highest heat total of the day with a 15.93 two-wave combination (out of a possible 20). The Brasilian Title hopeful moves closer to taking ownership of the Jeep Leader Jersey here in Bali.

Full interview from Filipe Toledo following R/16, Heat 5

Michael Rodrigues (BRA) took a breakthrough victory today, taking down event standout Julian Wilson (AUS) in the opening Heat of the Round of 16. Wilson came sprinting out of the gates with a display of his trademark, fins-free surfing, but Rodrigues had other ideas and posted his winning heat total under priority. This will be Rodrigues' his first Quarterfinals appearance since the 2018 Oi Rio Pro.

"Julian (Wilson) is one of my favorite surfers so that was such a big heat for me," Rodrigues said. "It feels good to beat him and to be back into the Quarterfinals. I've been having so much fun here in Bali, surfing a lot, eating well and good fun with friends so I'm feeling really good. I just wanted to do my job today and that was my job done."
 Michael Rodrigues (BRA) Credit: © WSL / Dorsey
Australian powerhouse Wade Carmichael (AUS) was another standout performer, posting the second highest heat total of the day with an incredible display of rail surfing in the chunky Keramas walls. Carmichael has set up his second Quarterfinal appearance for the year and will take on Rodrigues as one of two Aussie representatives on Finals Day.

"The waves are so sick, I've been frothing to get out there all morning," Carmichael said. "I was so excited when I got out there and got two good scores straight off the bat, then when the waves slowed down a bit I could take control of the heat and run it to the end. Days like this are good fun, just trading waves in pretty much perfect conditions with open walls and barrels. We couldn't really ask for anything more as competitors at this venue. It's such an unbelievable day, so I hope it continues and I can make it to the Final and win it."
The next call for the Corona Bali Protected will be tomorrow, Tuesday, May 21, at 7:00 a.m. WITA for a possible 7:05 a.m. start At this time, event organizers will assess the conditions to decide the day's competition schedule.
For more information, please visit WorldSurfLeague.com.
Corona Bali Protected Remaining Men's Round 3 (Round of 32) Results:
Heat 13: Leonardo Fioravanti (ITA) 12.73 DEF. Gabriel Medina (BRA) 11.00
Heat 14: Adrian Buchan (AUS) 8.73 DEF. Mikey Wright (AUS) 6.50
Heat 15: Kanoa Igarashi (JPN) 13.90 DEF. Peterson Crisanto (BRA) 7.60
Heat 16: Jesse Mendes (BRA) 11.20 DEF. Jordy Smith (ZAF) 10.33Corona Bali Protected Men's Round 4 (Round of 16) Results:
Heat 1: Michael Rodrigues (BRA) 13.67 DEF. Julian Wilson (AUS) 6.77
Heat 2: Wade Carmichael (AUS) 15.50 DEF. Joan Duru (FRA) 13.87
Heat 3: Jeremy Flores (FRA) 14.17 DEF. Jack Freestone (AUS) 13.00
Heat 4: Kolohe Andino (USA) 11.16 DEF. Conner Coffin (USA) 9.67
Heat 5: Filipe Toledo (BRA) 15.93 DEF. Ryan Callinan (AUS) 13.47
Heat 6: Kelly Slater (USA) 14.46 DEF. Michel Bourez (FRA) 14.27
Heat 7: Adrian Buchan (AUS) 11.23 DEF. Leonardo Fioravanti (ITA) 10.80
Heat 8: Kanoa Igarashi (JPN) 15.66 DEF. Jesse Mendes (BRA) 5.86Corona Bali Protected Men's Quarterfinal Matchups:
Heat 1: Michael Rodrigues (BRA) vs. Wade Carmichael (AUS)
Heat 2: Jeremy Flores (FRA) vs. Kolohe Andino (USA)
Heat 3: Filipe Toledo (BRA) vs. Kelly Slater (USA)
Heat 4: Adrian Buchan (AUS) vs. Kanoa Igarashi (JPN)Corona Bali Protected Women's Quarterfinal Matchups:
QF 1: Carissa Moore (HAW) vs. Brisa Hennessy (CRI)
QF 2: Silvana Lima (BRA) vs. Sally Fitzgibbons (AUS)
QF 3: Stephanie Gilmore (AUS) vs. Courtney Conlogue (USA)
QF 4: Bronte Macaulay (AUS) vs. Nikki Van Dijk (AUS)