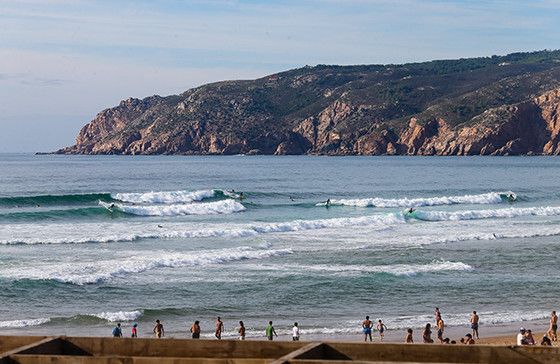 GOOD LUCK TO SETH MONIZ, MASON HO, KAITO KINO AND KIRON JABOUR FROM HAWAII

CASCAIS WOMEN'S PRO CALLED OFF FOR THE DAY
Guincho offers a playful lineup for some of the World's Best surfers in Cascais.
Image: © WSL / Masurel
| | |
| --- | --- |
| Location:    | Guincho, Portugal |
| Event window: | September 24 – October 2, 2016 |
| Today's call: | Men's Round 1 called ON at Guincho, 8:00 a.m. start |
| | |
| --- | --- |
| Conditions: | 2 – 3 foot (0.6 – 0.9 metre) |
CASCAIS, Portugal (Sunday, September 25, 2016) – The QS10,000 Billabong Pro Cascais pres. by Allianz, final stop on the European Qualifying Series, will launch today at the backup venue of Guincho in good two-to-three foot conditions. The opening round of competition will start at 8:00a.m with the first half of Round Two on standby. Meanwhile, Top17 athletes at the Cascais Women's Pro will enjoy a day OFF from competition after running  three full rounds on the opening day yesterday.
"We woke up this morning and there's way less wind that we thought, it's supposed to pick up today as well as the swell so we're going to get going at 8am with men's Round One and Round Two on standby," said WSL Deputy Commissioner, Travis Logie. "We'll make another call by the end of the first round and decide if Round Two is going out, hopefully the glare stays away and the wind doesn't get too gnarly and we can get a full day in."
First to take to the water will be Michael February (ZAF), Rafael Teixeira (BRA), Kaito Kino (HAW) and Kaito Ohashi (JPN) in the opening heat of Round 1.
UPCOMING BILLABONG PRO CASCAIS MEN'S ROUND 1 MATCHUPS:
Heat 1: Michael February (ZAF), Rafael Teixeira (BRA), Kaito Kino (HAW), Kaito Ohashi (JPN)
Heat 2: Messias Felix (BRA), Yago Dora (BRA), Jose Ferreira (PRT), Vicente Romero (ESP)
Heat 3: Miguel Tudela (PER), Robson Santos (BRA), Mason Ho (HAW), Oney Anwar (IDN)
Heat 4: Luel Felipe (BRA), Hiroto Arai (JPN), Takumi Nakamura (JPN), Nelson Cloarec (FRA)
Heat 5: Brett Simpson (USA), Griffin Colapinto (USA), Marlon Lipke (PRT), Seth Moniz (HAW)
Heat 6: Kiron Jabour (HAW), Ian Crane (USA), Leandro Usuna (ARG), Nic Von Rupp (PRT)
Heat 7: Thiago Camarao (BRA), Tim Reyes (USA), Kalani Ball (AUS), Parker Coffin (USA)
Heat 8: Lucas Silveira (BRA), Noah Schweizer (USA), Dimitri Ouvre (BLM), Brian Toth (PRI)