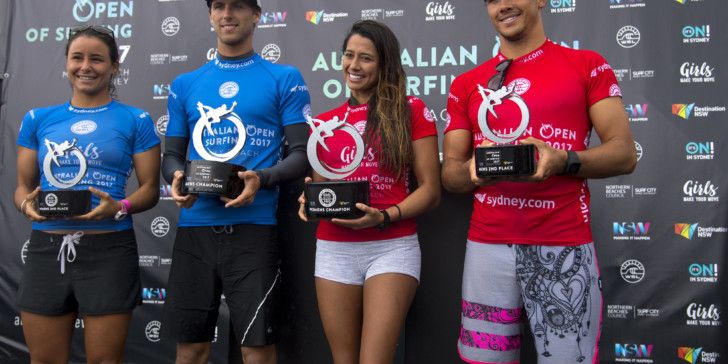 – WILSON AND DEFAY FINISH RUNNER-UP
The 2017 Australian Open of Surfing Finalists Johanne Defay (FRA) Jesse Mendes (BRA), Malia Manuel (HAW) and Julian Wilson (AUS).
Credit: © WSL /  Tom Bennett
Manly, Sydney NSW/AUS (Sunday, March 5, 2017) –  Jesse Mendes and Malia Manuel have taken out the 2017 Australian Open of Surfing at Manly in some of the best conditions the event has seen in its history. Manly tuned it on for the second WSL Qualifying Series (QS) 6,000 event of the year with clean 2-to-3 foot waves for finals day.
After a runner-up finish at Newcastle Surfest a week ago, Brazilian goofy-footer Mendes was out for another big result and looked destined to find himself in another final after being a standout all week. After overcoming a number of hungry QS competitors, Mendes faced his biggest challenge in the final, Current World No. 8 and event No. 1 seed Julian Wilson.
Wilson came out of the gates strong in the final posting an 8.37 single wave score, (out of a possible 10) early for a massive tail high reverse. He then backed it up with a near perfect 9.33 under the priority of Mendes, leaving him to chase the near impossible heat total north of 18.00 (out of a possible 20). Mendes looked as if he would take the second place finish for a second time in a week. With only a few minutes remaining, the stylish Mendes dug deep on a long walled left, putting 100 percent into every turn to score a 9.40 and take one of the most memorable wins of his career. He also leaves Australia on top of the Qualifying Series rankings.
"I'm so happy to get that win," Mendes said. "Coming up against Julian in the final was crazy. I knew I was going to have to surf my best – so that's what I did. I have never done better than the quarters in Australia so to come and get to Finals is amazing. I have won event's on the QS in the past and didn't qualify, so a second and a first early in the season is great I can't wait to see what this year has in store and if I will achieve my dream of qualifying for the Championship Tour (CT)."

Jesse Mendes just might be on the roll of his life with two finals finishes in two weeks.
Credit: © WSL /  Ethan Smith
Having made it to the final at the Australian Open of Surfing in 2014 and finished runner-up, Wilson was keen to go one step further in 2017. Unfortunately for Australian, Mendes had other plans. Wilson still sees the positives in heading to the opening CT event at Snapper rocks next week with a few heats under his belt.
"That was a really good contest," Wilson said. "I'm really happy to get a few heats under my belt and have some close match ups. I'm just spewing I couldn't get it done in the final. I had so many good battles especially in the final and feel it has given me a good foundation before Snapper kicks off. It has been a really good week."

Julian Wilson looks primed and ready for the CT to start next week.
Credit: © WSL /  Ethan Smith
The Final of the Girls Make Your Move Women's Pro was a familiar situation as Manuel found herself up against French natural-footer Johanne Defay. Defay took an early lead and looked to have one hand on the winners trophy for the first half of the heat. Manuel kept plugging away on lefts and rights up and down the beach but couldn't find a score of consequence. Eventually, Manuel found a long-running right-hander and the young Hawaiian got to work, slicing on her rail all the way to the beach to score an excellent 8.57 and hit the lead. She then backed it up with a near perfect 9.30 leaving Defay chasing a near perfect single wave score, a feat she was unable to achieve.
"I'm so happy I'm not the bridesmaid today," Manuel said. "I think when you return to an event that you have finished runner-up at you can really put a lot of pressure on yourself to perform. I didn't want to do that and took a relaxed approach, which seemed to work. It was awesome to surf heats with all of the CT women and has got me super pumped for Snapper."

Malia Manuel matching Manly's power pound for pund.
Credit: © WSL / Ethan Smith
Two weeks ago, Johanne Defay had never made a QS final. The current World No. 5 has now surfed two in as many weeks. Although she was unable to get the back-to-back victories, Defay takes a lot out of her experiences on the Australian QS leg.
"This has been a crazy two weeks," Defay said. "There has been a lot of surfing and staying focused which is new to me. I made a few priority mistakes in the final, which was disappointing. I was waiting for a set wave that never seemed to come, but making another final is great. It has me so excited to get to Snapper and see how I perform there. I feel like this was good training for me so I hope it pays off on the CT."

Two finals from Two events is a pretty good start to 2017 for Johanne Defay.
Credit: © WSL /  Ethan Smith