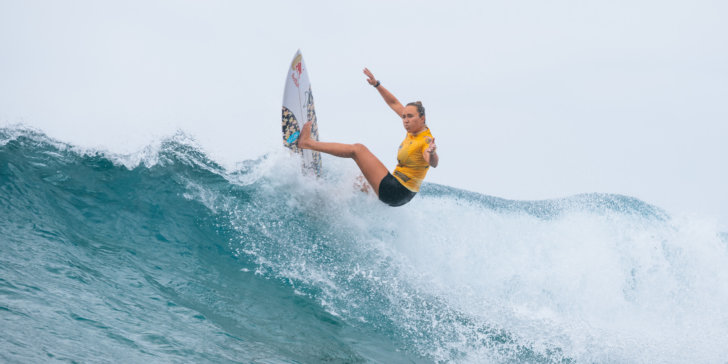 TRESTLES Sept 8-16
Carissa Moore Seeks Redemption and 6th World Title
Defending World Champion Filipe Toledo Returns as Top Seed
Next Generation of Women to Challenge Tour Veterans
San Clemente's Griffin Colapinto Hopes for Maiden World Title Win at Home
Front page: Five-time World Champion Carissa Moore (HAW) returns to the Rip Curl WSL Finals as the No. 1 seed. The Rip Curl WSL Finals holds a window between September 8 – 16, and will run on the best day of waves determined by the WSL Tours and Competition team. Credit: © WSL / Ryder
LOWER TRESTLES, San Clemente, California (Thursday, August 31, 2023) – The World Surf League (WSL) Final 5s are ready to battle it out in the Rip Curl WSL Finals at Lower Trestles, San Clemente, California, for the 2023 World Titles. The one-day, winner-take-all competition holds a waiting period of September 8 through September 16, 2023, and will run on the best day of waves determined by the WSL Tours and Competition team.
This year's Rip Curl WSL Finals is made up of a diverse and highly talented group of competitors. Rising stars Caitlin Simmers (USA), Molly Picklum (AUS), and Caroline Marks (USA) all hope to add their name to a list of only four women who have won the World Title in the last 15 years. But, World Champions Tyler Wright (AUS) and Carissa Moore (HAW) stand between them and their first World Titles.
CT sophomore Joao Chianca (BRA) and San Clemente's own Griffin Colapinto (USA) are fresh faces in the WSL Final 5 and will be looking to take home their maiden World Title. They will be up against returning WSL Final 5 competitors Jack Robinson (AUS), Ethan Ewing (AUS), and reigning World Champion Filipe Toledo (AUS).
Meet the Competitors in the Rip Curl WSL Finals 
Carissa Moore (HAW)
Five-time World Champion and Olympic Gold Medalist Carissa Moore enters the Rip Curl WSL Finals as the No. 1 seeded competitor for the third year in a row. Moore started her season with a win at the world-renowned Banzai Pipeline. She then earned back-to-back wins at the Margaret River Pro and Surf Ranch Pro. Moore claimed her fifth World Title at the inaugural 2021 Rip Curl WSL Finals. She finished last season as runner-up to Stephanie Gilmore (AUS), and will be eager for redemption and her 6th World Title this year. Moore is truly a trailblazer of the sport and created her foundation, Moore Aloha, to inspire the next generation of female surfers.
"I'm super stoked and really really happy," said Moore. "It's one of those monumental goals, those little chunks you try to bite away slowly throughout the year. I'm really happy to have the opportunity to be on that big stage again and compete at Lowers. It'll be super cool."
Filipe Toledo (BRA)
Reigning World Champion Filipe Toledo comes to the Rip Curl WSL Finals as the men's No. 1 seed for the second-consecutive year. Toledo is known for his progressive surfing and aerial maneuvers. He earned three event wins this season: the Hurley Pro Sunset Beach, Surf City El Salvador Pro, and Corona Open J-Bay. He is now determined to cement himself in surfing history with back-to-back World Titles. Lower Trestles is a wave he is very family with, as he lives in San Clemente with his family.
"It's all the hard work, all the sacrifice," said Toledo. "All the hours traveling on those airplanes and a lot of money spent. It's everything; I'm super blessed. I have to thank God for everything he's done in my life. The family support, all of my sponsors, and the WSL for putting on amazing events. I'll see you guys at Trestles."
Tyler Wright (AUS)
This will be the first Rip Curl WSL Finals appearance for two-time World Champion Tyler Wright, who enters the event as the No. 2 seed. Wright performed consistently throughout the season, winning the Rip Curl Pro Bells Beach and earning five event Finals appearances. This is the first time she has been in contention for a World Title in the last five years. Wright is known for her advocacy of mental health awareness and gender equality in surfing and for using her platform to drive positive change.
"It's been a long time since I've been in Title contention," said Wright. "I think it's been five years. The main thing for me is to stay in my process. I have ideas and thoughts of what I want to do, and it just has to be in my process. I think that's where the joy for surfing and competing has come back to me. I'm just staying focused on that."
Griffin Colapinto (USA)
For San Clemente, California's Griffin Colapinto, competing in his backyard for a World Title has been a long-time dream. Colapinto earned himself the No. 2 seed by winning the Surf Ranch Pro and finishing runner-up at the Hurley Pro Sunset Beach, Margaret River Pro, and Surf City El Salvador Pro. The 25-year-old knows every inch of the cobblestone reef that makes Lower Trestles a world-class wave and now looks to bring California its first World Title since 1992. Colapinto shares his passion for surfing with his family. His brother, Crosby Colapinto, recently won the Wallex US Open of Surfing.
"There's so much stress thinking about being in the Final 5," said Colapinto. "I honestly have PTSD from the last two years of just barely missing out by 100 points. I got sixth the year before and seventh last year. To do it now is freaking insane. It's been a goal of mine, and I'm looking forward to it."
Caroline Marks (USA)

Phenom sensation and No. 3 seed Caroline Marks now has her second opportunity to battle for a World Title, her first being in 2019. Marks earned two impressive event wins this season, the Surf City El Salvador Pro and, recently, the SHISEIDO Tahiti Pro. Marks made history by becoming the youngest surfer ever to qualify for the women's Championship Tour at just 15 years old. She was also the first women's surfer to win equal prize money in 2019. Marks now hopes to make history again by being the first goofy-foot woman to win a World Title since Chelsea Georgeson (AUS) in 2005.

"The main word that comes to mind is excitement," said Marks. "To have the chance to win a World Title in front of my friends and family is so cool. Steph (Gilmore) was super inspirational last year, showing us you can go all the way from 5th to 1st, so anything is possible. I'm just super excited."

Ethan Ewing (AUS)

Ethan Ewing will make his second Rip Curl WSL Finals appearance, having clinched the No. 3 spot. This season Ewing won the prestigious Rip Curl Bells Beach Pro on the 40th anniversary of the year his late mother, Helen Lambert, won the event and rang the Bell in 1983. He then had back-to-back event Finals appearances at the VIVO Rio Pro and Corona Open J-Bay. Ewing has the reputation of being one the most stylish surfers in the world, which is sure to be on full display at Lower Trestles.

"Since last year, making it there and not performing, it's been a huge goal of mine just to get back there and try to do better and have a shot at the World Title," said Ewing. "Last year, I had a good year, but then not performing at the Finals left a sour taste in my mouth. I've been trying to work on everything in my surfing and trying to be better overall. A shot at the World Title is pretty cool. I'm going to do whatever I can."

Molly Picklum (AUS)

Australia's rising star Molly Picklum had an amazing comeback this year after falling off the CT in 2022. Picklum made at least the Quarterfinals at every event this season, won the Hurley Pro Sunset Beach, and placed runner-up at the Rip Curl Pro Bells Beach and the Corona Open J-Bay. When Picklum isn't surfing, she enjoys playing golf. She has found that golf has given her a way to unplug mentally and is something she ultimately feels gives her an advantage in surf competition.

"As we all know, last year I was fighting to just get back here, and then to have really found my feet and get myself back is great," said Picklum. "I'm still learning and growing, so I am gradually getting better as time goes on. It's such an honor to be here. I feel like I've put blood, sweat, tears, and absolutely everything I have into everything I do. I'm a super passionate and hardworking person. To get a shot at this is going to be epic."
Joao Chianca (BRA)
Similar to Picklum, Joao Chianca also fell off Tour last year and had to requalify via the Challenger Series. He returned his sophomore year more dominant than ever and won his first CT event at the MEO Rip Curl Portugal Pro. Chianca enters the Rip Curl WSL Finals as the No. 4 seed and is hungry for his maiden World Title. Surfing runs in the Chianca family. Joao's brother, Lucas "Chumbo" Chianca, is a renowned big wave surfer, and the two often share waves and adventures, pushing each other to new heights.
"It's crazy how this year started for me," said Chianca. "I was just thinking about making the Cut, not getting too ahead of myself. Things start happening and going my way. Us competitors are built to dream big. I told myself last year I should be able to dream bigger, I should be able to trust my talent and trust my surfing more and more over the years. I knew it was possible; we cannot ignore the chances and what life brings to you sometimes. I don't know why God chose to put me here at this spot right now, but I've put everything in his hands, so I'm really grateful."
Caitlin Simmers (USA)
Caitlin Simmers enters the event as the No. 5 ranked seed and is the only rookie in the WSL Final 5. Simmers is known for her fluid surfing style combined with progression, which has established her as a prominent figure in the next generation of surfing. The 17-year-old won two events this year and clinched her spot in the WSL Final 5 with a runner-up finish in Tahiti. She now has the potential to win a World Title in her first year on Tour. In her free time, Simmers enjoys editing and directing her own surf films.
"At the beginning of the year, it definitely was not my goal to make the Final Five," said Simmers. "I was kind of just going into it, wanting to make the Mid-Season Cut, just pretty nervous for that. Then I won Portugal, and the idea came to my mind. It's pretty crazy this happened, and I'm not sad about it."
Jack Robinson (AUS)
Jack Robinson started his season in perfect form, winning the Billabong Pro Pipeline. He then maintained the rankings lead by claiming a third and a second-place finish at the Hurley Pro Sunset Beach and MEO Rip Curl Pro Portugal, respectively. But Robinson suffered multiple injuries through the middle of the year and came into the SHISEIDO Tahiti Pro in 8th place on the rankings. He needed to win the event to secure his spot in the WSL Final 5, and he did just that, overcoming Gabriel Medina (BRA) in the Final.
"It's such an interesting feeling. I don't know what it is; it was meant to be," said Robinson. "After winning the first event, I never stopped envisioning this. Even when I was down through the year, I pulled it back up. I want to thank the people that are with me, you know who you are. It's a small crew, but it's got a lot of matter in the crew. I feel like it was time for this moment. You never know your timing, but I feel like I envisioned it."
For more information, visit WorldSurfLeague.com.