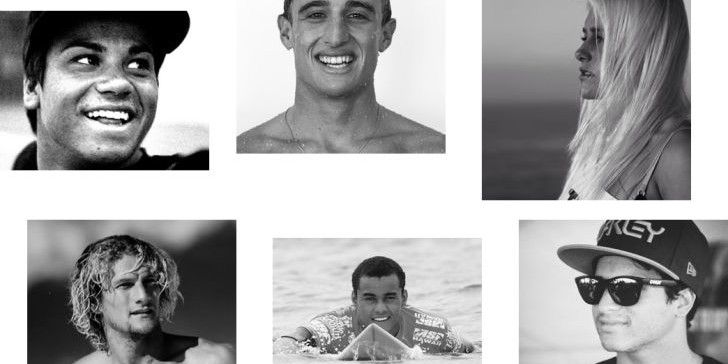 Introducing the WSL Class of 2015, a diverse and hungry handful
Surf News,  March, 2015. Snapper Rocks, Australia – The second day of competition at the Quiksilver Pro gave everyone a taste of the WSL's freshman flavor, as heat after heat saw the rookies navigating a very challenging Snapper lineup with a ferocious hunger and scrappiness to burn.
After 2014 saw Dion Atkinson's fresh face come and go like so much haze, the WSL Class of 2015 comprises a diverse group of young shredders—smooth, powerful regularfooters; featherweight scrappers; and some explosive goofyfooters—who, if yesterday's perfomances were in any way indicative of what we can expect from them, aren't going anywhere but up the ranks.

Keanu Asing
Hawaiian Keanu "Nugget" Asing is a young gun with a great attitude. Asing qualified for the 2015 CT after a year of consistent results on the QS in 2014. The small-framed regularfooter is known for being all smiles, though anyone who's ever drawn him in a heat knows his pearly whites are as sharp as they are shiny. In 2014 Asing was runner up at the Quiksilver Saquarema Pro in Brazil, and scored an equal 9th at the Burton Automotive Pro in Merewether Beach, Australia. At 5'4″, Asing joined the CT all systems firing, throwing around the hashtag "#heartoverheight."
Tatiana Weston-Webb
Kauian Tatiana Weston-Webb qualified for the 2015 CT after delivering consistent results on the 2014 QS, including a big win against Alessa Quizon at the Itacare event in Brazil. A striking, powerful goofyfoot with a chess-player's mind for wave selection and positioning, Tatiana is expected to surprise many a CT veteran. The 18-year-old's record shows a pattern of solid results, having worked with Rainos Hayes, Bert Ishimaru and Kahea Hart throughout her amateur career.
Italo Ferreira
Italo stole the early round show at Snapper, eliminating a lost-seeming Kelly Slater in round 2. A competitively prodigious goofyfoot from Baía Formosa, Rio Grande do Norte, Brazil, Italo Ferreira joined the WSL CT in 2015 at just 20 years old, ranked 26th. Italo's surfing is markedly aggressive, with an explosive backhand rail game, an impressive quiver of airs, and a hyper-quick fronthand. A small wave machine, his Pro Junior career honed him for an impressive 2014 QS run. Italo is one to watch at the Tour's lighter locales, though the youngster seems eager to prove himself in waves of consequence.
Wiggolly Dantas
Another Snapper giant killer, Wiggoly took out Parko in round 3, sending the former World Champ to the beach looking completely unravelled. Dantas counts himself amongst the eruption of talented goofy footers coming from Brazil. Dantas' amateur career was marked by a slew of huge wins, including the 2005 King of the Groms in France. In 2014 he was the Black Horse at the Volcom Pipe Pro, where he finished a very close 2nd to 11x world champion Kelly Slater. Dantas joined the CT in 2015 at number 24th.
Ricardo Christie
New Zealand's great CT hope. Ricardo Christie's powerful regularfoot approach is crisp and clean, his smooth, on-rail style polished yet punctuated by hyper-modern moves above the lip. The first NZ surfer to make the tour since Maz Quinn made his run in 2001, Christie just barely caught the CT train in 2015 joining at the back of the pack at number 36. After an impressive performance during the 2014 Hawaiian leg (with a particularly beautiful Round 3 wave at the Vans World Cup that landed him a 9.03), the CT's best won't be letting this underdog out of their sight.
Matt Banting
Australian regularfoot Matt Banting was born in 1994, and grew up honing his dynamic, hyper modern surfing all over New South Wales. After winning the 2011 ISA Worlds, the 2012 Australian Open of Surfing (where he won both the main event and the Junior's divisions), as well as a string of 6-star QS events in 2014 and the 2014 Us Open of Surfing's Pro Junior event,  Banting joined the ASL world tour in 2015 at 23rd in the world.