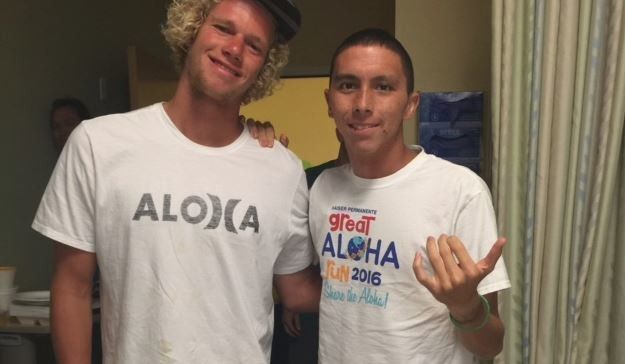 Ian is the News Maker this Week in Midweek Magazine.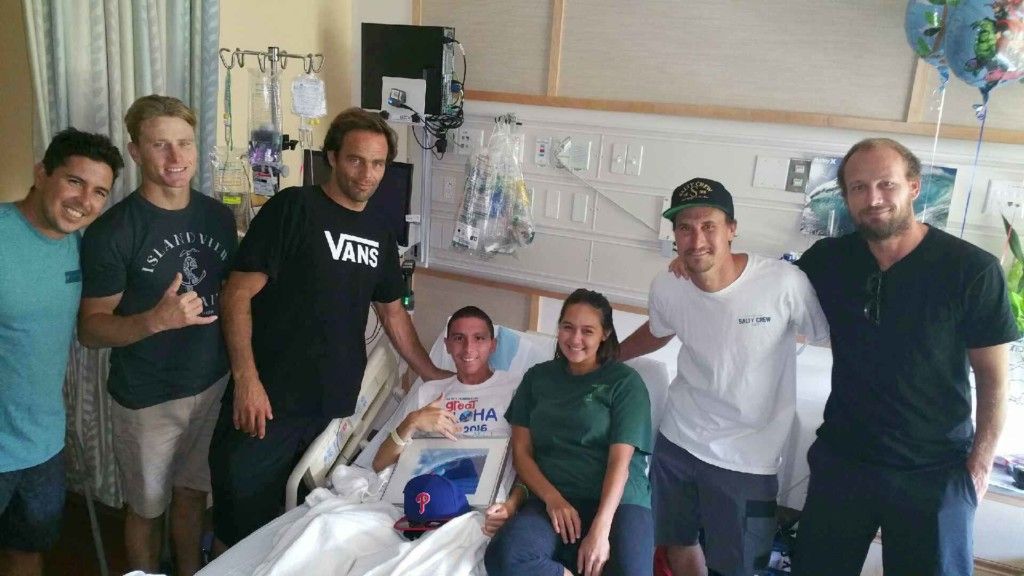 It's unreal getting unexpected blessings in life. Like those surf sessions that are way better than you expected. Ron Nagasawa, the Publisher of Midweek magazine called me late August 9th for a rather urgent favor.  It turns out he did me a favor. I got to meet 22 year old surfer Ian Coronas. He's a hard core Christian surfer who is fighting cancer like Brave Heart fought for freedom. Ron asked if I could maybe  contact some  'legends' and see if they might pay Ian a short 'inspiration' visit at Kaiser Moanaloa. It would need to be quick because Ian would be headed home after his final radiation treatment in a couple days.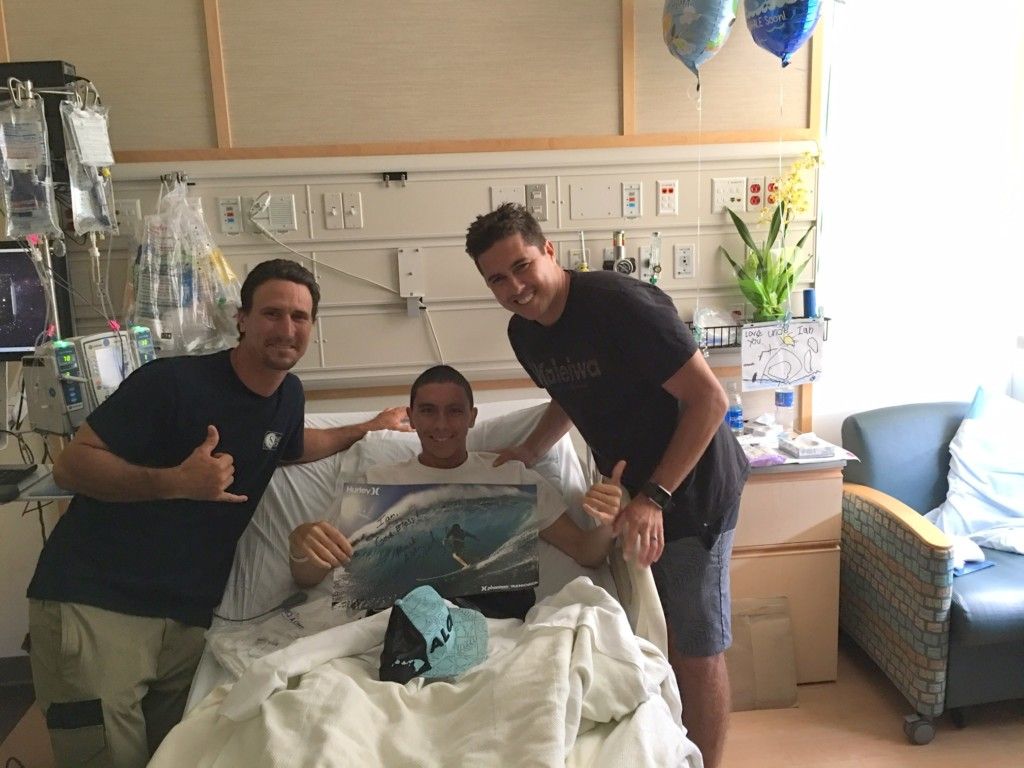 Well, somehow the word got out and one of the first guys to see Ian were none other than Mr. Aaron Gold whom many know paddled into the biggest wave ever at Peahi with his bare hands (a 63' wave face). He's 'Talking Story' at Surfer, the Bar Wednesday evening this week.  He came to see Ian with Joel Centeio who nailed a perfect 10 at Backdoor during the 2014 Pipe & has runner up for his memory mantle in the Vans Triple Crown! They are just nice human beings and they go out their way to help when our surf community calls.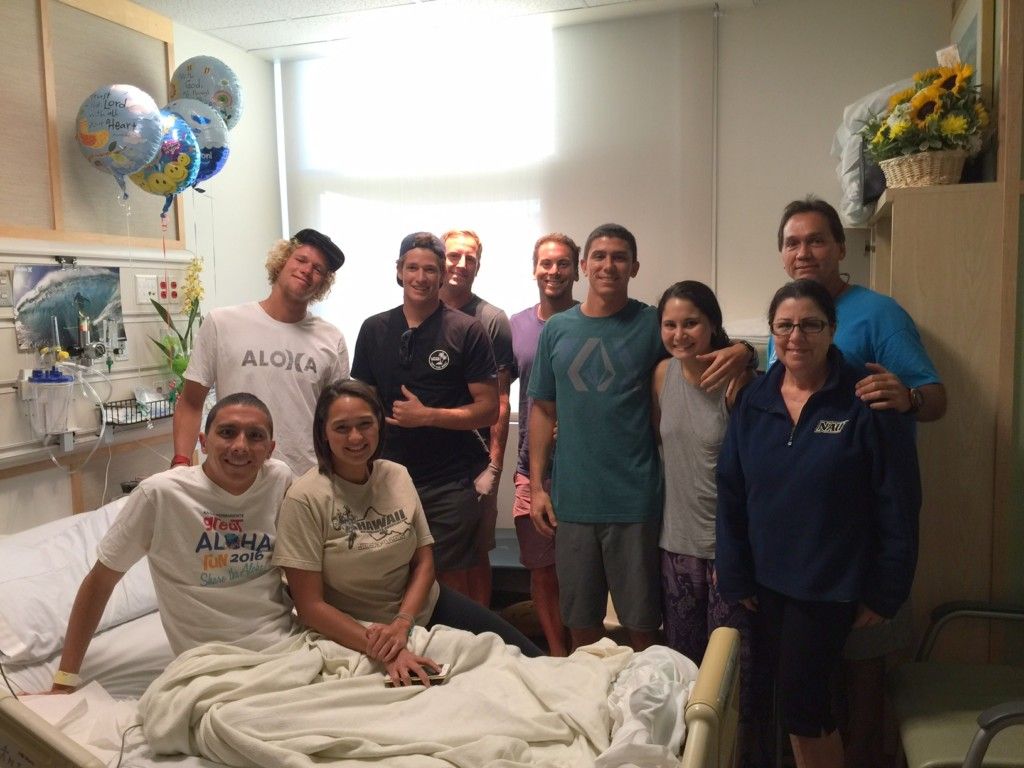 Ian with his Girlfriend Lei. Ian's Mom, Sherrie and Dad, David are on the far right. His Brother, Zach and Girlfriend Ipo next to them.  You may recognize the Surfing Brotherhood who came to visit.
But this was just the start. A Dozen surf stars and Pros and industry folk dropped in for the chance to stoke out and support their young surfing brother. I'm certain that most did not know him personally but this is why it is so special.  Can you imagine the feeling and adrenaline Ian got when he saw John Florence, world's current best surfer?  Or the amazing talented Maui Boy, Dusty Payne? How about Billy Kemper our current and inaugural Peahi Challenge Champion? I'm positive that Big Wave Warrior, Lifeguard and witty surf commentator Dave Wassel cracked more than a few smile for all those present. Ian was also able to meet one of the world finest watermen and big wave riders, Mark Healey along with Nathan Fetcher who's wave at Teahupo'o  in July of 2013 is still considered one of thee gnarliest waves ever ridden. Dave Riddle (Volcom team manager/coach) along with Kai Borg (General Enforcer) showed up along with over a dozen beautifully compassionate Pros. They all signed an insane short board and a T-Shirt. Many came bearing gifts like caps, T's, signed posters etc. Thank you to each of you for showing your unconditional love and support.  Local Pros may way up there in wave riding talent but they come 'down to earth' for the real stuff life is made of.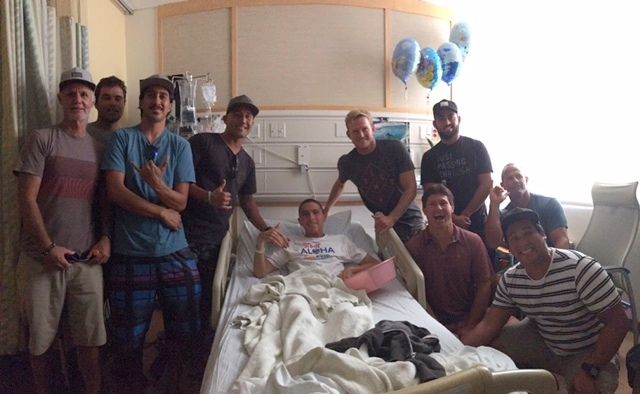 Ian's nurse, Gina Sakai is the one who kicked this all off. She's adorable, a sweetheart and very good nurse. Gina goes far beyond her job description. She helped me and Kala' Alexander (Big wave maestro, Actor & Pipe guardian) loscte Ian's room (I was lost)J. We introduce ourselves and in approximately one millisecond we were all talking 'surf'. It was not too long before another Legend, Makua Rothman strolled in. Makua Kai is the 2014 Big Wave Tour World Champ. He pulled this off his first year on the big board circuit. Makua is also a talented singer, song writer, guitarist & recording artist. Both these surf giants carry huge charisma.
Right away we're all having a blast. Ian is light up like a tiki torch. It's as if he has no illness. He shares how he started body boarding Makapu'u and Sandy's when he was about 10. He evolved to short boarding out west at Tracks and beyond. Then he fell in love with da country! Ian is a good athlete and competed in Body Boarding and Skate in his younger days.  He's like a lot of us surfers…an 'adrenaline junkie". J Yet, he made it clear that what mattered most was simply being out in that water. Ian is a purist, the real deal, a true surfer. Ian Watches every World Championship Tour & Big Wave event on OC250, and even the men & women Qualifying Tour; this young man devours surf magazines and dreams of getting out there again.  I think we all wanted to surf with him right then & there.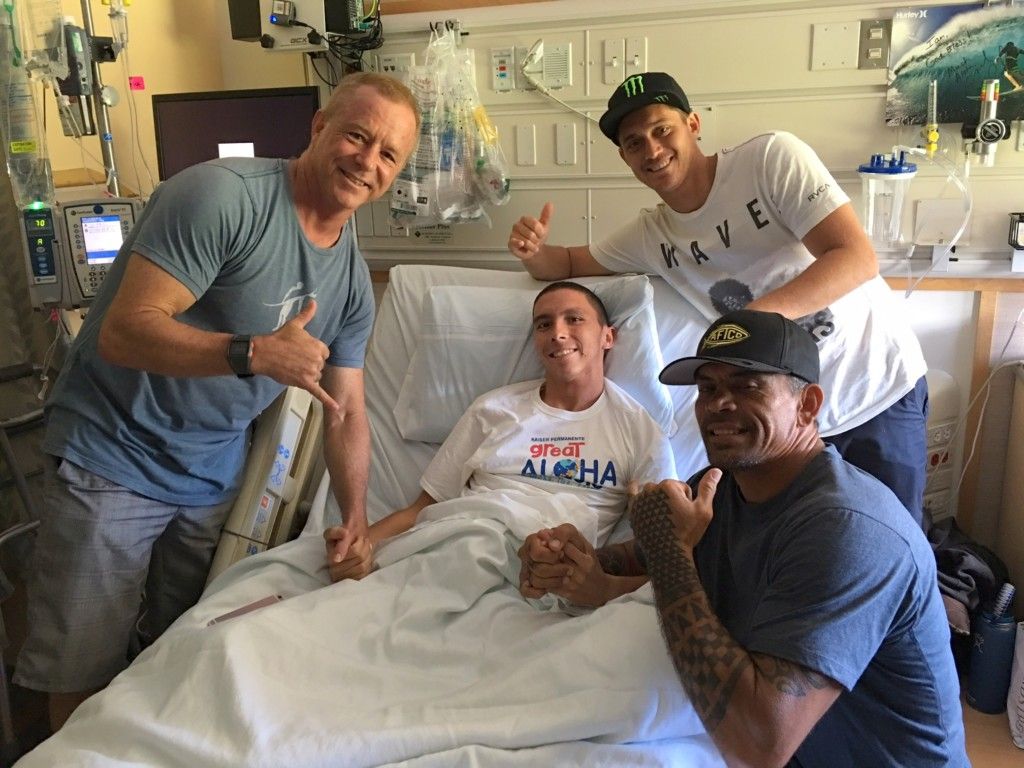 Ian smile was lighting up room 681; he had high energy and was enjoying Mexican food for lunch. Mom, Shellie and David, his Dad are all smiles. It's rare to meet folks so sincerely sweet & gracious. It was obvious where Ian got his friendly personality. His girlfriend Lei was there as well. I met Ian with a double handshake and threw in a "GQ, droppin' in for you". He's been calling 596-SURF and loggin' into SNN since 'hanabata' days… I was more stoked than Ian.
Ian is ready to ride again as soon as his leg strength comes back. He's positive about moving forward. Makua says, "Hey, we'll carrying into the lineup if you need us to… or into the 4 man canoes, we have Jet skies for some fishing, we'll throw in the lines and cruze…. Makua offered plenty complimentary Bio-Astin, one of his sponsors.  Makua shared his "Papas" brush with death due to stage 4 cancer. Makua choked up a little but is grateful Papa fully recovered. Kala shares his 'close calls' out in heavy Pipe &  giant shore pound, and in 20-35' waves; how shared how to survive, his hard core training programs and much more.
It was clear that within moments Ian was part of the North Shore Ohana… invited to come to their home on the beach, grind, shower off, hang out, talk story. Kala' and Makua were amazing, positive and supportive. They are G- Narly Earth Angels. It was also clear, Ian inspired them, too. This incredible, fine young man who was a stranger in one moment becomes family in the next. That's what kind of person he is.
Ian says it all: "there's no better feeling…surf, eat, go sleep with the fan going…That's the best thing ".
After hanging out with Ian, Mom and Dad, Lei, Kala' and Makua… I knew this was the pinnacle for me; I NEVER felt so much Pride and Honor being in this amazing surf community.  An Aloha High lasted for hours and was better than going all day in perfect surf. But as a Dad, I shed some personal tears alone in my car. Ian condition is serious and he needs everyone's positive thoughts and prayers. So thank you, thank you.
Ian truly blessed each and every person who came out to support him. It's amazing how unconditional love works like that. Because of a single, brave, beautiful soul named Ian Coronas.